Sada-e-Watan Sydney ™
sadaewatan@gmail.com





Dr. Javeria Mehmood
Inauguration Ceremony of "Javeria Vision Foundation" held at the "Royal Palm Golf and Country Club" Lahore
(Exclusive report & Photos to Sada -e-Watan Sydney from Director Public Relations JVF)
On Friday, 6th August 2021, the Inauguration Ceremony of "Javeria Vision Foundation" held at the "Royal Palm Golf and Country Club" Lahore. "Javeria Vision Foundation "is established recently for Health & Education Facilities to the Pakistan's cities & disadvantage places. Dr. Mehmood Qureshi is President & Chief Operating Officer and Dr. Javeria Mehmood is Chairperson Emergency Units In Pakistan.
Dr. Mirza Ikhtiar Baig, a renowned industrialist and Chairman of Baig Group was Chief Guest of the Launching Ceremony of First Time Health Emergency Units in Pakistan. The event was attended by professionals experts, Leading Business personalities, High ranked officers, Journalists, Industrialist, Diplomats & Dignitaries including Spanish Attaché, Military Attaché, Rana Zahid Tauseef, Ch Riaz, Secretary GO Punjab and Former Chief justice Lahore High Court, Secretary Law & Justice Commission of Pakistan Dr. Muhammad Raheem Awan , Sheikh Naeem Jameel,CEO Ramada Hotel CEO Alfajer Holdings,Dr.Anwar Qureshi ( CEO Ramada Hotels ), Aamir Chottani (CEO Chotani Industries) Sadia Sohail Rana , Nasir Salman ( Vice Chairman Chief Minister Punjab Complaint Cell, Faraz ur Rehman Karachi Guild Chief ' Mian Ahsan Abbas Director Protocol National Assembly, Abdul Wahab Edhi , Ammad Rasheed CEO WINGS International Magazine Islamabad, Qamar Uz Zaman ,Mohsin Jafar Ptv Senior Producer, Syed Murad Haider Kazmi CEO 422 Talent , Dr Zafar Sohail Cheema Chairman TDCP, Dr. Saqlain Haider, Dr.Bilal and other famous guests.
Dr. Mehmood Qureshi is President and Chief Operating Officer & Dr. Javeria Mehmood Chairperson Emergency Units In Pakistan thanks Everyone for attending the dinner. The guests enjoyed delicious stylish tasty food and Musical Evening by World Known classical singer Ustad Hamid Ali khan. Everyone appreciated Mission & efforts of the "Javeria Vision Foundation" and Promised to support in the Nobel Cause of to Develop Best Health Care System in Pakistan.
Javeria Vision Foundation hopes that in near future, they can build well equipped health facility to facilitate marginalized people in health and nutrition-related problems. We all should donate to Javeria Vision Foundation for achieve the target.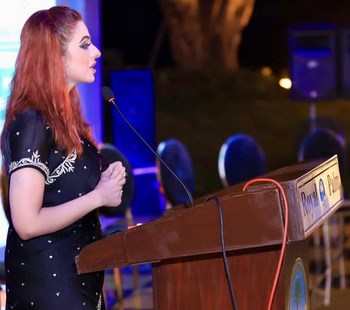 Dr. Javeria Mehmood