Sada-e-Watan Sydney ™
sadaewatan@gmail.com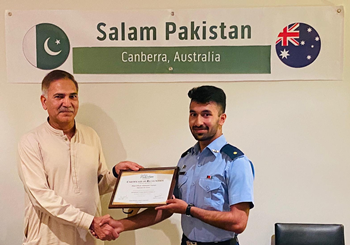 Brigadier (r) Babar Virk and Pilot Officer Abdullah Younas
AN EVENING WITH PILOT OFFICER ABDULLAH YOUNAS 'PROUD OF PAKISTAN' - SALAM PAKISTAN CANBERRA
(Report and Photos to Sada -e-Watan by; Muhammad Athar)
Salam Pakistan Canberra celebrated a special evening in honour of Pilot Officer Abdullah Younas 'Proud of Pakistan from Pakistan Air Force'. Abdullah has been awarded 'Sword of Honor' on December 6, 2020 at the Australian Defence Force Academy. Abdullah Younas is the first-ever international trainee to receive the accolade at the Australian Defence Force Academy (ADFA).
Muhammad Athar
Muhammad Athar on behalf of Salam Pakistan Canberra warmly welcomed Abdullah Younas and congratulated him on his exceptional performance for Pakistan and wished him all the very best for his future success. Athar further added that this level of recognition on a national level is not an easy milestone to achieve. It requires a lot of hard work, dedication, compromise, sacrifice, commitment, and willingness.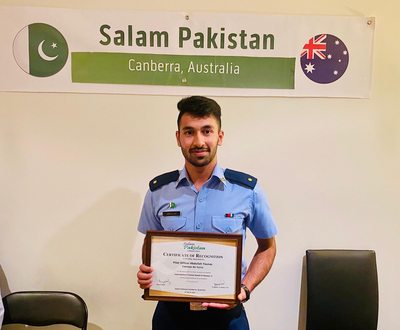 Pilot Officer Abdullah Younas 'Sword of Honor'
The evening was attended by several respected Salam Pakistan members followed by a sumptuous dinner. Later in the evening, the Certificate of Recognition from Salam Pakistan was presented to Pilot Officer Abdullah Younas by Brigadier (r) Babar Virk from Pakistan Army who had praise for the achievement of the young officer.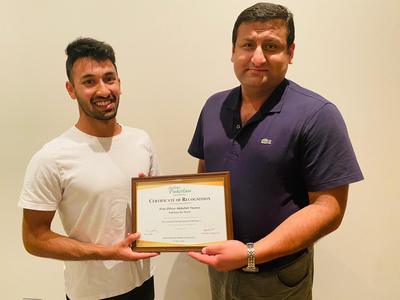 Best wishes for your bright future Abdullah. You have made us all proud.
A big THANK YOU to everyone who came out and participated in making it such a wonderful evening!
Brigadier (r) Babar Virk presenting Certificate of Recognition to Pilot Officer Abdullah Younas