Sada-e-Watan Sydney ô
sadaewatan@gmail.com

President Arif Alvi and Pak Diplomat Zahid Hafeez Chaudhri
President Dr Arif Alvi holds meeting with High Commissioner-designate to Australia Zahid Hafeez Chaudhri
(Exclusive report by Syed Zafar Hussain, Editor-in-Chief Sada-e-Watan Sydney)
On Monday 23rd August 2021, outgoing Foreign Ministry Spokesperson and Pakistanís High Commissioner -designate to Australia Zahid Hafeez Chaudhry called on President Dr Arif Alvi. According to details, in the meeting, President Dr Arif Alvi said that Pakistan attaches great importance to bilateral relations with Australia. Pakistan wants to further strengthen cooperation with Australia in all areas of mutual interest.

The President Arif Alvi said that for the socio-economic development of Pakistan, there was a need to enhance bilateral cooperation in the fields of education and vocational training. There was a huge potential for enhancing trade and economic cooperation between Pakistan and Australia.

President Dr Alvi further said that Pakistan seeks to enhance bilateral cooperation with Australia in various fields especially in agriculture, trade, mining and information technology.

President Arif Alvi said that the nominated High Commissioner should work for the convenience and welfare of Pakistani citizens in Australia, provide all possible assistance.
There is a significant number of Pakistani students in Australia. There is a need to further enhance educational cooperation between the two countries.

The President of Pakistan Dr Arif Alvi congratulated Zahid Hafeez Chaudhry on his appointment as Pakistanís High Commissioner to Australia and said that the Ambassador-designate to Pakistan-Australia should play his role in further strengthening and diversifying cooperation.
President of Pakistan Dr Arif Alvi says that Pakistan and Australia had huge potential to increase trade and economic cooperation.
President Alvi also underlined the need to attract Australian investment to Pakistan adding that the country had adopted business friendly policies and shifted its focus from geo-politics to geo-economics.

President Arif Alvi asked the High commissioner-designate to work for the facilitation and welfare for the Pakistani diaspora in Australia and extend them all possible support and services.
A seasoned diplomat and a career Foreign Service officer with over close to three decades of varied experience, Chaudhri has served at key Pakistan Missions, including the Embassy of Pakistan, Washington DC, and the High Commission for Pakistan, London.

Mr. Zahid Hafeez Chaudhri has also held important assignments at Headquarters, including as Director General (Afghanistan, Iran, and Turkey) at the Ministry of Foreign Affairs, Joint Secretary National Security at the National Security Division, and Director General at the Presidentís Secretariat.

Pak Diplomat Zahid Hafeez Chaudhri holds a Masters degree in International Law from the University of London and second Masters in Business Administration. He is also an alumni of the National Defence University, Washington DC. Mr. Zahid Hafeez Chaudhri is a seasoned diplomat and a career Foreign Service officer with over 26 years of varied experience at the Headquarters and Pakistan Missions abroad.
On the behalf of the Australian Pakistani Community, the Editorial Board of Sada-e-Watan Sydney would like to Welcomes Mr. Zahid Hafeez Chaudhri & family.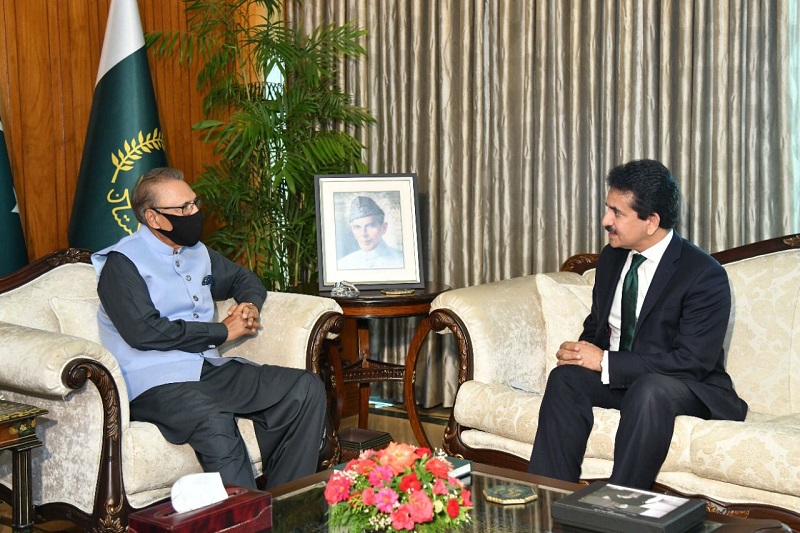 President of Pakistan Dr Arif Alvi and High Commissioner-designate to Australia Zahid Hafeez Chaudhri