Sada-e-Watan Sydney ô
sadaewatan@gmail.com

The High Commissioner Babar Amin met Hon. Rowan Ramsey MP and Hon. Graham Perrett MP in Australian Commonwealth Parliament House Canberra
On Thursday, 18th Feb 2021, the High Commissioner for Pakistan, H.E. Mr. Babar Amin met with Honourable Rowan Ramsey MP and Honourable Graham Perrett MP who are Chair and member of Australia-Pakistan Parliamentary Friendship Group, respectively.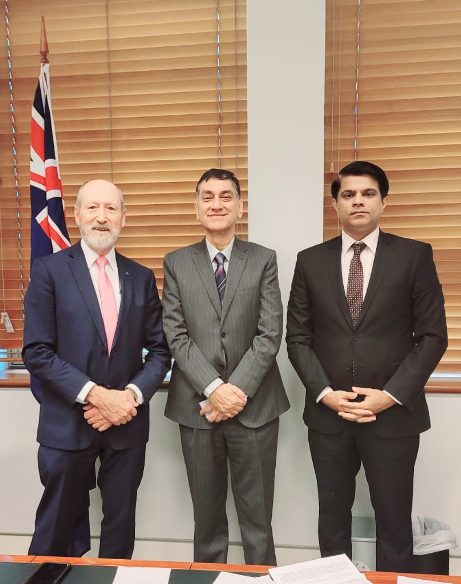 The Hon. Rowan Ramsey MP, H.E. Babar Amin and HOC Mr. Zain ul Abidin
The Hon. Rowan Ramsey, in his interaction appreciated role of High Commissioner in taking Parliamentary diplomacy a step further and expressed desire to meet with counterparts in Pakistani parliament. The High Commissioner proposed various activities between Parliamentary Friendship Groups including virtual meetings as a mode of frequent interaction during pandemic.
H.E. Mr. Babar Amin and Hon. Graham Parrett, MP
Later, in a separate meeting, Hon. Graham Parrett expressed happiness for being part of Australia-Pakistan Parliamentary Friendship Group and underlined importance of high-level visits including between the parliamentary friendship groups. High Commissioner briefed him regarding Pakistanís connectivity initiatives and invited Australia to invest and enhance economic and trade relations with Pakistan. Other issues of mutual interest including bilateral political relations, regional situation and international developments were also discussed.

The High Commissioner H.E. Mr. Babar Amin also briefed parliamentarians about Pakistanís new vision of Economic Security Model which was based on three pillars namely connectivity, sustainable development, and peaceful neighbourhood. While highlighting potential of investment in diverse economic sectors in Pakistan, he emphasized taking advantage of the opportunity to use Pakistan as economic hub for business partnerships in the region. He also highlighted regional situation in South Asia and Indian human rights violations in Indian Illegally Occupied Kashmir.