Sada-e-Watan Sydney ô
sadaewatan@gmail.com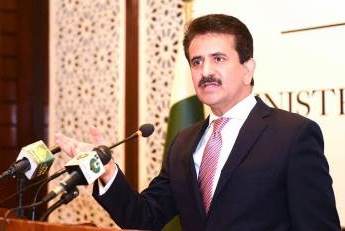 H.E. Mr.Zahid Hafeez Chaudhri
Message from Mr. Zahid Hafeez Chaudhri, High Commissioner-designate
I assumed the responsibilities of the High Commissioner-designate of Pakistan to the Commonwealth of Australia on 9th September 2021.
Previously I served at the High Commission for Pakistan, London, Embassy of Pakistan, Washington DC, and the Consulate General of Pakistan, Dubai, besides several assignments at the Ministry of Foreign Affairs, Pakistan.

For my last assignment, I had the honour to serve as the Spokesperson of the Ministry of Foreign Affairs of Pakistan and Additional Secretary responsible for the Asia-Pacific region. Before that I served as Director General (South Asia & SAARC) and Director General (Afghanistan, Iran & Turkey). I also served as Director General (Economic Coordination) at the Presidentís Secretariat and Joint Secretary (National Security) at the National Security Division.

In these roles, I had the opportunity to be at the centre of some of the most far-reaching geo-political and geo-strategic developments having a profound impact not only on Pakistan and the region but the whole world.
Pakistanís significance as a key international player could never be over-emphasized, however recent developments in the region have further established its credentials as a partner for peace and development.

In my capacity as High Commissioner of Pakistan to the Commonwealth of Australia, I would endeavour to bolster Pakistan-Australia ties. Both our countries share a number of commonalities, including the Westminster-style democracy, convergence of views on key regional and international issues and a passion for cricket. My priority would be to build on the existing relations and broaden their scope, particularly in the fields of trade and investment, education, technical and vocational training, agriculture, mining, water resource management, information technology, defence and security cooperation.
Pakistani Diaspora in Australia serve as bridge between the two countries, further strengthening the bilateral relations and contributing to the socio-economic development of both our countries. As High Commissioner of Pakistan, my prime concern will be to provide maximum facilitation to Pakistani community and Pakistani students in Australia. I will endeavour to regularly engage with the Pakistani community to resolve any issues being faced by them as well as provide efficient consular and other services needed. Support and input of the community will be critical for effective discharge of my duties in this regard.

I look forward to serve mutual interests with our Australian friends, and providing maximum facilitation to the Pakistan community during my tenure. Together we can achieve a lot.