Sada-e-Watan Sydney ™
sadaewatan@gmail.com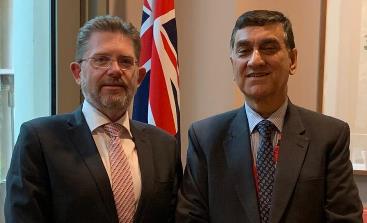 The Hon. Scott Rayan and H.E. Babar Amin
Pak High Commissioner Babar Amin met the President of the Senate, Senator the Honourable Scott Rayan
On Monday, 10th Feb 2020, the High Commissioner for Pakistan Mr. Babar Amin called on the President of the Senate, Senator the Honourable Scott Rayan in his office at Canberra. The High Commissioner Mr. Babar Amin expressed satisfaction at the longstanding friendly relations between Australia and Pakistan and said that Pakistan would like to further strengthen people to people linkages and parliamentary exchanges between Pakistan and Australia.
The High Commissioner Babar Amin briefed the President about the Pakistan-Australia parliamentary friendship group in the National Assembly and Senate of Pakistan stated that such bilateral Forums augmented bilateral parliamentary interactions. Stressing on the need to enhance bilateral Parliamentary visits between both the sides, he invited Hon. Scott Rayan to visit Pakistan at mutually convenient dates.
The President of Australian Senate Senator the Honourable Scott Rayan thanked the High Commissioner for the briefing and stated that the Charter of the Commonwealth brings us together for upholding democracy, human rights and the rule of law. He appreciated the constructive role being played by the dynamic Pakistani Community in various spheres. He appreciated the role of Parliamentary Friendship Groups in the two Parliaments and added that, such bilateral parliamentary cooperation affords both sides an opportunity to engage in mutually beneficial interactions. The President of Australian Senate agreed to include a future visit to Pakistan in his calendar, subject to mutual agreement on time.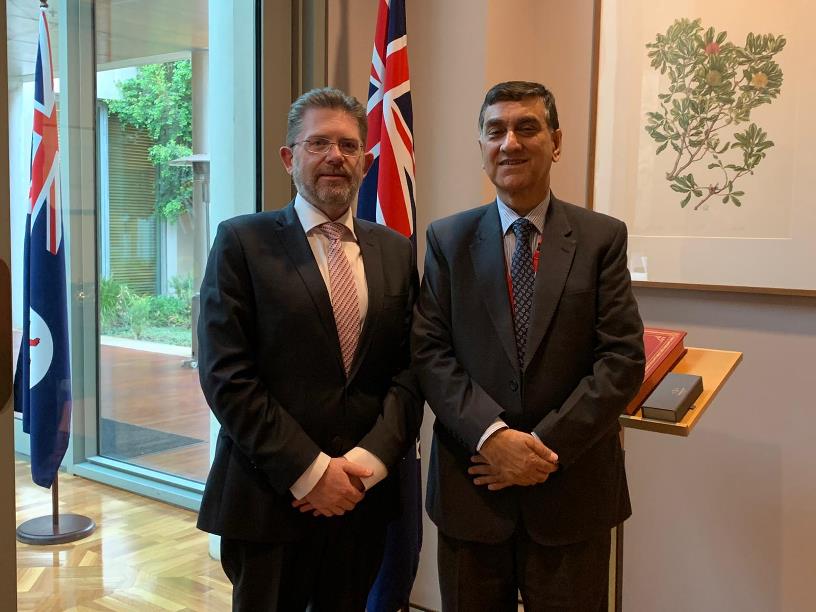 Pak High Commissioner Babar Amin met the President of the Senate, Senator the Honourable Scott Rayan