Sada-e-Watan Sydney ™
sadaewatan@gmail.com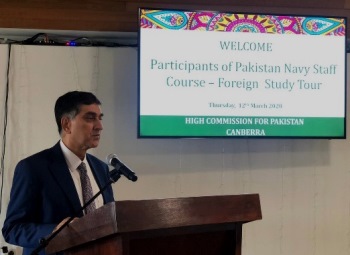 H.E. Mr Babar Amin
Pakistan Navy Staff Course delegation visits the Pak High Commission Canberra
A group comprising faculty members and course participants of the Pakistan Navy Staff Course, Foreign Study Tour, led by Cdre Syed Wajeeh Ul Hassan SI(M) S Bt. visited Pakistan High Commission, Canberra on 12 March 2020.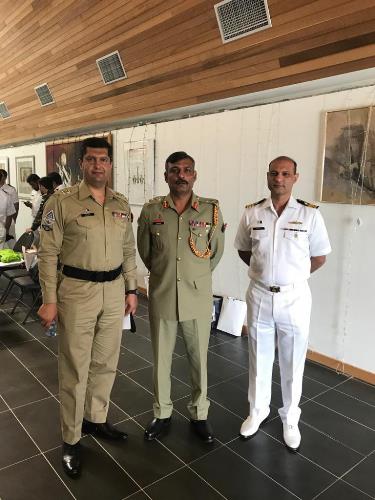 Besides Pakistan, the 21-member delegation comprised the participating officers from the friendly countries.

Welcoming the delegation, High Commissioner Babar Amin appreciated the professional competence of Pakistan Navy. He lauded the Navy's services in ensuring maritime security not only for Pakistan but also as a part of international community's efforts to safeguard freedom of navigation, securing Sea Lines of communication and anti-piracy operations.

Deputy High Commissioner Tariq Wazir gave a briefing to the delegation on socio-economic as well as political developments taking place in Australia. He also briefed the delegates on various aspects of the Pakistan-Australia bilateral relations and informed the participants that the bilateral relations have become institutionalized and are on an upward trajectory. Speaking about the changing dynamics of diplomacy in the present age, he updated the participants on the functioning and responsibilities of the Mission.

At the conclusion, the Deputy High Commissioner conducted the Q&A session and responded to the questions of the course participants. During their stay, the Navy Staff Course delegation is scheduled to visit various government departments and Australian Armed Forces Training Institutes for familiarisation and experience.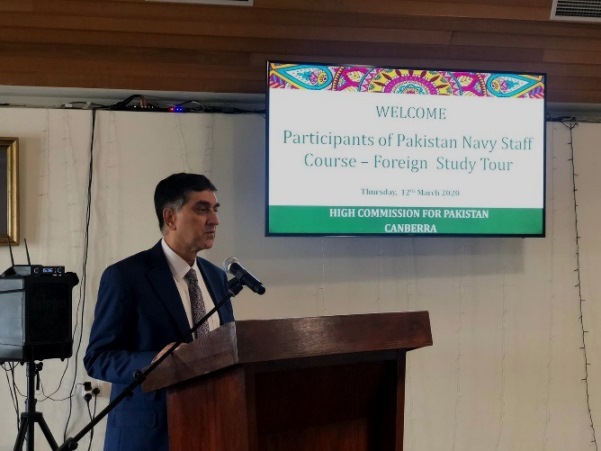 High Commissioner Babar Amin
Group photo of Pakistan Navy Staff Course – Foreign Study Tour Delegation with High Commissioner and other officials