Sada-e-Watan Sydney ™
sadaewatan@gmail.com
Virtual Meeting on enhancing cooperation with Australia in the field of Nursing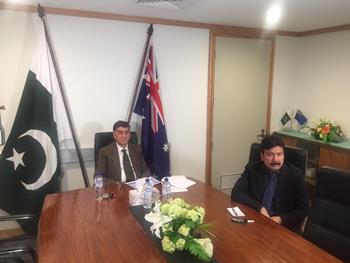 High Commissioner Babar Amin hosted a Virtual Meeting on enhancing cooperation with Australia in the field of Nursing
On Sunday, 27th July 2020, the High Commission for Pakistan organized a Virtual Meeting on the prospects and opportunities for enhancing cooperation with Australia in the field of nursing. The Virtual Meeting was chaired by High Commissioner Babar Amin and was hosted in collaboration with the Directorate General of Health, Islamabad, Pakistan Nursing Council, Ministry of Overseas Pakistanis and Human Resource Development and Pakistani health professionals in Australia.
Speaking on the occasion High Commissioner Babar Amin stated that the Virtual Meeting was a part of the initiative to enhance collaboration between Pakistan and Australia in the areas of Public Health, Medial Science, Academic Institutions and Nursing Institutions. The High Commission was working to bring together the Health authorities, Nursing Councils, Regulatory authorities, Universities, Academia and Research Institutions of the two countries for a mutually beneficial cooperation. The Pakistani health professionals based in Australia in their presentations elaborated the Australian nursing practice, education system and regulatory framework.
The participants from Pakistan included Dr. Malik Mohammad Safi, Director General National Health Services, Mr. Zahoor Ahmad, Additional Secretary Asia Pacific Ministry of Foreign Affairs, Madam Afshan Nazly, President Pakistan Nursing Council, Ms. Fouzia Mushtaq, Registrar Pakistan Nursing Council, Dr. Raisa Begum Gul, National Task Force for Nursing, Professor. Rafat Jan, Agha Khan Nursing College, Ms Surriya Shahnaz, Principal Nishtar hospital Nursing College and Mr. Kashif Noor, Director General Bureau of Emigration and Overseas Employment.
The participants from Australia included Dr. Yousaf Haroon, Dr. Majid Naeem Gondal, Dr. Amer I. Gilani, Dr. Khizar Tauseef, Ms. Yousra Atique and Mr. Rafique Shaker of the Australian Association of Pakistani Professionals.
The participants identified both the challenges and opportunities in the field of nursing and agreed on concluding MoUs on institutionalized cooperation between the Health Authorities, Nursing Councils and Nursing Academic Institutions of Pakistan and Australia. The participants, while appreciating the Virtual Meeting, assured the support of their respective institutions to the initiative. It was also agreed.