Sada-e-Watan Sydney ™
sadaewatan@gmail.com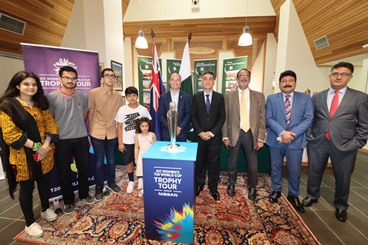 ICC Women's T20 World Cup Trophy Exhibition held at the Pakistan High Commission Canberra
The Capital City of Australia, Canberra has been selected to host five ICC Women's T20 World Cup matches in 2020. This will be the first time the tournament has been played in Australia and the first time the women's competition has been staged as a standalone event. Manuka Oval will play host to seven of the world's best women's teams in a festival of cricket. Pakistan is participating in this Great women's competition tournament.
On Thursday, 30th January 2020, The ICC T20 Women's Cricket World Cup trophy arrived at the Pakistan High Commission in Canberra as part of its exhibition journey. A simple ceremony was held to display the trophy. Mr. Sam Watson, the General Manager of Cricket Australia, who was present on the occasion, appreciated the participation of Pakistan's Women Cricket Team in the event. He met High Commissioner H.E. Babar Amin and other Pakistan High Commission officials & great them.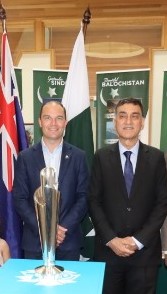 Sam Watson and HC Babar Amin
GM Cricket Australia Mr. Sam Watson requested the High Commissioner to encourage the Pakistani community in Australia to come and watch the cricket matches in the ground. The High Commissioner for Pakistan, Mr. Babar Amin thanked him for bringing the trophy for display at the High Commission and also thanked Cricket Australia for hosting the event.
The ICC Women's T20 World Cup is scheduled to be held in Australia from 21 February to 8 March 2020. Pakistan will be playing its first match of the event on 26 February at Manuka Oval, Canberra and its second match against England on 28 February at the same venue. The final will take place on 8 March at the Melbourne Cricket Ground on International Women's Day.