Sada-e-Watan Sydney ™
sadaewatan@gmail.com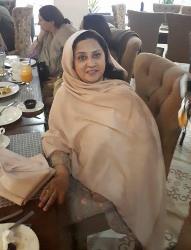 Aasia Mohsin (18 Dec 2018)
Zafar Hussain & Javed Hussain's brother Shafqat's brother in Law wife passed away

Begum Col. Aasia Mohsin passed away in CMH Rawalpindi , She was buried at Pakistan Army Graveyard Rawalpindi Cantt
On the early morning of Monday, 18 Nov 2019, Begum Col. Aasia Mohsin passed away in young age at the CMH Rawalpindi Pakistan. She was wife of former Director General of Pakistan NADRA Col. Mohsin Amir Khan. Surely, we will always love and miss you Aasia. The memory of you will always be in our hearts. You will never be forgotten.
Col Mohsin is brother-in-law of Syed Zafar Hussain & Javed Hussain (Sada-e-Watan Sydney) elder brother Syed Shafqat Hussain. Aasia was belong from Sardar family of Chakwal and was very prominent for her welfare services to poor people of Punjab.
On the evening of 18 Nov, her funeral was held at the Rawalpindi. The Janazah Prayer was attended by higher ranked Civil & Military officers and relatives from all over the country. She was buried at Pakistan Army Graveyard in Rawalpindi Racecourse, Rawalpindi Cantt. QURAN KHAWANI AND MAJLIS-E-AZA for the departed soul will be held in Chakwal, Lahore & Rawalpindi.
Please remember Begum Col. Aasia Mohsin in your duas, and pray that Allah SWT Grant her exalted place in Jannah and Sabr-e-Jameel to the family members. The Editorial Board of Sada-e-Watan Prayed to ALLAH Almighty to rest the departed soul in eternal peace and grant courage to her family members to bear this irrepairable loss.
The High Commissioner for Pakistan to Australia H.E. Babar Amin expressed deep grief and sorrow over the sad demise of Begum Col. Aasia Mohsin. In his condolence message send through Sada-e-Watan, His Excellency Mr. Babar Amin prayed that may Almighty Allah rest the departed soul in eternal peace and grant courage to the bereaved family to bear the irreparable loss with equanimity.