Sada-e-Watan Sydney ™
sadaewatan@gmail.com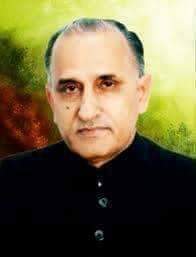 Justice (R) Manzoor Hussain Sial
Former Consul General Pakistan Raza Baqir's Father-in-Law Justice (R) Manzoor Hussain Sial Passed away in Lahore
Justice (R) Manzoor Hussain Sial, who has to his credit vast experience in education, judiciary and legal profession, extending over a period of more than four decades, passed away in Lahore on 1st October 2020. Justice (R) Manzoor Hussain Sial was Father-in-law of the Former Consul General of Pakistan in Sydney Mr. Raza Baqir.

Born on 25th March, 1931 in village Ali Khan Sial of district Jhang, Mr. Sial started legal practice in Lahore in 1963. He was elevated to the Bench and appointed as Judge of the Lahore High Court on 10th July, 1979. While on the Bench, Justice Sial, retained his interest in education and was nominated as Member, Board of Intermediate and Secondary Education, Lahore and Member, Syndicate and Senate, University of Agriculture, Faisalabad. He was on the panel of L.L.M. Examiners of Punjab University. He also worked as the Custodian of Evacuee Property, Punjab.

Justice. Sial, represented Lahore High Court in the international seminar on "Alternate Dispute Resolution" at Islamabad and Law conference in Milwaukee Wisconsin, U.S.A. He was appointed as Chief Justice of Lahore High Court in 1992-93. He was elevated and appointed as Judge of the Supreme Court of Pakistan on 26th May, 1993 and represented Pakistan in the Chief Justices' SAARC Law Conference held in Nepal in 1995. He retired as Judge of the Supreme Court of Pakistan on 24th March, 1996.

After retirement from Supreme Court, he was appointed as Punjab Ombudsman in 1997. On the special invitation of Swiss Government, Justice Sial visited Switzerland in March 1998 and had useful meetings with Ombudsmen and Judges of Switzerland. Justice Sial attended the Third Asian Ombudsman Conference, held in MACAU, and projected the image of Pakistan.
Justice Sial headed the oldest Non-Government Organisation (NGO) of Asia known as Anjuman Himayat-e-Islam for nine years till his death. Justice Sial was the founder of renowned chain of School I.e. Chenab College, Jhang. Justice Sial was the life time President of Jhang-Chiniot Officers Association, Educational Welfare Trust, Pakistan and Jhang Educational Welfare Trust.

Justice Sial represented Government of Pakistan in International Court of Arbitration as Arbitrator.

Justice Sial wrote autobiography in Urdu and English with the name of "Journey from Haveli Bahadur Shah to Supreme Court of Pakistan".

Justice Sial is survived by a small family of one son and one daughter. His son Dr Shahid Sial is a leading gastrontolgist in USA and his son in law Mohammad Raza Baqir after retiring as Member FBR is currently serving as Executive Director/Secretary General APTMA. Qul of Justice Sial will be held on Saturday, 03 October, 4 PM at Lahore High Court Rest House, 26 Aikman Road, GOR 1, Lahore.
The Editorial Board of Sada-e-Watan Sydney expressed their profound grief on the sad demise of renowned personality Justice (R) Manzoor Hussain Sial. In condolence message, Chief Editor Syed Zafar Hussain & members of the Editorial Board sympathized with the family members of the deceased and offered 'Fatiha' for the departed soul of Justice Sial Sahib.