Sada-e-Watan Sydney ™
sadaewatan@gmail.com
A young Australian Pakistani girl Rabia Rasul received the "Dame Marie Bashir Peace Award" at the New South Wales Parliament House Award Ceremony
(Photos and report to Sada -e- Watan Sydney by Farhan Rasul)
Rabia Rasul
Rabia Rasul, being the daughter of Gulzar and Naaz Rasul, is a devoted 17 year old girl, currently a student in year 12 of Mount Saint Benedict College Pennant Hills, a suburb in the Northern Suburbs of Sydney. Within the past year, Rabia has received a myriad of awards and medals through her dedication towards extra-curricular activities and her passion for charity work. Due to her commitment and her efforts to raise money for charity, she was awarded the Dame Marie Bashir Peace Award. Rabia was one of 6 girls throughout the state of NSW who was awarded with this Honour, and in doing so she was invited to NSW Parliament House to be esteemed.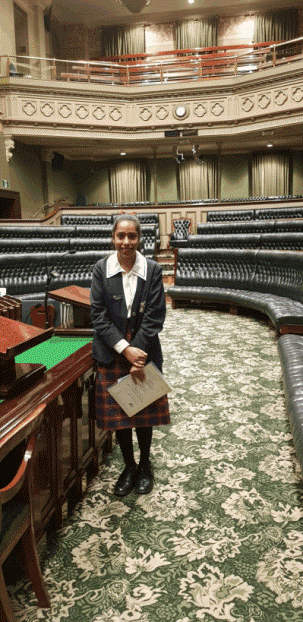 Rabia Rasul during visit of the NSW Parliament House
On 30th September 2019, Rabia attended the Parliament House Award Ceremony and her Peace Award was presented by The Honourable Dame Marie Bashir herself along with the National Council of Women of New South Wales. Dame Marie Roslyn Bashir, AD, CVO is the former and second longest-serving Governor of New South Wales. The Hon.Dame Marie Bashir Peace Award recognises female who have made an outstanding contribution to harmony in many ways, and those who have fostered harmonious relationships and shown persistence and courage in the field of peace and harmony within the wider society.
Rabia's contribution in various Multicultural activities, including her organisation of Harmony Day events in 2016 & 2018 where she fundraised over $7500 for Careflight and her role in countless advocating and embracing the need for cultural diversity in the community have led to her being the recipient of this award. Through the eagerness and vision that she possesses, she has been the recipient of many awards Honouring her devotion towards great causes, and her passion in going out of her way to help others has officially been recognised.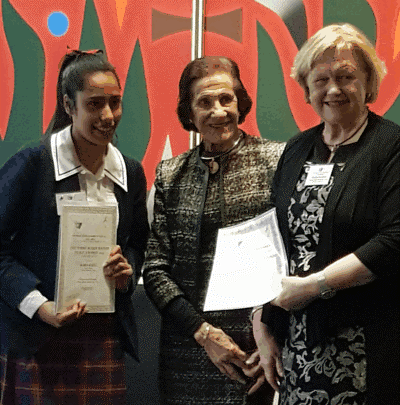 Former Governor Dame Marie Roslyn Bashir Presenting award to Rabia