Sada-e-Watan Sydney ™
sadaewatan@gmail.com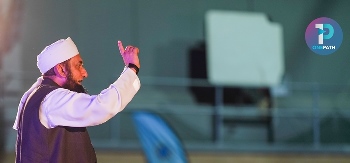 Maulana Tariq Jameel speaking in Sydney
Record Crowd of 4,000 attended renowned preacher and religious scholar Maulana Tariq Jameel Lecture at Liverpool Sydney
(Syed Zafar Hussain, Editor-in-Chief Sada-e-Watan Sydney)
Maulana Tariq Jameel is a well-known Islamic scholar from Pakistan. His native town is Tulambah near Mian Channu. His father belonged to the Muslim Rajputs community, was an agriculturist and was a respected person in his field and the local area.
Tariq Jameel was born and raised in Mian Channu and is the son of a feudal agriculturist also referred to as "Mian" in Pakistan. In his childhood he lived a relatively modest life but religion was not a major part of his life and his family in particular. It wasn't until he pursued his MBBS in Lahore that his focus shifted towards Islam. After completing his Higher Secondary School education in pre-medical (equivalent to A 'levels') from Government College University Lahore, he took admission in King Edward Medical College in Lahore. He intended to do his MBBS., but his leanings towards spirituality soon urged him to switch to Islamic education. He then went on to receive Islamic education from Jamia Arabia, Raiwind (near Lahore), Pakistan where he studied Quran, Hadith, Sharia, Tasawwuf, logic and Fiqh.
Famous Islamic Scholars is making Islam alive in the hearts of many Muslims all around the world. These are the people who are influencing many Muslims all around the world.Maulana Tariq Jameel is a Pakistani religious and Islamic researcher, evangelist, and open speaker from Tulambah close Mian Channu in Khanewal, Punjab. He is a researcher who runs a Madrasa in Faisalabad, Pakistan. He is recorded as a prevalent speaker in the 2013/2014 version of the book The Muslim 500. Maulana Tariq Jameel is one of the best Islamic scholars in the world. He always encourages people to follow Islamic values.
On Friday, 4th October 2019, renowned preacher and religious scholar Maulana Tariq Jameel arrived Sydney from Vancouver, Canada. He is staying in Australia for 2 weeks. OnePath Network hosts Maulana Tariq Jamil event at Liverpool Sydney on long weekend Monday, 7th Oct 2019. More then 4,000 people attended Maulana Tariq Jameel's lecture in evening.
In his lecture, Maulana Tariq Jameel talks about the Islamic values and unity between all. He said that Muslims should together against enemy in the world. During his historical Address, Maulana Tariq Jameel said the time was to spread a love not for fighting against each other.
"Our Hazrat Muhammad (SAWW) spread Islam with help of love," Maulana Tariq Jameel said.
"Allah is not for Muslims but he is a God of the world," he said.
At Whitlam Leisure Centre Liverpool Sydney, Maulana Tariq Jameel said in his Emotional Speech that Good Muslim always respects residence country Law and order, pay proper tax and spend reasonable time with family after business or employment. He said that Islam means peace not hate.
Maulana Tariq Jamil mentioned that Death is a pleasant gift for a true believer. We must prepare himself for the life after death. We all need Honesty, Truth, and Justice for productive life. The Mercy of Allah in Regard to Forgiveness. Maulana Tariq Jamil said that Islam Condemns Sectarianism and terrorism but Sectarianism is worse than terrorism. He thanks his tour sponsors OnePath, Low Cost Housing Group, Sadaqa Welfare Fund & Hub Shifa.
(Sada-e-Watan Sydney would like to acknowledge and thanks Muhannad Majanni, Operations Manager OnePath Network for providing Exclusive photos of Maulana Tariq Jamil lecture of Liverpool Sydney)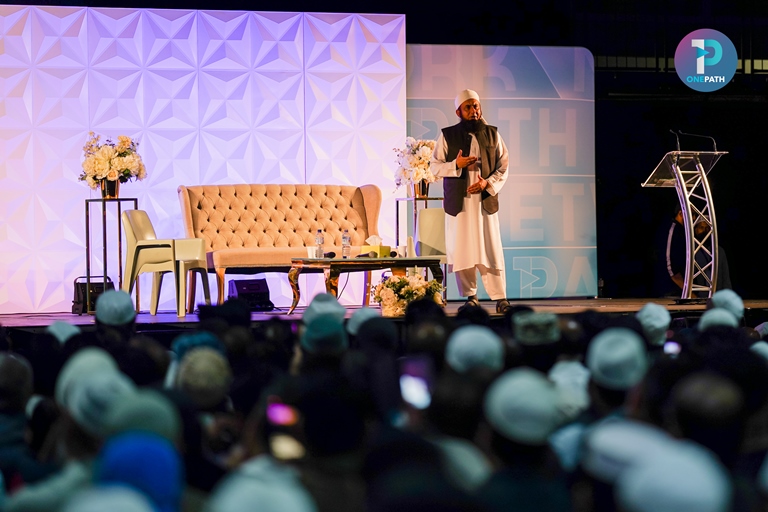 Maulana Tariq Jameel delivering his First Public Lecture in Australia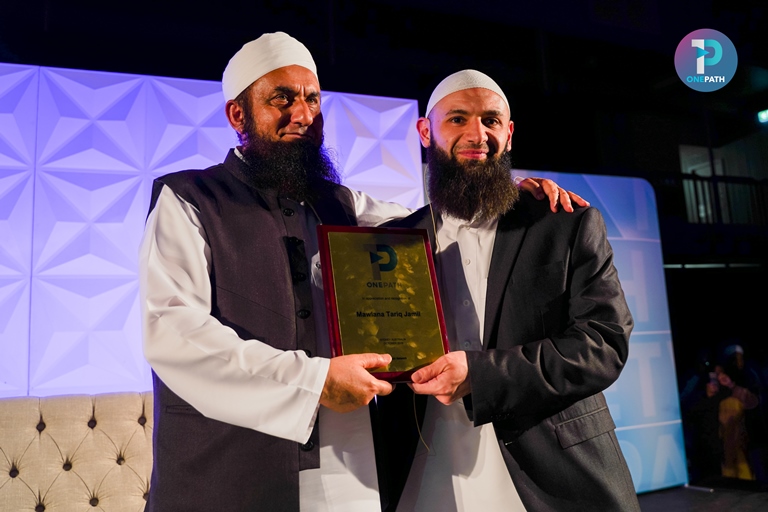 Maulana Tariq Jameel receiving Shield from Malaz Majanni Founder & CEO of OnePath Network
A big Audience make historical record for attending Maulana Tariq Jameel Lecture at Liverpool Sydney Australia