Sada-e-Watan Sydney ™
sadaewatan@gmail.com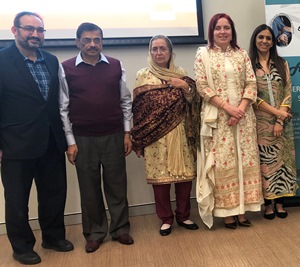 Seniors Enjoyed "SAMAA Eid Milan Party"at the Berala Community Centre Sydney
SAMAA seniors filled Berala Community centre Sydney to its capacity on Saturday, 15 June 2019 to enjoy Eid Milan event in company of SAMAA members and volunteers.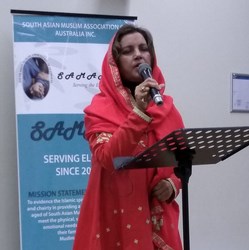 Shagufta Zia
The program commenced with singing of a Naat, poetry dedicated to the holy prophet, in the melodious voice of the famous Sydney singer Shagufta Zia.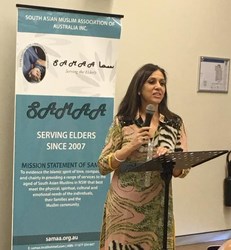 Anju Mathur
The Health and Well-being Lead at Uniting Anju Mathur gave a detailed presentation on how to age well and how to access service at home. Access to any help at home is made through making a referral to My Aged Care Tel 800 200 422, Monday to Friday 8am – 8pm; Saturday 10am – 2pm. There is no cost involved in referral and the assessment process is free of charge. Translator and Interpreter Services number is 131 450. Help can be available for domestic Assistance, shopping and for going to group social outings under Commonwealth Home Support Program. There are four levels of packages for Home care which will depend on aged care assessment.

Anju Mathur emphasised the need for the community seniors to be upfront in telling their difficulties in order to access services which they are eligible for. The audience listened to the talk with attention and were impressed with the quality and content of the presentation. Anju answered important questions of the seniors and their carers who were keen to learn about the very important matters of ageing.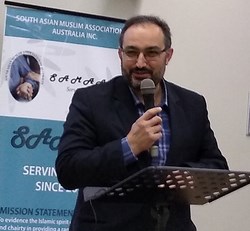 Dr Abdurrahman Asaroglu
The next speaker was Dr Abdurrahman Asaroglu, The Executive Director of the Gallipoli Home, the first aged care home in Sydney dedicated to serving the needs of Muslim & culturally diverse elders. This facility has been built by Turkish Muslim community and is of the highest quality, prioritising state of the art facilities, alongside a beautiful aesthetic fusing modern architecture with traditional Turkish, Indigenous Australian, and Islamic elements. It offers single and double bed rooms.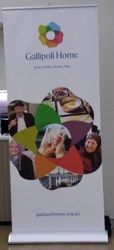 The staff at Gallipoli Home speaks multiple languages including Urdu, Hindi and Bengali. Located next to main mosque in Auburn, seniors are taken to mosque for Friday prayers. They can also join the mosque prayers in prayer areas located on each floor. Needless to say that all food served is Halal.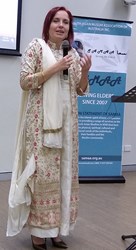 Hon. Julia Finn MP
State Member of Granville the Hon. Julia Finn MP, applauded SAMAA's efforts in addressing the critical need of South Asian elders. Dressed in traditional South Asian Salwar Kameez, she enjoyed the Eid celebrations with SAMAA seniors and other attendees.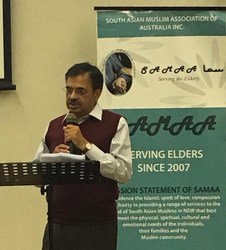 Zahid Jamil
Mr. Zahid Jamil welcomed the seniors, volunteers and dignitaries on behalf of SAMAA. He applauded Anju Mathur for her community work apart from her role at Uniting. He was equally praiseworthy of Dr Abdurrahman Asaroglu for his role in building the grand facility and his contribution in Turkish and wider Muslim communities. Mr Zahid Jamil said that the core issue was the community awareness. There is huge reluctance in mentioning about the old age issues among seniors and their families and therefore they miss out on services, they are eligible for.
Dr Sikander Naseeb Khan
Dr Sikander Naseeb Khan made Dua for late Mr Kazim Hussain who had passed away a few days earlier. He paid tribute to Mr Hussain for his role in Sydney's Muslim bodies over several decades which included SAMAA.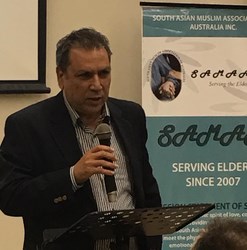 Tariq Mirza
Several poets and signers of Sydney entertained the audience in second half including Shagufta Zia, Shahid Malik, Tariq Mirza, Shujaat Atif, Taufeeq Ahmad and Molana
Nizam Thanvi
Nizam Thanvi. Mr Fasihuddin Khan kept the audience engaged in the second half while Ali Ahsan was the Master of Ceremony for the official programme. Mr Ejaz Ahmad, Syed Afzal Hussain, Mrs Mona Zahid, Mr Shahid Alvi, Mrs Champa Alvi, Mr Farooq Jan and other members and volunteers took care of all arrangements to ensure comfort of all guests. Guests enjoyed snacks and Eid sweets to make it a memorable evening.