Sada-e-Watan Sydney ™
sadaewatan@gmail.com
ICSOA initiative "HAQ-O-AMAN SATH SATH" a showcase of Hindi-Urdu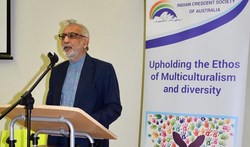 Abbas Raza Alvi, President of ICSOA
Indian Crescent Society of Australia organised a joint Hindi-Urdu Mushaira in Sydney
Indian Crescent Society of Australia Inc. (ICSOA) organised a joint Hindi-Urdu Mushaira on Saturday 6th July 2019 at Berala Community Centre, Berala. Theme of the program was "HAQ-O-AMAN SATH SATH". ICSOA requested poets to incorporate the theme when writing their poetry. Almost all poets presented their poetry highlighting the theme of togetherness, peace and harmony.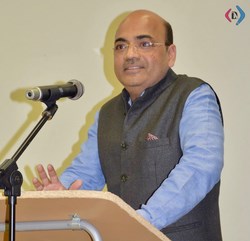 Manish Gupta
Grand Mushaira was graced by the dignitaries including Manish Gupta, Consul General of India; Dr. Harinath, Chairperson; Multicultural NSW. The theme Haq-o-Aman sath sath was inspiring and poets covered this theme very well in their poetry, Shaeri and Kavita.
Program begins with the recitation of verses from Holy Quran by Master Zain Khan. Dignitaries were called on the stage by ICSOA secretary Mr. Fasihuddin Khan who was also MC for the event. Another MC who was accompanying the Secretary was Mrs. Iram Rasheed. Mr. Mansih Gupta reiterated that Ganga Jamuni Tehzib is the identity of India and Urdu is inseparable language. Dr. Harinath praised the initiative and said that this type of events will boost peace, harmony and mutual understanding among communities. Mr. Sameer Pandey, Councillor of City of Parramatta grace the occasion by his presence until the end of the Mushaira.
Mr. Abbas Raza Alvi, President of ICSOA welcome all dignitaries, poets, artists, guests, representatives of different organisations, community leaders, sponsors and media partners. Mr. Alvi addressed the audience and shared the purpose of association, which is promoting peace, harmony, pluralism and Multiculturism. Networking, promoting, arts and culture is also part of the ICSOA objectives. Mr. Alvi called Executives of ICSOA and let them inform to audiences about what ICSOA is doing and about coming events. Executives were Mr. Abbas Chelat (Treasurer); Mr.
Mr. Fasihuddin Khan
Siddique Panwala (Lega adviser); Mr. Hassan Kureshi (PR); Dr. Habib Bhurawala (coordinator health), Mr. Fasihuddin Khan (Secretary).
Mr. Alvi thanked main sponsor of the program Mr. Fazal Fariwala who runs his business under "ROSHAN FASHIONS" which is very famous clothing shops and popular among migrants of Indian subcontinents.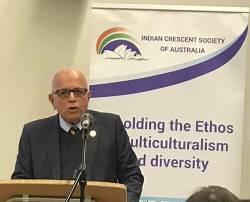 Chairman Multicultural NSW Dr. Harinath
Award for acknowledgment and appreciation was presented to Mohammad Izhar UL Haq for his contribution towards URDU Literature by Chairman Multicultural NSW Dr. Harinath. Prof. Alvi,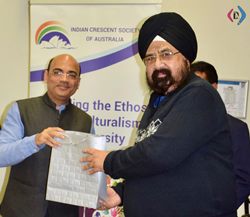 CG Manish Gupta Award Khushbir
Mr. Khushbir Singh was also awarded with gifts by Dr. Harinath. Visiting poet Engineer Muslim Alavi, elder brother of Rehan Alavi a famous broadcaster of URDU on SBS radio, was also acknowledged with a gift by Janab Zafar Siddiqui who was the first to take initiative to promote URDU in Australia.

ICSOA volunteers were also awarded and acknowledged for their volunteering by Mr Manish Gupta, Consul General of India. Volunteers were Mr. Rayyan Khan, Ms. Rida Khan and Mr. Hasnain Bhurawala.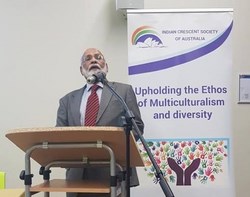 Overseas poets who made the occasion a memorable one was Mohammad Izhar UL Haq (Pakistan); Mr. Khurshbir Singh SHAAD (India); Prof. Rais Alvi (Pakistan); Prof. R.P Mathur (India); Prof. Rekha Diwedi (India); Mr. Muslim Alavi (Pakistan).
Children from Language School read poetry were Ms. Fiza Fatima and Ms. Imamah Matloob amid applause from audiences.
Prominent among local poets were Rekha Rajvanshi; Dr. Rekha Diwedi; Mr. Harmolan Walia; Mr. Abbas Raza Alvi; Dr. Shabbir Haider; Mr. Shuja Aatif; Mr. Arshad Saeed; Mr. Rehan Alavi; Mr. Javed Nazar; Mr. Shahid Malik "Deewana"; Mrs. S Cherry Zia; Mrs. Shafaq Jaffri. Mr. Saba Sadique; Mrs. Bhawna Kunwar; Mr. Prageet Kunwar; Mrs. Kausar Jamal; Mr. Taufiq Ahmad; Mr. Wali Siddiqui; Syed Altaf Zubair; Mr. Virat Nehru; Mr. Shashi Rawat; Mr. Rajiv Maini; Dr. Shalja Chaturvedi; Mrs. Neena Bhadwar; Mr. Vijay Kumar; Mrs. Shail Chaturvedi; Prof. Mathur; Prof. Rais Alvi; Mohammad Izhar UL Haq; Mr. Muslim Alavi; Mr. Khushbir Singh SHAAD and Mr. Amandeep Singh. We missed couple of local poets who could not attend due to last minutes engagement.

Mrs. Rekha Rajvanshi, who organized a list of poets from ILASA, 'Indian Literary and Arts Society of Australia', some young poets and some older ones who have flourished under her guidance and motivation to write poems, as she read her poem: "Chal iss tarah se Kuch, dosti ada ker leN ; MaiN Teri Quran parhooN Tu Meri Geeta ParhE"
All poets including Hindi and Urdu were amazing, their poetry was of high standard and covered all aspects of humanity, nature and humour. Audiences cannot resist themselves without saying Irashad and Muqarrar.
More than thirty Poets read and participated in the Mushaira - Kavi Sammelan.

Due to long list of poets MC, Fasih requested frequently with participating poets to complete their poetry within three minutes to provide everyone a chance to read their poetry.

Some of highlights of guest poets: Mohammad Izar UL Haq: "parinde mere wazir; jugnoo safeer honGe" "maiN apna andaze hukmarani badal raha hooN"
Khushbir Singh Shaad poetry: "Usiki Aabayari Kar raha hooN" Mujhe jo dard worse meiN mila hai"

Prof. Rais Alvi: "Zamana HusN ki Azmat ko Dekhna chahey" "Zamana ahle Muhabbat ko dekhna chahe"
Mr. Muslim Alavi: "Aaj phir wo RaqeeboN ke nerghe meiN the" Aaj phir hoke ham badgumaN Aagaye"

The 'Haq-O-Aman Sath-Sath' was an excellent idea to promote peace, harmony and togetherness through literature and poetry. Poetry is a very effective tools and medium to convey message of HARMONY and PEACE. Both literatures Hindi and Urdu can play a very important role in spreading and promoting the message of PEACE. This initiative was only possible due to the presence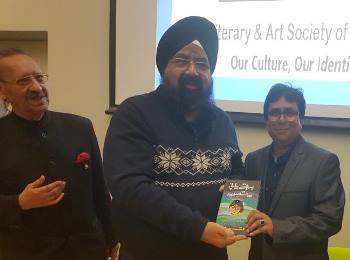 Arshad Saeed Presenting his Poetry book
of Mohammad Izhar UL Haq who came to Sydney on the invitation of Mr. Arshad Saeed who himself a very senior poet and has published two poetry books under his name. Mushaira was concluded by vote of thanks on behalf of ICSOA, by Mrs. Bushra Khan. During her vote of thanks, she acknowledged sponsor ROSHAN FASHIONS, media partners, guests, overseas poets, local poets, artists and dignitaries for their participation and making the program a memorable one. NAZ CATERING was also acknowledged and appreciated for providing delicious food. ICSOA is planning to continue this event as an annual feature. Program concluded at 11: 30 PM.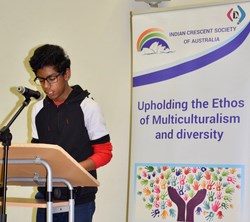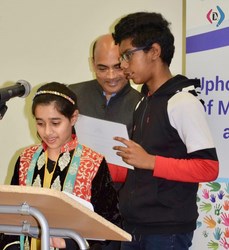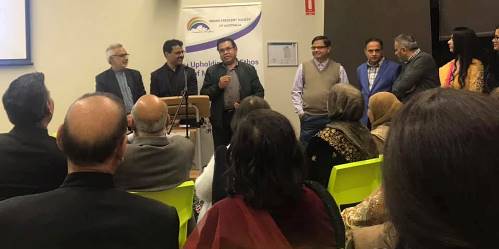 Khushbir Singh Shaad , Izhar ul Haq, CG India Manish Gupta, Prof Rais Alvi & Dr Harinath