Sada-e-Watan Sydney ™
sadaewatan@gmail.com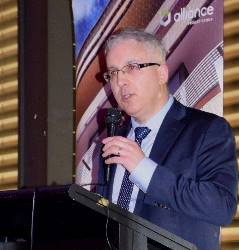 Dr Frank Alafaci
ABSC Inc. Co-Hosts Housing Market Seminar at the Hyatt Regency Sydney
(Report and Photos to Sada-e-Watan by; Sylvia Alafaci)
The Australian Business Summit Council Inc. held an exclusive seminar entitled Housing Market Recovering: What Now for Greater Western Sydney? at the five-star Hyatt Regency Sydney on 18 July 2019. Co-hosted with Alliance Project Group, a dynamic client-focused building construction company with over $100 million dollars per year in turnover, this outstanding event featured the keynote speaker Dr Andrew Wilson, Chief Economist at My Housing Market and Australia's leading independent property market analyst, who enthralled more than seventy high-profile VIPS and guests (business leaders, academics, lawyers, accountants and property developers) with his incomparable knowledge of the transformative nature, configuration and prospects of the Australian property market.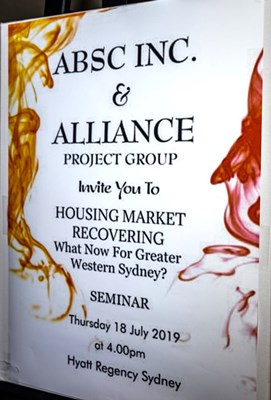 ABSC Inc. president Dr Frank Alafaci welcomed the audience gathered for the occasion, lauding the spectacular progress of this elite management consultant forum which has cemented its presence and pervasive influence within the business community-at-large through its intensive networking activities, favourable media attention, and well-grounded debates and discussions about policies and practices to promote a viable, sustainable Australian economy and uncover hitherto unprecedented lucrative opportunities for Australian businesses in the domestic environment and on the international stage.
As an organisation that seeks to work alongside other like-minded bodies, the Australian Business Summit Council Inc.'s collaboration with Alliance Project Group to organise this Housing Market seminar drew commendations from Rouad El Ayoubi, APG Founding Director, who addressed the seminar's guests and dignitaries with intense expressions of appreciation for the ABSC Inc.'s role as a significant platform for businesses to network and augment their corporate opportunities. Mr El Ayoubi commented that APG was extremely thankful for the opportunity to be a corporate member of the ABSC Inc., underscoring APG's prospective long-term involvement with President Alafaci and the ABSC Inc. Board of Directors.
Dr Andrew Wilson
Much sought-after speaker Dr Andrew Wilson, an appointed housing market adviser to the federal government funded Australian Urban Research Infrastructure Network, added considerable weight to this Housing Market seminar. In his one hour-long power-point presentation and ensuing Question and Answer session buttressed with incontrovertible meticulous statistical evidence, Dr Wilson - who holds a PhD and Masters by Research degree as well as graduate qualifications in Econometrics and Construction Economics - addressed the VIPs and guests about the present trends and evolution of the Australian property market, focusing especially on a state-by-state comparative analysis of housing affordability, interest rate movements with comments on the latest Reserve Bank interest rate rises and predictions on future bank decisions, as well as informed assessments as to the impact of wage levels, unemployment rates, supply and demand, capital growth opportunities, and migration patterns across the major residential centres. Warranting his reputation as Australia's leading independent property market economist, Dr Wilson summed up his tour de force by concluding that the domestic Housing Market will ultimately lead to greater certainty and predictability as property prices will not tumble drastically as some commentators have suggested.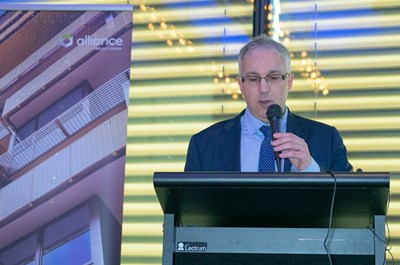 ABSC Inc. president Dr Frank Alafaci
Prior to concluding this sensational Housing Market seminar, ABSC Inc. president Dr Frank Alafaci expressed his deep appreciation for the ongoing support accorded to the Australian Business Summit Council Inc. by its official sponsor, the Australia China Friendship and Exchange Association, and its several corporate members, singling out for special commendation as the latest SME member of the organisation, Harrington lawyers - an acclaimed law firm that practices in the building, civil construction, property development and planning industries. In paying homage to the ACFEA and Harrington Lawyers, Ms Hong Huang, ABSC Inc. vice president, presented certificates of appreciation to Mr Michael Harkins MVO PSM KSJ, ACFEA chief executive officer, for his acceptance on behalf of the Australia China Friendship and Exchange Association, and to the principal of Harrington Lawyers, Mr George Hayek, in recognition of both organisation's as valued members of the Australian Business Summit Council Inc.