Sada-e-Watan Sydney ™
sadaewatan@gmail.com
MNA Sajid Turi and CG Sardar Adnan Rashid
Sajid Hussain Turi MNA Visited Pakistan Consulate Melbourne and met Consul General Sardar Adnan Rashid
On Tuesday, 15th Jan 2019, the Member National Assembly of Pakistan Mr. Sajid Hussain Turi visited Consulate General of Pakistan Melbourne and met with Consul General Sardar Adnan Rashid. Mr. Sajid Turi is on private visit and it is his 3rd visit to Australia.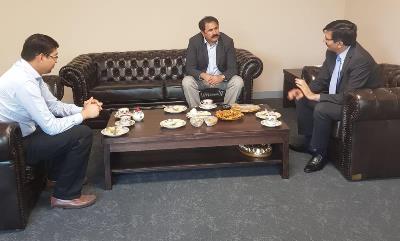 Anees UL Hassan Turi, Sajid Hussain Turi and Sardar Adnan Rashid
CG Sardar Adnan and MNA Sajid Turi also discussed about the current situation of Parachanaar. Mr Sajid Turi highly appropriated hard work and said that CG Sardar Adnan is humble, sincere, highly qualified officer and well respected carrier diplomat who is in best way serving Pakistani Community of Melbourne and other places.
Member National Assembly of Pakistan Mr. Sajid Hussain Turi said that during my recent visit to Australia, I met Pakistani Community from different cities of Australia including representatives from all walks of life attended events arranged in my honour and we discussed problems faced by the overseas Pakistanis and put forth suggestions for improving services at various levels of the government of Pakistan. I met High Commissioner for Pakistan H. E. Babar Amin, Counsellor Pak High Commission Canberra Mr. Tariq Wazir and they are trying the resolving the issues concern with Government of Pakistan & Australian higher Authorities.
Sajid Turi MNA and CG Sardar Adnan Rashid
Consul General of Pakistan in Melbourne Sardar Adnan Rashid highlighted the efforts on the part of Government of Pakistan and said that Pak Consulate Melbourne established just last year but very soon InshAllah we will be able to solve problems of Pakistani diaspora to their satisfaction. In near future, Pak Consulate Melbourne will provide full Consular services with other required facilities.
At the end MNA Sajid Turi thanks to CG Sardar Adnan for his time, great hospitality and positive attitude. During express his views, Mr. Sajid Hussain Turi told Sada-e-Watan Sydney that I must compliment and thank you for Pakistani diplomats posted in Australia. I will prepare a brief report of my visit and send to MOFA, NADRA, OPF and other Ministries.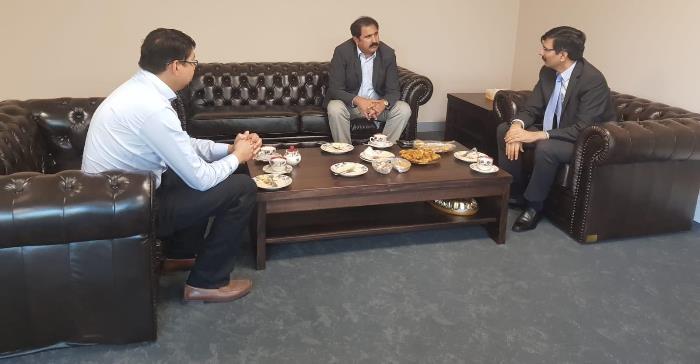 Mr. Anees UL Hassan Turi, Mr. Sajid Hussain Turi MNA and CG Sardar Adnan Rashid