Sada-e-Watan Sydney ™
sadaewatan@gmail.com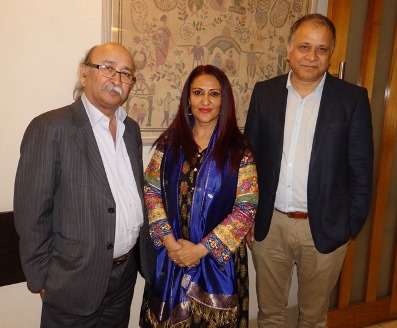 Ashraf Shad, Nighat Chaodhry and Shahid Malik
Art On Sydney hosted dinner for Nighat Chaodhry
Ashraf Shad and Shahid Malik, Directors of ART ON SYDNEY, hosted a dinner for the legendary Pakistani artist Nighat Chaodhry on the next day of her successful performance in Sydney. Art On also presented awards to the ART ON SYDNEY Team and its media friends for supporting the event that effectively portrayed Pakistan's soft image in Australia.
The ART ON SYDNEY is established by Ashraf Shad, a well-known writer, poet and Journalist, and Shahid Malik, a prominent artist, designer and Sydney businessman. The new company was launched in Pakistan and Australia and Nighat Chaodhry event was its first big show in Sydney.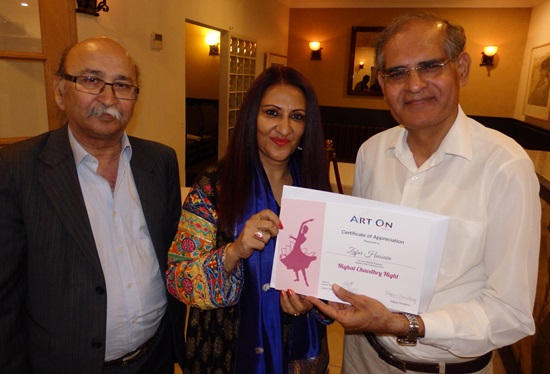 Nighat Chaodhry Presenting Award to Syed Zafar Hussain
ART ON SYDNEY has announced to organise the painting exhibition of calligraphy where the work of some leading Pakistani and Australian artists will be on display. In her brief speech at the dinner on 18 February at the Spice of Life, Nighat Chaodhry paid big tribute to the Sydney audience for their understanding of the classical dances for coming in large number to appreciate the artists' performances. She also complimented ART ON SYDNEY for organising such an important show and encouraging local artists to bring them on stage for such a big event.
In the end Nighat Chaodhry presented Certificates of Merit to Art On team and to Sydney's media personalities. Those who were awarded include: Dr Yasmeen Shad, Naela Malik, Huma Mirza, Dr. Safi Alvi, Tayyaba Alvi, Farogh Zaidi, Dr Yasmeen Zaidi, Shahid Kyani, Saadia Kyani, Mrs. Ehsan Sheikh and Ghazala Shahid. Certificates were also presented to Prof. Raees Alvi, Azal Khan, Syed Zafar Hussain (Sadaewatan), Raja Taseer (Hamwatan newspaper) and Zahid Minhas (Dosti Radio).
Dr Yasmeen Shad and Nighat Chaodhry
Dr Yasmeen Zaidi and Nighat Chaodhry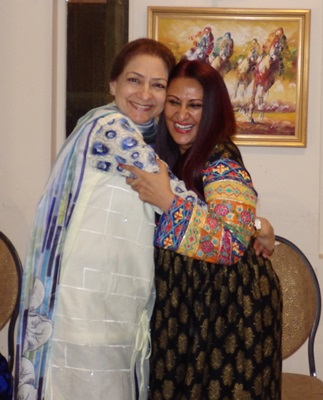 Huma Mirza and Nighat Chaodhry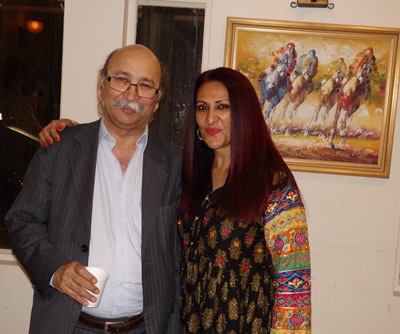 Ashraf Shad and Nighat Chaodhry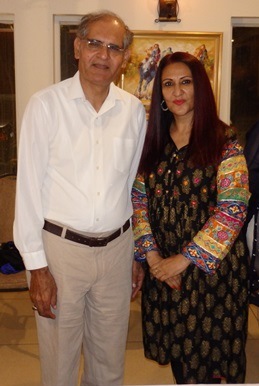 Syed Zafar Hussain and Nighat Chaodhry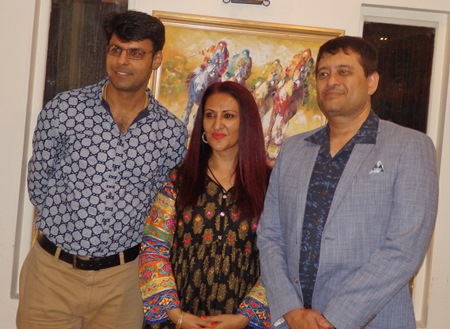 Raja Taseer, Nighat Chaodhry and Dr Safi Alvi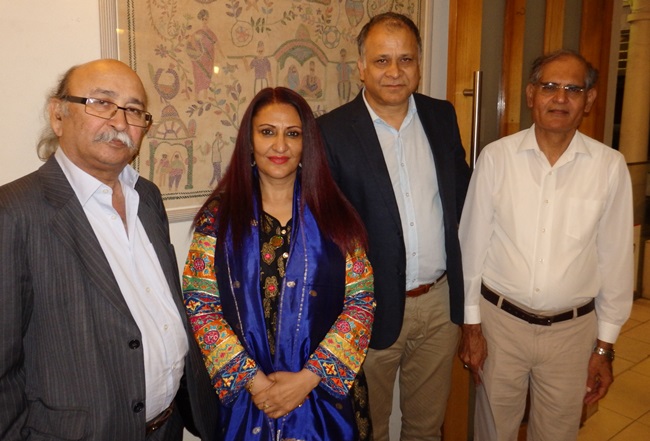 Ashraf Shad, Nighat Chaodhry,Shahid Malik and Syed Zafar Hussain