Sada-e-Watan Sydney ™
sadaewatan@gmail.com


Every soul shall have a taste of death: in the end to Us shall ye be brought back.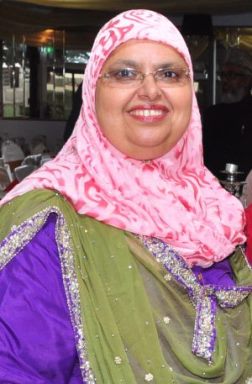 Sadia Jamal Siddiqui
Late Sadia Jamal Siddiqui: tragedy, support and prayers
(by Zia Ahmad, Editor-in-Chief Australasian Muslim Times)
The first morning of the New Year 2018 was started with the tragic news of the demise of my sister Sadia Siddiqui and serious injuries to her son Azzam Siddiqui involved in a road accident in Victoria on Monday 1 January 2018 around 5.30 am.
Azzam sustained multiple vertebra fractures and is currently in a stable condition recovering at Epworth Geelong hospital near Melbourne. His wife Atikah and brother Areeb who were also in the vehicle sustained minor injuries.
Sadia's family together with her husband Zafar, son Azzam, daughter-in-law Atikah and son Areeb went on a short holiday during the new year long-weekend to visit Grampian National Park staying at Stawell around 240 km north west of Melbourne.
On Monday 01 January2018, after offering their Fajr prayers, four members of the family left for a scenic drive towards Halls Gap. Zafar stayed at the motel.
While they were driving the four-wheel drive Mitsubishi Pajero on Grampians Road, a kangaroo jumped out in front of the car from nowhere. With the human instinct to save a life, the car swerved in order to miss the animal when the car rolled and ended upside down.
Both Atikah and Areeb managed to get out quickly and called 000. Azzam was pulled out by emergency services and airlifted to Royal Melbourne hospital. Sadia passed away at the scene.
Azzam suffered fractures in his three vertebrae and sternum and initially could not feel his legs. However, the feeling eventually returned.
Atikah and Areeb were taken to Stawell Hospital Emergency, checked, treated for minor injuries where Zafar joined them later. The head nurse consoled the family at this traumatic time and her husband Mr Mark Farrer volunteered to drive the family in his car all the way to Royal Melbourne Hospital to meet up with Azzam.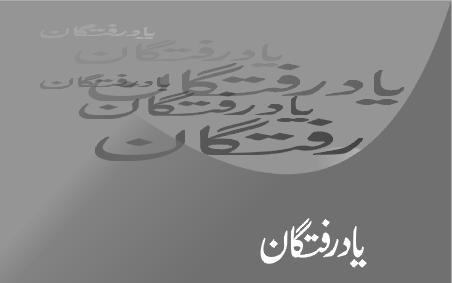 Meanwhile, the news of the first road fatality of 2018 in Victoria spread like wildfire and was picked up by several news outlets.
First Constable Mitch Cohen from Ararat Police Station gave the details of the accident and also advised drivers to take precaution in not avoiding wildlife by swerving the vehicle but using the brakes to slow down and get ready for the impact.
Since wildlife are on the move at dawn and dusk and kangaroos being notorious for occupying the roads at these times, the drivers need to be extra careful while driving at these hours.
The same morning Victoria Police Road Policing Command Assistant Commissioner Doug Fryer immediately responded to the tragedy.

"The information I have at this stage is that it appears the car may have swerved to miss a kangaroo," he declared.
Referring to yet another accident the same morning as well, Mr Fryer said, "My deepest condolences to each of the families who I can only guess continue to contemplate why, why have they been thrust into the sadness and loss that is the unexpectedness of road trauma."
"I continue to hope that no one else will lose their lives on the roads, however, to wake this morning and be notified that the first person for 2018 has died on the roads is disheartening," he concluded.
Rapid response by the extended family
The extended family got the news of the accident and Sadia's demise within a couple of hours in Sydney and elsewhere. Close family members flew from Canberra and Sydney the same morning arriving at Royal Melbourne Hospital to see Azzam where his elder sister Nabeeha was with him.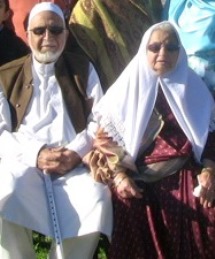 Dr Qazi Ashfaq Ahmad and
Mrs Jamal Ara Ahmad
One week before the incident, my mum Mrs Jamal Ara Ahmad, 85, was admitted at the Fairfield hospital and in fact Sadia was the one coordinating her care and rehabilitation.
The news of Sadia's demise was very traumatic for our Mum. We got her discharged from the hospital the morning of the incident before myself, my father, Dr Qazi Ashfaq Ahmad, 87 together with other family members departed for Melbourne.
We were picked up by Professor Akhtar Kalam and Mrs Kalam who kindly hosted us and lend all the support together with a number of family friends and acquaintances from Melbourne's Muslim community helping us to cope with this tragedy.
Considering the long-term recovery and rehabilitation of Azzam where he needed to stay in Melbourne, it was decided to have Sadia's janaza (funeral) and burial in Melbourne rather than Sydney.
With representation made by Mr Ramzi Elsayed, currently Treasurer of Islamic Council of Victoria (ICV), The Coroner released the body on Wednesday 3 January for Janaza and burial the same afternoon.
Most of our more than 70 strong extended family members and some friends flew or drove from Sydney and Canberra while my brother Najm arrived from Saudi Arabia and Zafar's brother Zaid together with his family arrived from the USA just in time for the janaza.
Dr Charlotte Clutterbuck who tutored Sadia in English soon after our arrival in Australia where later our two families developed strong friendship spanning three generations flew to Melbourne from the South Coast. So did Sadia's longtime friend Ms Azra Khan from Canberra.
The janaza prayer, coordinated by Maulana Nazeerul Hassan Thanvi was held on Wednesday 3 January at Melbourne's Aisa Mosque in Meadows Heights and burial took place at Fawkner Crematorium and Memorial.
The janaza prayer was joined by the large contingent of the extended family, decades-long friends of the family including Dr Abdul Khaliq Kazi, Dr Tariq, Mr Ibrahim Dellal, Dr Masood Hussaini, Mr Mohammad Hassan, Dr Saleh Yusel, Mr Baqar and many other members of the Victorian Muslim Community acquainted with our family through our Islamic activities including publication of AMUST.
My personal reflections on Sadia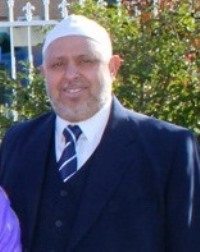 Zia Ahmad
Sadia is the fourth child of Dr Ashfaq Ahmad and Jamal Ara Ahmad; sister of Zia, Najm, Fauzia, Najia, Manar; wife of Zafar Siddiqui; mother of Nabeeha, late Najeeb, Azzam, Areeb and mother-in-law of Atikah Siddiqui.
Born at her maternal ancestral home in Anwayan, District Ballia, UP, India, she had her primary education at Presentation Convent in Srinagar, Kashmir and later studied at Our Lady of Fatima Convent, Aligarh for a couple of years before migrating with the family to Australia in December 1971.
She went to Moorfield Girls' High School in Kogarah completing her HSC and obtained her bachelors degree in Information Technology from the University of Lae, PNG where her father was a professor of Mechanical Engineering.
She got married to Zafar Siddiqui in 1982 in India and after spending a couple of years there, the couple migrated to Australia.
She worked as a computer graphics designer with family business TIPS later joining a printing and publishing firm in the same capacity. She also worked for a number of years during the 1990's with the multilingual Australasian Muslim Times AMUST as the principal graphic designer and layout artist.
She inspired her other siblings as well as members of the third generation to become budding graphic designers. Her graphic designer skills were also used in a number of community projects including IFEW, MEFF, Insight magazine, AMU Alumni of Australia, Anjuman Taraqqi Urdu etc. She also designed the CD cover of Dooriyan, an innovative music CD produced by Mr Abbas Alvi's team synthesising Indian songs with indigenous music.
Sadia was elected as Ameerah of Australasian Integrated Family (AIF), our extended family organisation and President of IFEW for a couple of years and played a major role in the organisation of Multicultural Eid Festival & Fair, MEFF taking charge of award presentations for a couple of decades.
Amongst her siblings, Sadia was a quiet worker, peaceful, easygoing, efficient and hard working. She was very social, maintaining good communication with family, friends and various sections of the community over the phone or frequent visits.
Together with her husband Zafar, the couple were always first to call on anyone sick at home or in hospital sharing the sorrows as well as rejoicing with family members and others in the community.
Like my siblings and in-laws, Sadia learnt driving from me and I found her the most patient learner where unlike others, she never protested against my criticism during instructions while learning to drive.
The result was that she passed her oral and practical driving test on the first go and became the best car driver I have ever known.
Many times while still young she used to fetch our foreign guests from the airport, many of whom expressed their admiration of her confidence in driving as a lady driver of Indian origin.
Sadia was well known for making the best gulab jamun in the South Asian community and personally, for me, she made the best lassi in summer and occasionally Goshtaba, the king of Kashmiri cuisine.
Sadia and her family went through some traumatic times, one being the tragic death of her eldest son Najeeb at the young age of 18 while visiting India. Her second son Azzam underwent intensive surgery and hospitalisation for a number of years suffering from traumatic pain during long periods of recovery.
Later in life, Zafar himself suffered from a number of ailments where Sadia provided support for the family like a rock persevering through difficulties in financial well being, health, family issues etc.
During the last six month, having spent increasingly more time with her mother, as she got old and frail, Sadia became very close to her and she is greatly being missed by out mother.
Inna lillahe wa inna alaihe rajeoon, we are from Allah and to Him we return. May Allah grant paradise to Sadia and give sabr (patience and perseverance) to all her loved ones.
We pray for a speedy recovery for Azzam and stability in Sadia's family.
On Sunday 7th January 2018, from 10am -12pm, A huge number of men and Womens gather at the "Darulislam" Bonnyrigg Sydney to see all family members and pass condolences. Hundreds People expressed their condolences to Dr Qazi Ashfaq Ahmad, Jamal Ara Ahmad and other family members. They Pray to ALLAH Almighty to rest the departed soul in eternal peace and grant courage to her family members to bear this irrepairable loss.