Sada-e-Watan Sydney ™
sadaewatan@gmail.com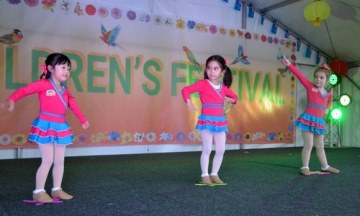 Historic Children's Festival 2022 held at the Darling Harbour Sydney
(Exclusive report and photos to Sada-e-Watan by; Mr. Warren Duncan)
On a bright, sunny and warm Sunday, children from all over Sydney, representing communities from all over the world, shattered the gloom of COVID which has kept the vibrant Children's Festival off the agenda for two and a half years.
Children, as young as three, enthusiastically sang, danced, played music, patted farm animals, jumped on rubber castles, had their faces painted, paraded in costume and played games together in Sydney's Pyrmont Bay Park, Darling Harbour.
Tiny ballerinas, folk dancers, young warriors, musicians and singers all charmed the large audience in the park throughout the day.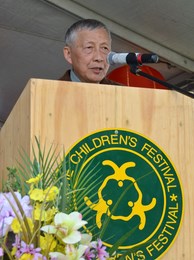 Thuat Nguyen AM
The founding President of the Children's Festival Organisation, Thuat Nguyen AM, welcomed the crowd to the 36th festival to be staged across Sydney over the past 23 years.
He told the gathering of children, parents, community leaders and spectators: "We believe that children are a starting point in building social cohesion and therefore this festival is one of the best ways to create harmony in our community, to enrich the Australian culture and to make everyone feel proud to be Australians.
"We have successfully staged thirty-five Children's Festivals in Bankstown, Canterbury, Marrickville, Campbelltown and Sydney, attracting over a quarter of a million participants and inspiring many thousands of volunteers, particularly the young people, to do the good things for the community.
"The enthusiastic participation of more than forty community youth groups in the 36th Children's Festival, including many boys and girls from NSW Scouts and a big crowd of festival-goers, right after the pandemic, clearly demonstrated that a new cultural tradition has emerged which is "playing together and living in harmony" - which is exactly what has been pursued by the Children's Festival over the last 23 years", he said.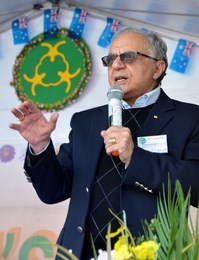 Dr Stepan Kerkyasharian AO
Officially opening the festival, Dr Stepan Kerkyasharian AO, Deputy Chair of the Australia Day Council, told the gathering: "All of these wonderful children are Australians but they are sharing with Everone else the special talent, culture and skills that they have learned from their parents and grandparents who come from another part of the world.
This broadens our National character and makes us all true citizens of the world."Volunteers from more than forty youth community groups contributed to the running of the festival including many boys and girls from NSW Scouts.