Sada-e-Watan Sydney ™
sadaewatan@gmail.com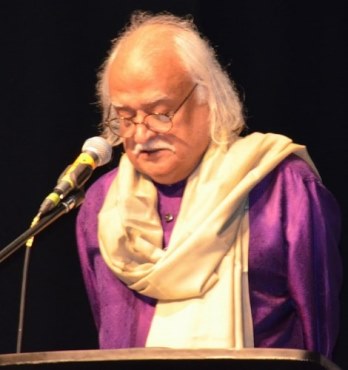 Anwar Maqsood speaking in Sydney
Pakistan 70 ka , Anwar Maqsood 78 ka
(Exclusive Coverage to Sada-e-Watan by Syed Adnan)
Koocha-e-Saqafat Australia presented another remarkable show on Saturday 24 March 2018 at Rockdale town hall in Sydney. This time they invited an extraordinary talent Pride of Pakistan who is known to almost every Pakistani and those outside the country with some interest in Pakistani dramas, talk shows and theatre. It was a live show by the famous satirist, humorist and actor Mr Anwar Maqsood. This was the very first time when Anwar Maqsood performed live in Australia and the credit goes to Javed Nazar of Koocha-e-Saqafat who with his team made this dream a reality. Anwar Maqsood in his 100 minutes of captivating performance made his audience nearly cry with laughter but there were some instances where he made them really cry.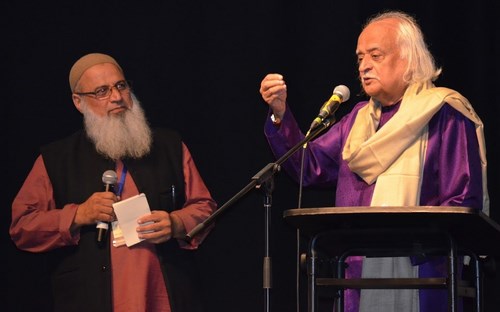 The performance was so mesmerising the house full capacity crowd in the Rockdale Town Hall Sydney did not move, even for a minute. Anwar Sahib in his presentation shed light on various aspects of human life in his own humorous style. Throughout the program the packed hall was filled with applause and in the end the audience gave a standing ovation to Anwar Maqsood but they didn't really want the program to finish and wished it would go on forever. One of the audience sent a comment saying,
"97 minutes of pure nirvana, the sublime art of making you laugh and cry with rainbow of waves"
Another guest wrote this couplet in Urdu,
"Chand Doba to hay yaqeen phir niklay ga
Tum jo bichRay Anwar shamein bayrang hongi"
(Meaning: When the moon sets it is believed that it will come out again
When you leave Anwar evenings will be colourless)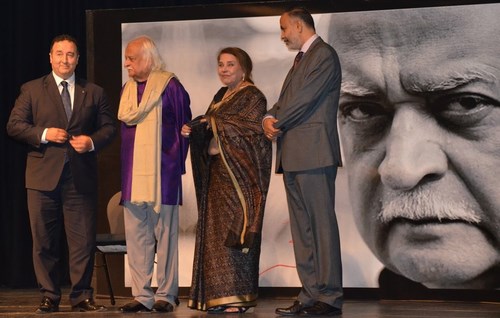 Hon.Shaoquett Moselmane, Anwar Maqsood, Uzma Gillani and Abdul Majid Yousafani
On this occasion Hon Shaoquett Moselmane, Member of NSW Legislative Council, Mr. Abdul Majid Yousafani, Consulate General Pakistan, famous TV artist Uzma Gilani and internationally
Hon.Shaoquett Moselmane, Anjum Ayaz and Anwar Maqsood
recognised sculptor and artist from Pakistan Anjum Ayaz were also present. Koocha-e-Saqafat following its tradition presented an award to Anwar Sahib. Awards were also presented to
Hon.Shaoquett Moselmane, Anwar Maqsood and Kamran Mirza
Kamran Mirza (Aussi Forex and Finance, Zafar Ansari Everyday Travel, Mr. Abdul Rahman, Mr. Iftikhar Pervaiz and Mr. Zahid Hussain for their support in organising this event. Anwar
Maqsood presented an award to the chief organiser of this program Mr. Javed Nazar. Hon. Shaoquett Moselmane on behalf of the New South Wales Parliament also presented awards to Javed Nazar and Anjum Ayaz for their service to the Art and Culture in Australia.
President Javed Nazar
Javed Nazar thanked all guests for making this program a success and also thanked proprietors of Sada-e-Watan Newspaper and Sangat Magazine for their support in promoting this event.
The program started and finished on time, a rare thing to observe in such events. The team of Koocha-e-Saqafat showed high level of organisational skills in managing this event and should be praised, also special thanks to Hafiz Kamran to serve delicious food to the audience.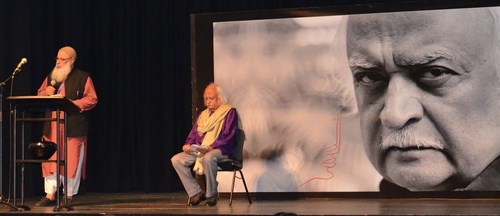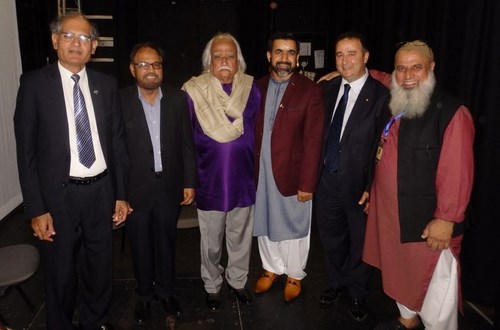 Zafar Hussain, Insaf, Anwar Maqsood, Abbas Rana, Shaoquett Moselmane and Javed Nazar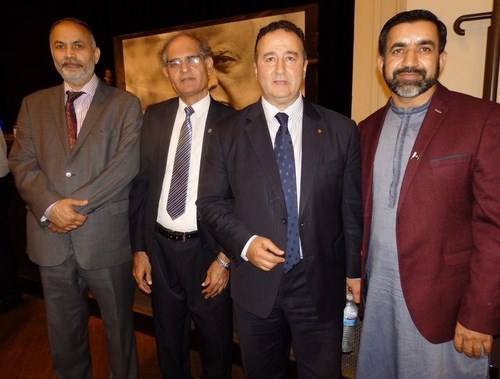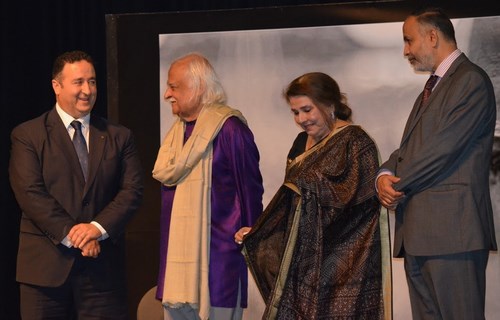 Hon.Shaoquett Moselmane, Anwar Maqsood, Uzma Gillani and Abdul Majid Yousafani