Sada-e-Watan Sydney ™
sadaewatan@gmail.com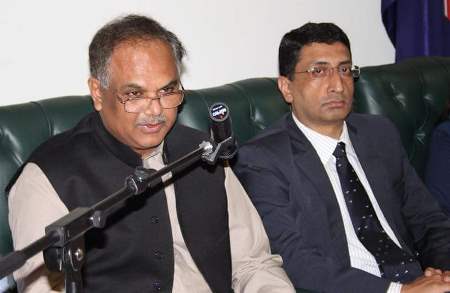 Acting High Commissioner Dr Khalid Ejaz and Defence Advisor Brig Asim Khan
Pakistan High Commission Canberra hosted a Reception for 27 members delegation of Multi Sector
A reception was held at the High Commission for Pakistan to welcome the short course trainees working on Multi-sectoral approaches to Nutrition in Pakistan. The 27-members delegation comprised of medical professionals, academics and public-sector officials.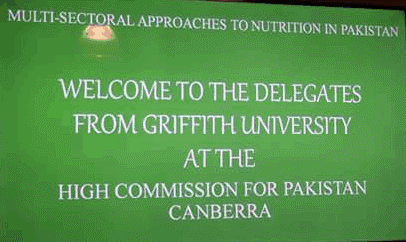 Mr. Abdullah Khan, Chief of Section, Planning and Development Department, Government of Balochistan, Dr Nabeela Shahid, Deputy Programme Manager, National Rural Program, Government of Sindh, Ms. Maria Ali from Griffith University and other members of delegation thanked the High Commission for providing a platform for discussion enabling them to understand different perspective on the subject. Prominent among the attendees were Mr. Craig Robertson, CEO, TAFE Australia, Dr. Ejaz Qureshi, from ACIAR, Prof Robert Breunig, Crawford School of Public Policy, Ms Munazza Iman and Ms. Bushra Jaffar of Australian National University.
Welcoming the delegates, Acting High Commissioner, Dr Muhammad Khalid Ejaz stated that Pakistan, with a youthful population of more than 60%, was focusing on provision of better health and nutrition facilities to its people. The Government of Pakistan was spending around A$ 1.3 million annually on HEC scholars for doing research in various Australian Universities. In fact, Australia was the third most favoured destination for Pakistani students as around 16,000 of them were enrolled in various Australian Universities. Most of them were self-financing scholars. Despite meagre resources, their parents bear tuition fees and other expenses.

The Acting High Commissioner Dr Muhammad Khalid Ejaz urged the delegation to strive for developing institutional linkages between the two countries. He underscored that through joint ventures, Australia may take advantage of the vast potential that Pakistan offers in various sectors including health and nutrition.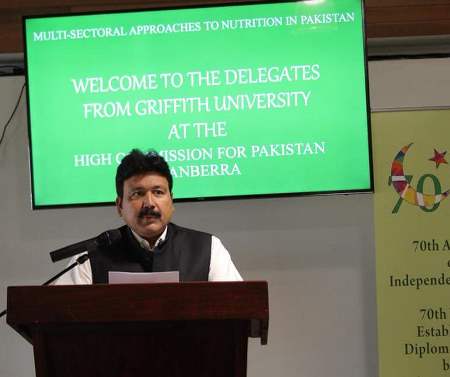 Counsellor Mr. Aamer Ahmed Atozai