Sada-e-Watan Sydney ™
sadaewatan@gmail.com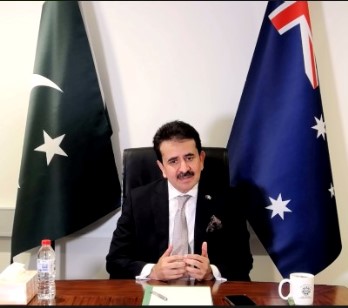 High Commissioner Zahid Hafeez Chaudhri
H.E. Zahid Hafeez Chaudhri Virtual Town Hall Meeting with Pakistani Diaspora
As part of the High Commissioner's efforts of reaching out to the Pakistani Community living in Australia and accredited countries of Fiji, Papua New Guinea, Nauru, Vanuatu and the Solman Islands, an open virtual Town Hall meeting was organized on Tuesday, 29th November 2022.

During the meeting, the High Commissioner Zahid Hafeez Chaudhri chaired and responded to the question, asked by the Community, and listened to their suggestions. He understands that Pakistani diaspora was a great national asset and serving them remained the topmost priority of the High Commission.

The community members appreciated the services particularly the High Commission holding the regular monthly Town Hall meetings, where they could share their views, seek resolution of their issues, and provide them feedback on various issues.