Sada-e-Watan Sydney ™
sadaewatan@gmail.com
Ustad Rafaqat will perform live at Parramatta RSL Club Sydney on Sat 03 March 2018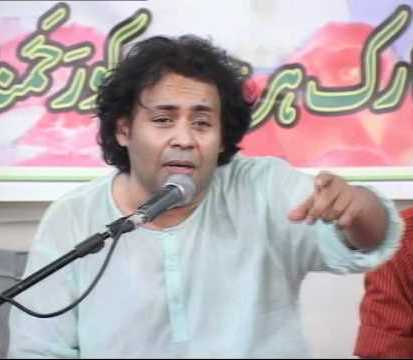 Ustad Rafaqat Ali Khan
****************************
Ustad Rafaqat Ali Khan
Ustad Rafaqat is Coming again in Australia. He will perform live at Parramatta RSL Club Sydney on Saturday evening of 3rd March 2018.
Ustad Rafaqat Ali Khan is a Pakistani singer-songwriter and musician. Trained as a classical singer, he is the son of legendary singer Nazakat Ali Khan and nephew of Salamat Ali Khan of Sham Chaurasia gharana. He is the cousin of Ustad Shafqat Ali Khan. With the career spanning over two decades, Khan has established himself as a successful artist releasing a total of eleven albums.
Ustad Rafaqat Ali khan is originally from Lahore. He is best of Pakistani classical music. He is well known Singer-songwriter, musician and singing since 1990. Ustad Rafaqat Ali khan is associated actsStrings, Sheraz Uppal, Coke Studio, Rishi Rich.
He also marked as a playback singer for Krrish, Dhokha and Youngistaan earning widespread acclaim for his singing. In 2016 Khan marked his Coke Studio debut as a featured artist in season 9, as a part team Sheraz Uppal.
Ustad Rafaqat Ali Khan was born into a Sham Chaurasia gharana to Nazakat Ali Khan. His uncle Salamat Ali Khan was also a singer who sang with his father Nazakat for over half a century. His cousins Shafqat Ali Khan, Shujat Ali Khan and Latafat Ali Khan are all veteran classical singers. Rafaqat graduated from University of Punjab in MA Musicology.
Ustad Rafaqat Ali Khan started his musical beginnings at very young age and was trained by his father and then uncle. He appeared in television and did shows at Radio together with his uncle and cousins. He then started singing solo and did shows in countries like India, UK, USA, UAE, Canada, Australia, Middle East, and many European countries. His 2009 tour of USA was considered the most successful tour ever of a Pakistani artist. He performed in concerts in 16 states in the month of July and August.

Ustad Rafaqat Ali Khan became the first Pakistani singer ever to perform at the opera house in Oslo for three days. The event organized in Norway by the multicultural festival was also attended by the Queen Sonja of Norway. He was accompanied by Bollywood Brass band, Nafees Irfan and Jasvant Singh. Rafaqat Ali Khan also presented classical songs at inaugural ceremony of festival at Rudd house (City Hall) in Oslo. Rafaqat Ali works was featured on the Rishi Rich's album The Project and has recorded song with Peter Gabriel.

Ustad Rafaqat Ali Khan also known as a successful playback singer in films Krrish, Dhokha, Silence Please... The Dressing Room, Youngistaan and received Mirchi Music Awards for Song Representing Sufi Tradition at Mirchi Music Awards. He debut as a featured artist with season 9, under Sheraz Uppal.
The readers of Sada e Watan can visit his website at:
www.rafaqatalikhan.com