Sada-e-Watan Sydney ™
sadaewatan@gmail.com
Four New Books by Ashraf Shad Launched in Sydney
After Karachi, Dubai and Abu Dhabi, Ashraf Shad's four new books were launched in Sydney in a graceful literary ceremony organized by Urdu International Australia.The event, held on 14 June 2015 at Hurstville Entertainment Centre, was attended by over 100 guests from Canberra, Melbourne and Sydney that included local poets, writers, intellectuals, artists and media personalities.

Ashraf Shad, a renowned Urdu poet, writer and journalist based in Sydney, is credited with 12 published books including Bewatan that won the Prime Minister Literary Award by Pakistan Academy of Literature in 1998. His new books include Akhbar-e-Ishq (poetry collection), Ahmad Faraz Bakallam-Khud (Critique), Syastain Kiya Kiya (Interviews) and Ashraf Shad-His Art and Personality (Articles).

The first session was chaired by famous TV artist Mrs Uzma Gillani, while Mr Musaddaq Lakhani, a well know Urdu poet from Pakistan, Arif Rana, famous TV personality and writer, Dr Shabbir Haider and Dr Sayeed Khan, patrons of Urdu International Australia, and Pervaiz Buttar the leading Australian lawyer, were the guests of honor.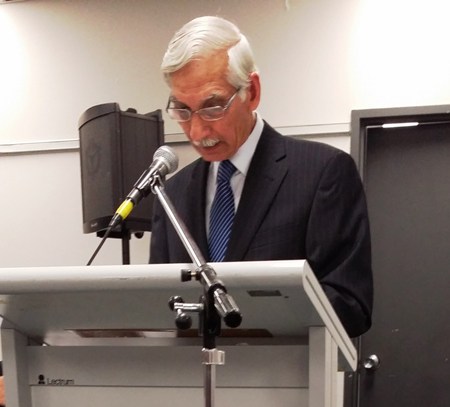 Arif Sadiq, the Central Executive member of UIA, was the Master of Ceremony who gave a brief introduction of Mr Ashraf Shad and his contribution to Urdu literature and the world of journalism.

Dr Shabbir Haider spoke about the key role Ashraf Shad played in promoting Urdu language and literature in Australia. He told the audience that in early 90's Ashraf Shad founded Urdu Society of Australia and established Urdu International Australia after his return from UAE last year.

"He has inspired many young Urdu poets and writers in Australia and UIA is now on the forefront of the literary scene in Australia," said Dr Haider.

Mr Rehan Alavi, the head of SBS Urdu service, talked about Mr Shad's new book "Siastain Kyya Kyya. This book is a collection of Interviews with Pakistani leaders and politicians that Mr Shad did as journalist. The book include interviews of leaders like President Zia-ul-Haq, Prime Minister Benazir Bhutto, Sardar Mengal, Imran Khan, altaf Hussain and many others. Mr Alavi said this book helps understand important events in Pakistan's history.

Mr Tariq Mirza spoke about the book "Ashraf Shad – Fun aur Shaksiat." He admired Mr Shad's extensive contribution in Urdu poetry, fiction, novel and other forms of creative literature but more importantly his literary work in Australia.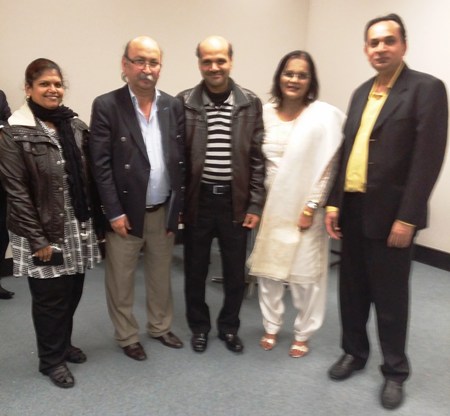 Mr Arif Rana gave a brief review of Mr Shad's new poetry collection " Akhbar-e-Ishq." He said this is Shad Sahib's third poetry collection and is a beautiful addition to his other books. Most poems and Ghazals reflect his observations and experiences during his ten year stay in UAE. Kumud Merani, the head of SBS Hindi service, also paid tribute to Ashraf's poetry in her brief speech.

Arif Sadiq talked about the new book "Ahmad Faraz Bakallam Khud." This book is unique because its based on a 'Diary' that contained Mr Ahmad Faraz's incomplete and unpublished Ghazals and reflects on the creative process of a famous contemporary poet. Mr Arif said that this book will be very useful for young poets as well as students of Urdu literature.

Mrs Huma Mirza, Mrs Farhat Iqbal, Dr Muhammad Ali and Mr Pervaiz Butter also paid tribute to Mr Shad and commended his contribution to Urdu language and literature. In her speech as chair, Mrs Uzma Gillani said that she was impressed by the work Mr Shad has done over the years and has established himself as an important Urdu poet and writer.A young local singer Mehreen Javed sang Ashraf Shad's Ghazals and a Geet that were liked by the audience.

The second session, a poetry recital (Mushaira) was chaired by famous Urdu poet Mr Musaddaq Lakhani, who came from Melbourne for this function. Local poets Muhammad Ali Bokhari, Farogh Zaidi, Dr Yasmeen Zaidi, Dr Muhammad Ali, Javed Nazar, Syed Shuja Atif, Mrs Farhat Iqbal, Mrs Huma Mirza, Nasim Haider, Rehan Alavi, Arshad Saeed, Arif Sadiq, Mrs Kaneez Fatima Kiran and Dr Shabbir Haider recited their poetry.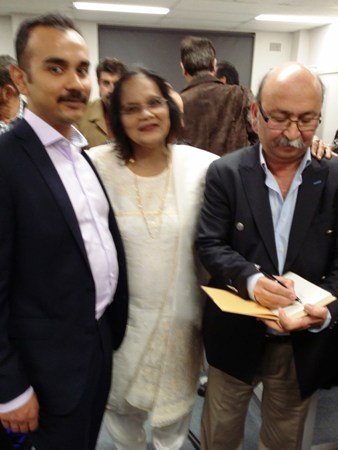 Mr Shad recited his famous Ghazals in trarannum and the audience enjoyed it. As the tradition goes, the chair Mr Lakhani recited his poetry at the end and the audience enjoyed his kalam. A hot and sumptuous dinner was served after the formal program.