Sada-e-Watan Sydney ™
sadaewatan@gmail.com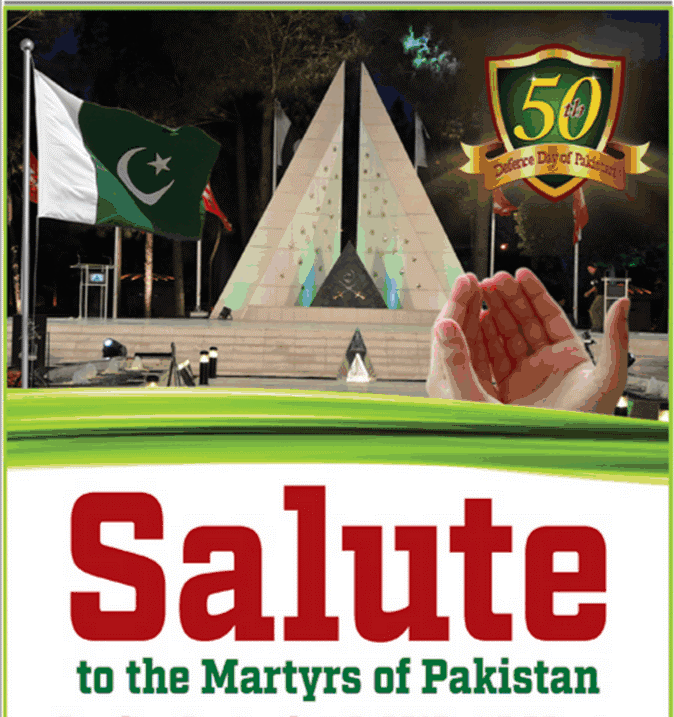 6 September 2015 - Golden Jubilee of Defence Day of Pakistan
The Australian Pakistani Community join entire nation for observe 50th anniversary of Defence Day on Sunday (September 6) to commemorate 1965 War and sacrifices rendered by valiant Pakistan's Armed Forces who repulsed the attack by a much larger army of India with bravery and valour.

The Defense Day of Pakistan reminds us of the unflinching resolve, determination, courage and bravery of the Pakistani nation. Today we are celebrating the golden jubilee of those memorable events, when our brave armed forces not only successfully defended its frontiers but also thwarted the nefarious designs of the enemy.
The nation today pays its tributes to those martyrs and Ghazis, who added splendid chapters in the annals of our history by setting examples of valour and courage, and did not even hesitate to render the ultimate sacrifice by laying down their lives. This same spirit of service to the nation and dedication to duty remains a hallmark of the armed forces. Our brave officers and soldiers following the footprint of their glorious past continue to successfully defend the country from internal and external threats.


The armed forces of Pakistan, besides keeping a vigil on the air, sea and land frontiers, have also played an unprecedented role in addressing internal issues, like terrorism. On this occasion of Golden Jubilee of Defense Day of Pakistan, we pay tributes to the armed forces, the national heroes and the martyrs as well as reiterate the resolve that there shall be no compromise on the defense of Pakistan.
PAKISTAN ARMED FORCES ZINDABAD
PAKISTAN PAINDABAD