Sada-e-Watan Sydney ™
Sadaewatan@gmail.com
AMU ALUMNI OF AUSTRALIA IN SYDNEY FUNDRAISING DINNER 2014 at Crowne Plaza
(Exclusive Report to Sada-e-Watan by Fasihuddin Khan, President AMU)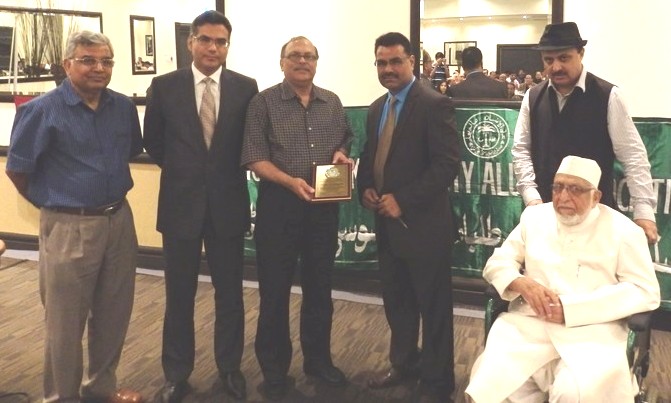 AMU Alumni of Australia organized a very successful Fundraising Dinner for the Education of those who are Less Privileged, Economically Backward and belongs from Low Socio Economic background. This event was organized at Crowne Plaza Norwest (Five Star), 1 Columbia Court, Baulkham Hills NSW due to generous sponsorship by the Management of Crowne Plaza on Saturday 22 March 2014. Venue was crowded to its capacity.

Dr. Mansoor Ahmad Secretary, AMU Alumni of Australia was master of ceremony who called Maulana Nazirul Hassan Thanvi to formally start program with the recitation of verses from Holy Qur'an with translation. Maulana Thanvi mesmerized audiences with his melodious voice during recitation. After a brief introduction Dr. Mansoor Ahmad called President of AMU Alumni Mr. Fasihuddin Khan to welcome guests and address the audience.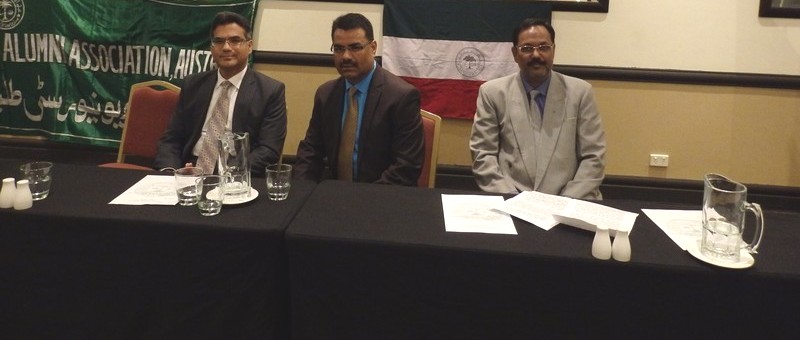 Abdul Aziz Uqaili, Consul General of Pakistan, Fasihuddin Khan, President AMU and Vice President AMU Syed Aale Ali

Mr. Fasihuddin Khan in his address welcomed CHIEF GUEST Consul General of India H.E. Mr. A. K. Goel; GUEST OF HONOUR Consul General of Pakistan and Trade Minister H.E. Mr. Abdul Aziz Uqaili; EX CONSUL GENERAL of India Mr. Vijay Kumar, KEYNOTE SPEAKER Editor-in-Chief, Clinical & Experimental Ophthalmology, Australia A/Professor Dr. Salmaan Hayat Al- Qureshi; SPONSORS MCCA Islamic Banking and Finance, Crowne Plaza Norwest, Industrial Education and Training Services, Roshan's Fashion, Himalaya Restaurant, AUS-CAN Immigration Services, CU Financial Services and Butter Caldwell & Co. Solicitors; REPRESENTATIVE of various Community Organisations SAMAA, MEFF, IFAM, AFIC, IFEW, GMAA, CIC Canberra and Urdu Society; MEDIA PARTNERS SADA-E-WATAN Sydney, SBS Urdu, and Rabitah International.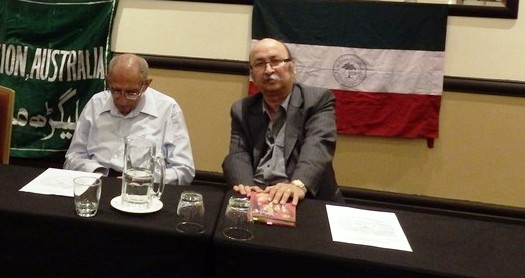 PARTCIPATING POETS Ashraf Shad, O. K. Rahat, Abbas Raza Alvi, Arshad Saeed, Zafar Islam, Tauqir Hassnain, Rehan Alavi, Shagufta Zia, Riaz Shah, Farogh Zaidi, Yasmin Zaidi, Imran Naziri, Mohammad Ali and Tariq Mirza, MEMBERS OF ADVISORY BOARD from Canberra and Sydney Mr. Zafar Ahmad, Dr. Qazi Ashfaq Ahmad, Mrs. Mona Zahid and Mrs. Saba Abdi; SENIORS Mr. G. Q. Siddiqui and Mr. Mahmoud Ullah Khan, guests and members.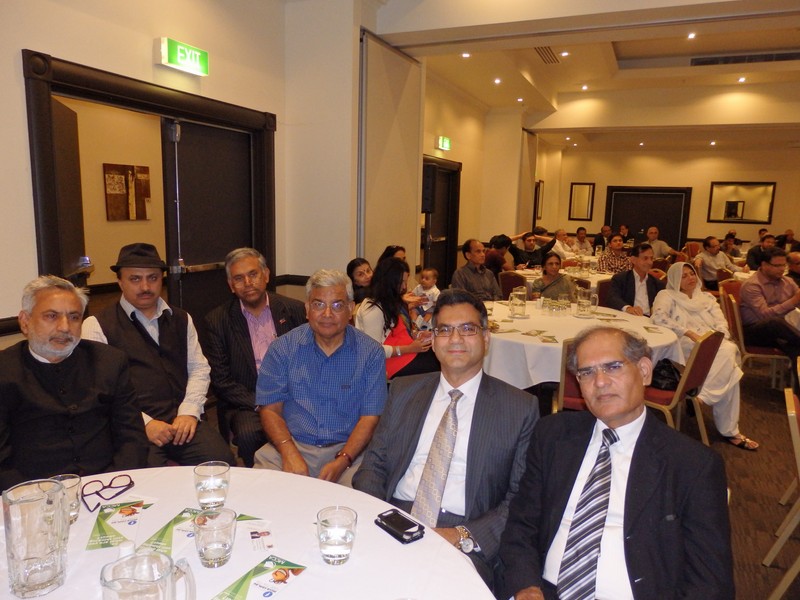 Mr. Fasihuddin Khan explained the purpose of the Fund Raising Dinner and ongoing Educational projects at various levels. He also informed audience about the importance of vocational courses and where AMU Alumni is focusing as per the demand of the Labour Market. Response from the audience was overwhelming for the EDUCATIONAL AND VOCATIONAL SCHOLARSHIPS PROGRAM which is the core activities of AMU Alumni of Australia. President explained the new initiative by Alumni to provide interactive help and guidance via SKYPE to students about various opportunities available in Australian Universities and Educational Institutions. For this service, President thanked and acknowledged the time, commitment and dedication of Dr. Urooj Khan.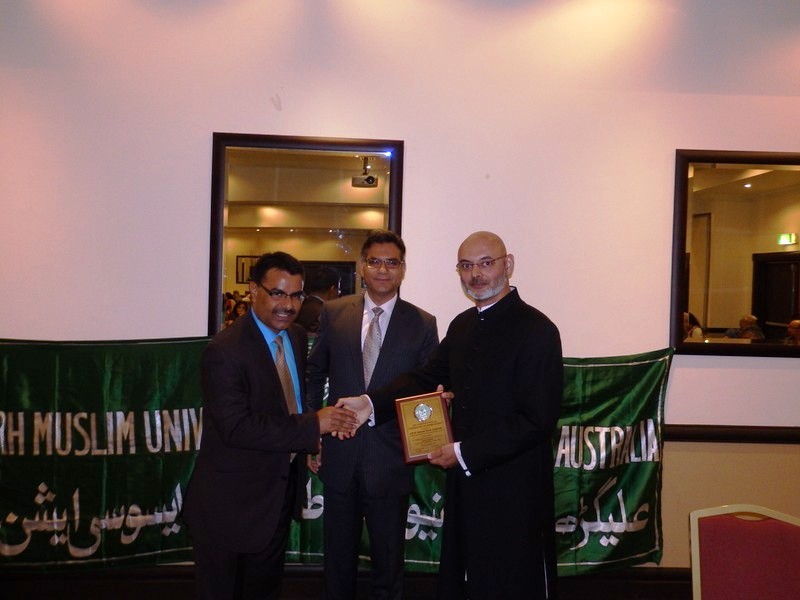 Immediately after the President address; Mushaira started with leading Sydney poets compared by Mr. Fasihuddin Khan. MUSHAIRA lasted for three hours with more and more request to listen repeatedly to selected poets. But due to time constraint it was not possible to extend the timing. Audience enjoyed a lot.Vice President, Aale Ali introduced C. G. I., C. G. P and KEYNOTE SPEAKER to audience.
In his address, the CONSUL GENERAL OF INDIA talked about his own personal connection with the AMU and mentioned how the University has changed the lives of people across many generations. He praised scholarships provided by the ASSOCIATION. Consul General of India reiterated his family association with AMU and informed that one of the renowned surgeon from his family studied medicine from AMU.
CONSUL GENERAL OF PAKISTAN ABDUL AZIZ UQAILI spoke about the historical aspect of AMU, its contribution, role and importance of Education. He explained the importance of education as in Islam first Verse which revealed was about Education. He said that success depends on education. Keynote speaker's speech was very in depth well researched and full of logic. He explained the role of Aligarh and goal of Sir Syed Ahmad Khan in a very logical, scientific and religious way. His speech was unique and thought provoking.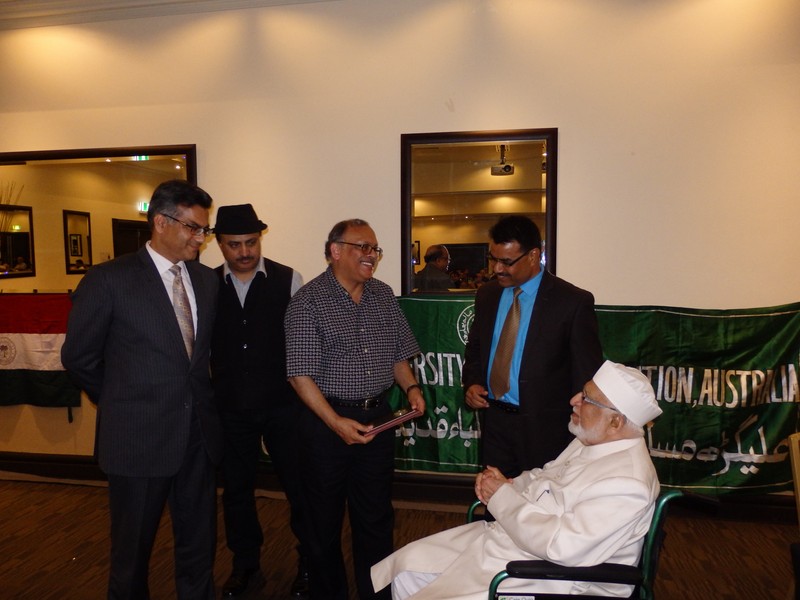 To acknowledge the Services of CONSUL GENERAL INDIA a Plaque of Presented by Senior Member Dr. Qazi Ashfaq Ahmad along with CONSUL GENERAL OF PAKISTAN, President and V.P. Aale Ali. KEYNOTE SPEAKER A/Prof. Salmaan Hayat Al-Qureshi was also presented a plaque by CONSUL GENERAL OF PAKISTAN along with President and V.P.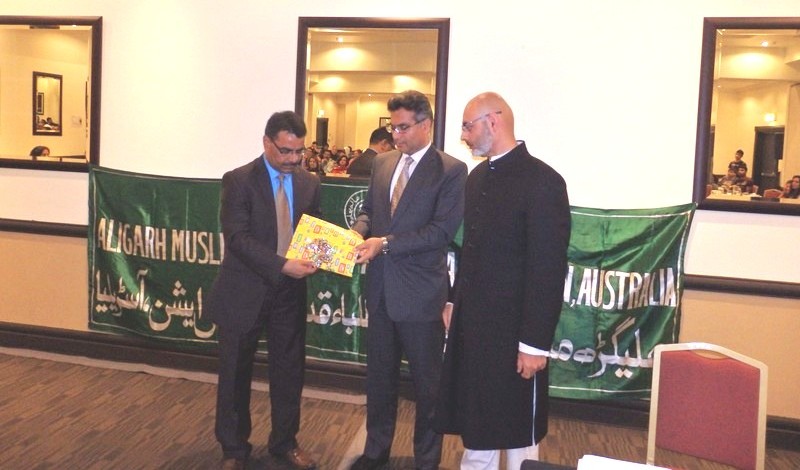 On this occasion MAGAZINE published by AMU Alumni of Australia was also launched by C. G. P. President Mr. Fasihuddin Khan thanked and acknowledged those who contributed in the Magazine with their articles and sponsors who supported financially. President again thanked to all guests and members in general and in particular Ex President Mr. Abbas Raza Alvi, Secretary Dr. Mansoor Ahmad, V.P. Aale Ali and joint Treasurer Mr. Rehan Ahmad for their dedication, support and cooperation from beginning to the end in organizing the event. There was a presentation by representative of MCCA Islamic Banking and Finance, Br. Hadi Shehata and Br. Saifuddin about different products of MCCA from personal, business and mortgage loan to investment in Super Fund.
Prof. Salmaan Hayat Al-Qureshi, Consul General of Pakistan Mr. Abdul Aziz Uqaili and Mr. Fasihuddin Khan
Secretary Dr. Mansoor Ahmad announced and request guests for Dinner. A very delicious and well flavored nine course dinner was served, prepared by one of the very famous Chef of Crowne Plaza Norwest. Annual Program was concluded at 10.30 PM.
Molana Nazeerul Hassan Thanvi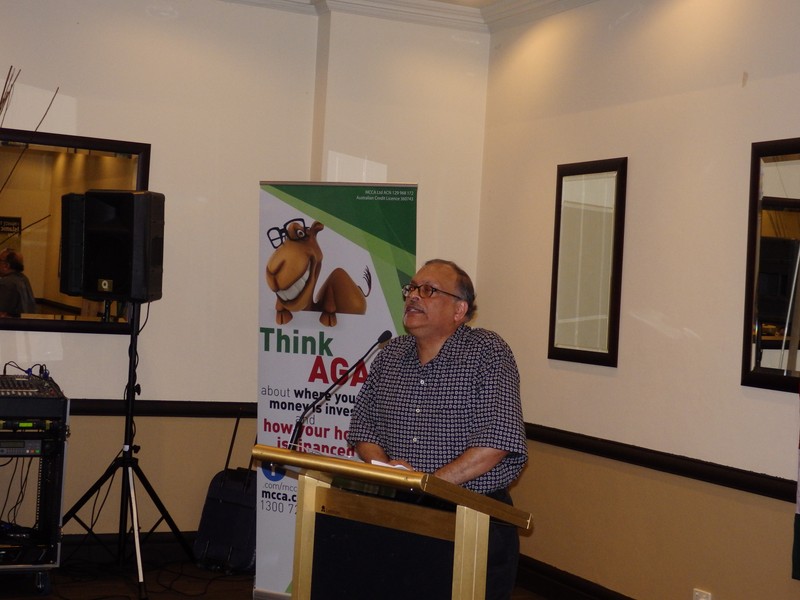 Consul General of India Mr. Vijay Kumar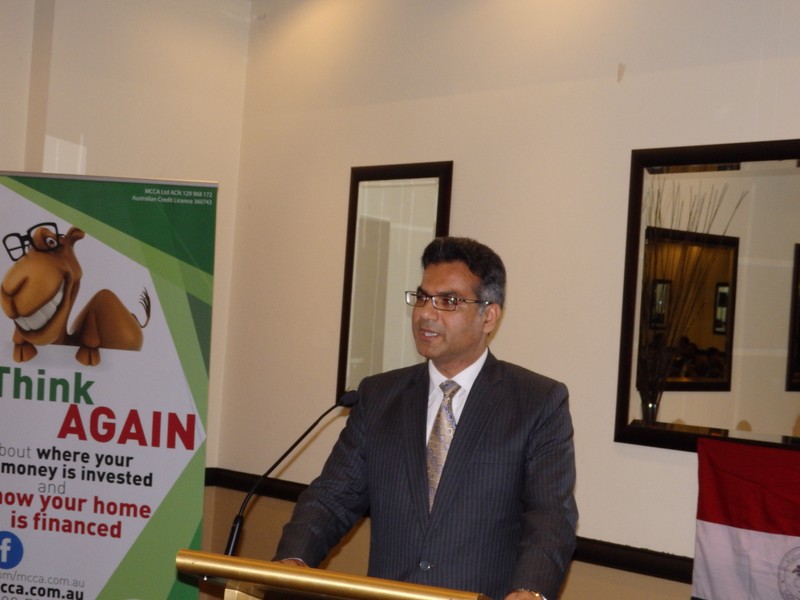 Consul General of Pakistan Mr. Abdul Aziz Uqaili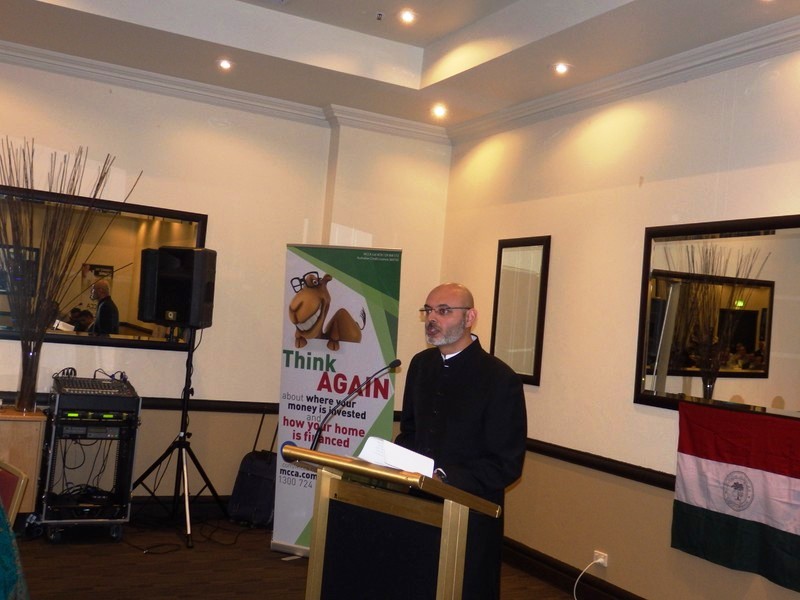 Professor Dr. Salmaan Hayat Al- Qureshi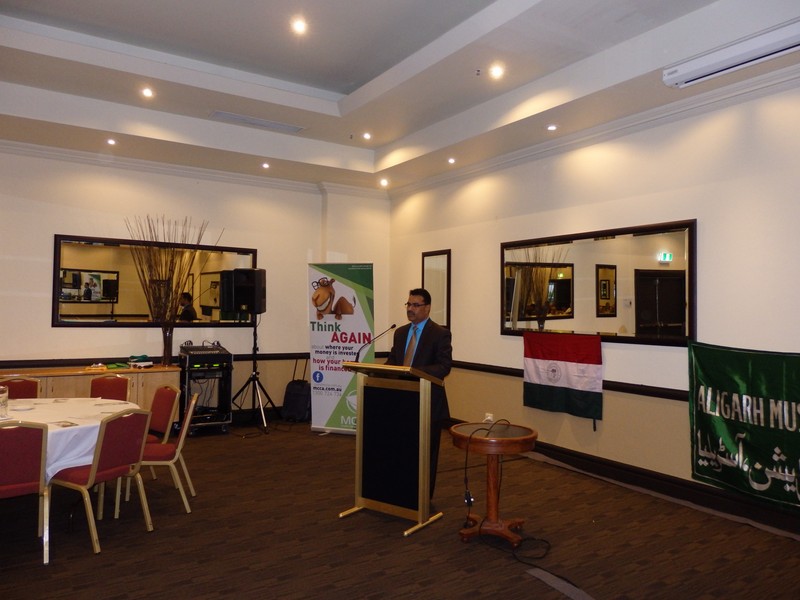 Mr.Fasihuddin Khan, President AMU Alumni of Australia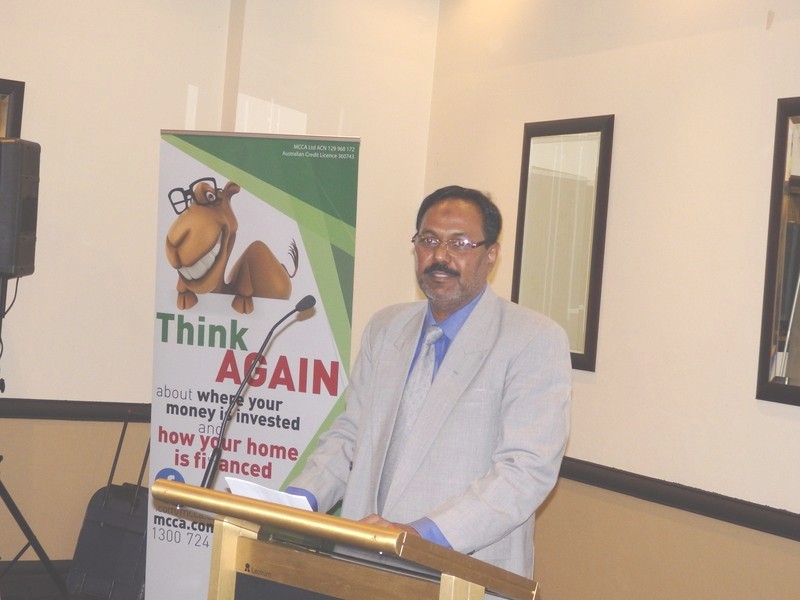 Syed Aale Ali, Vice President AMU Alumni of Australia
Mr.Saifuddin of of MCCA Islamic Banking and Finance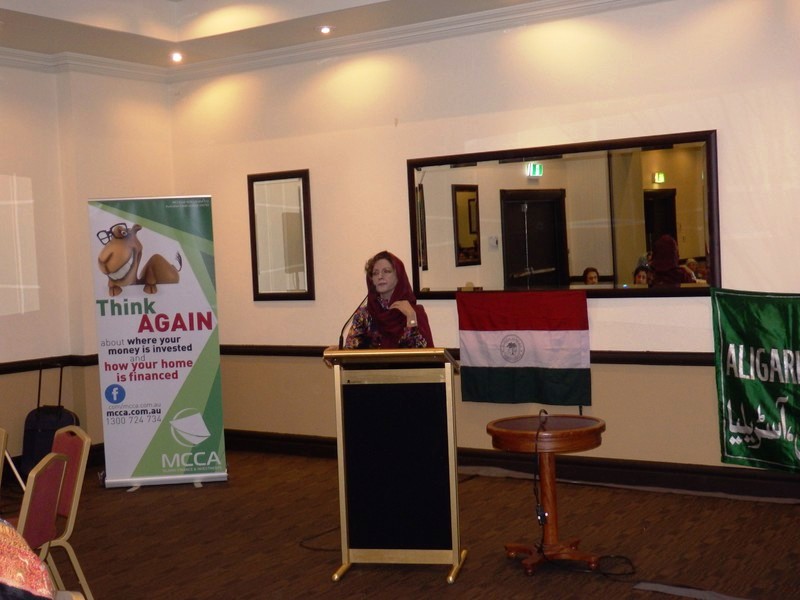 Mrs. Shagufta Zia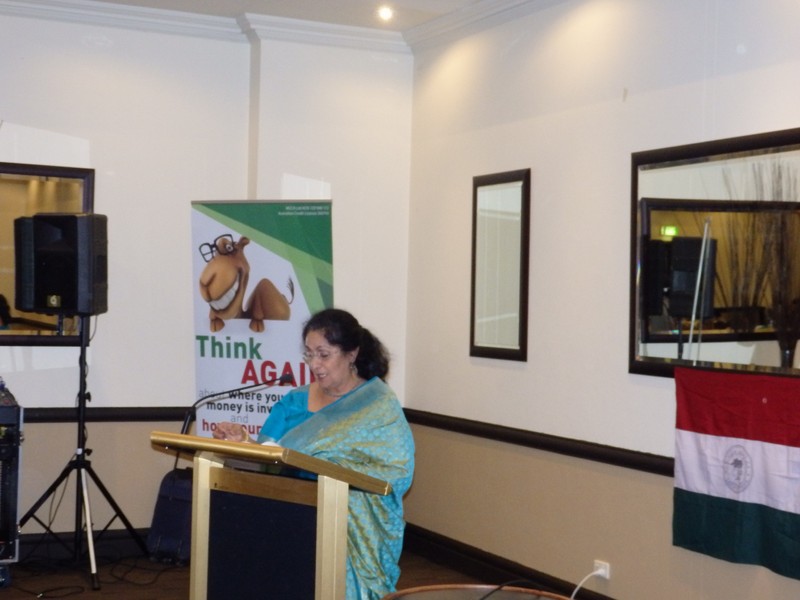 Mrs. Saba Abdi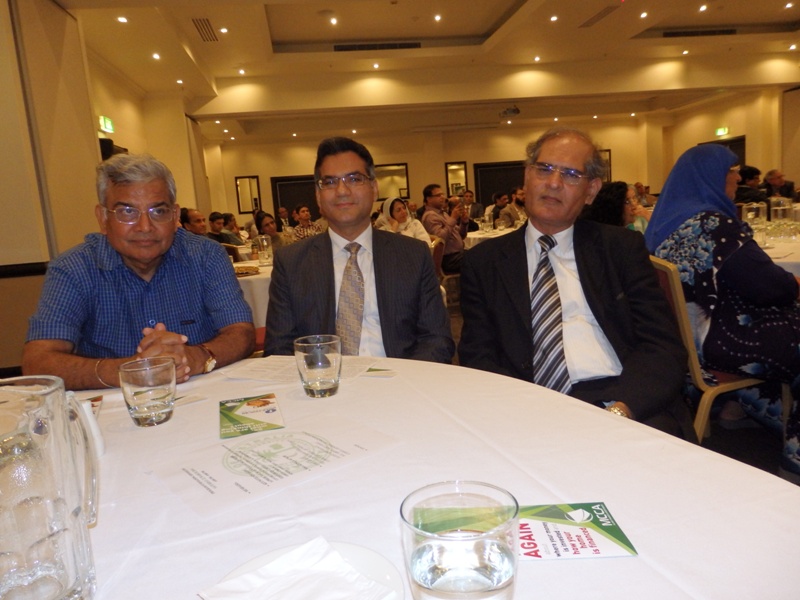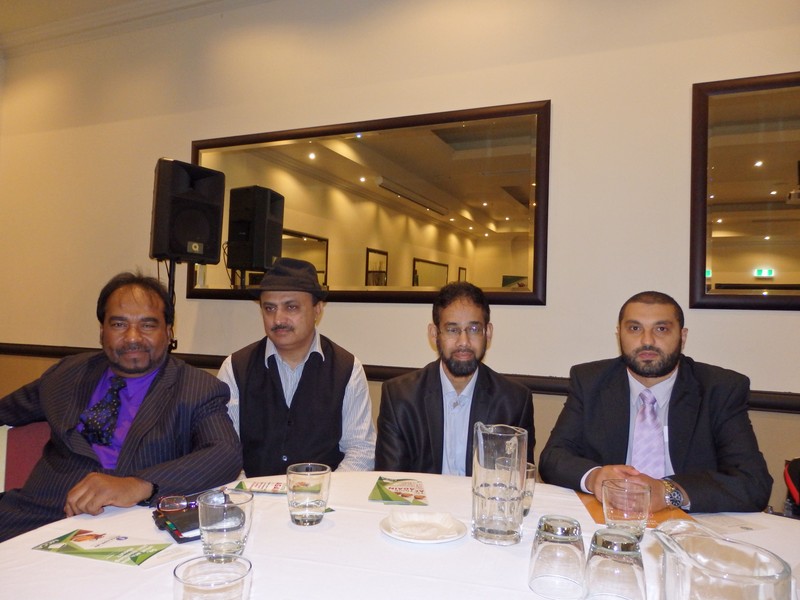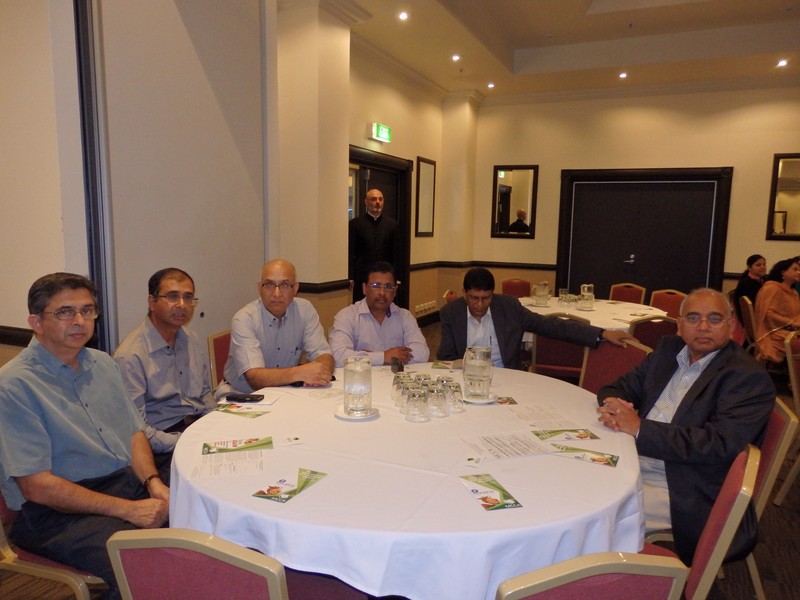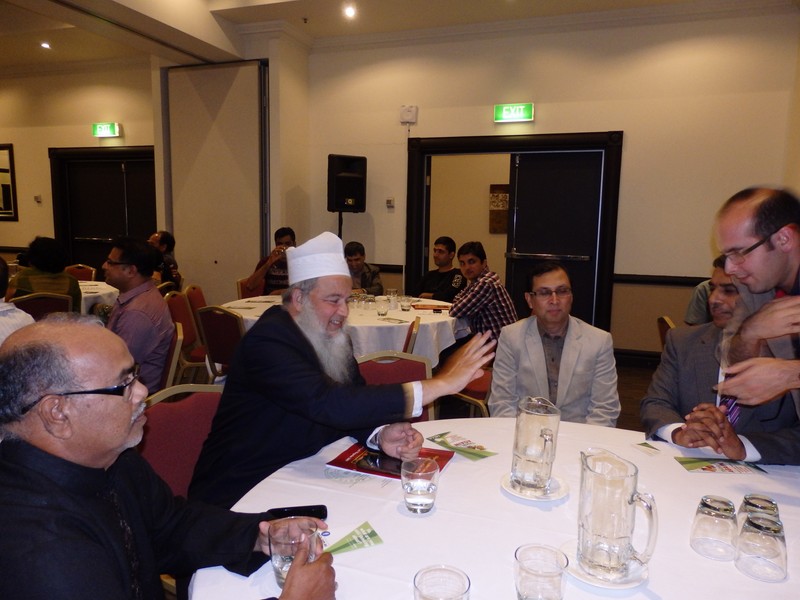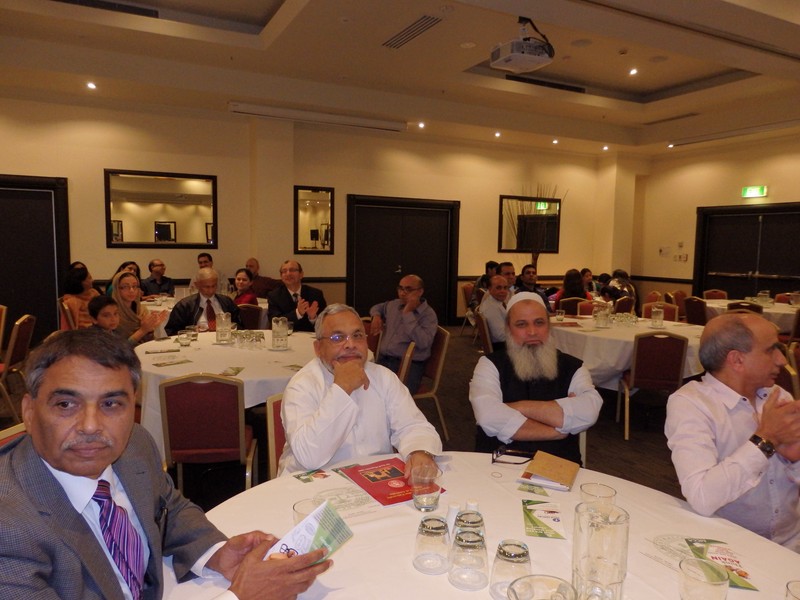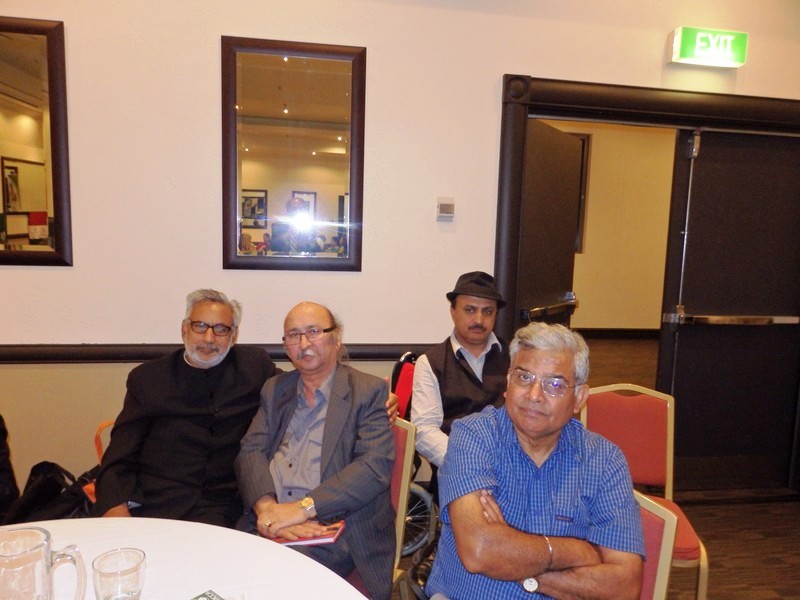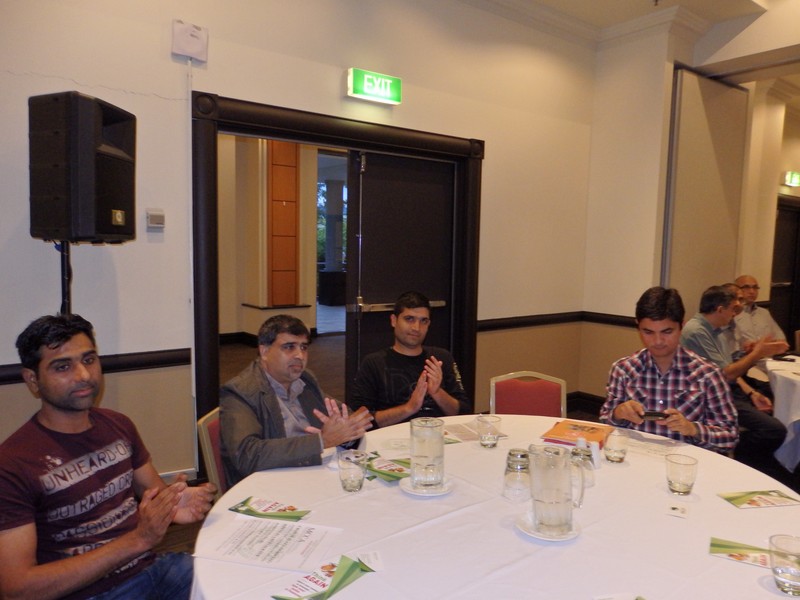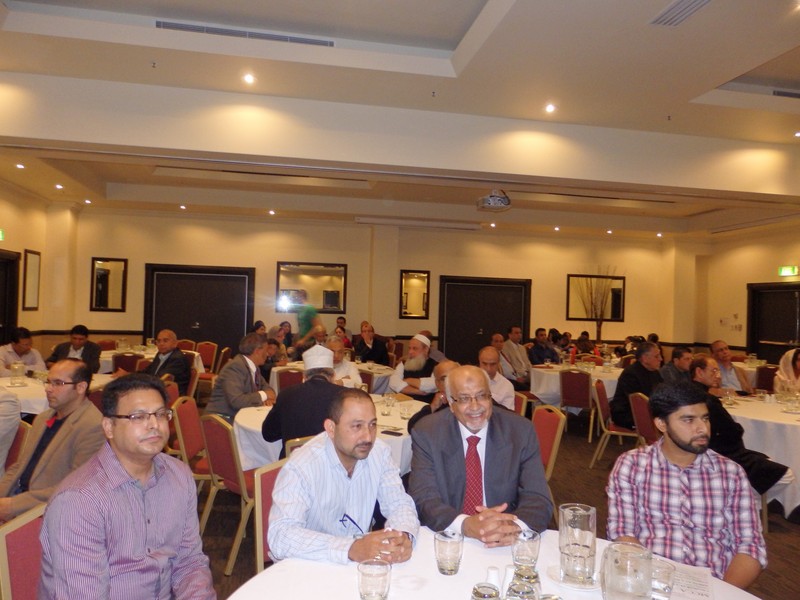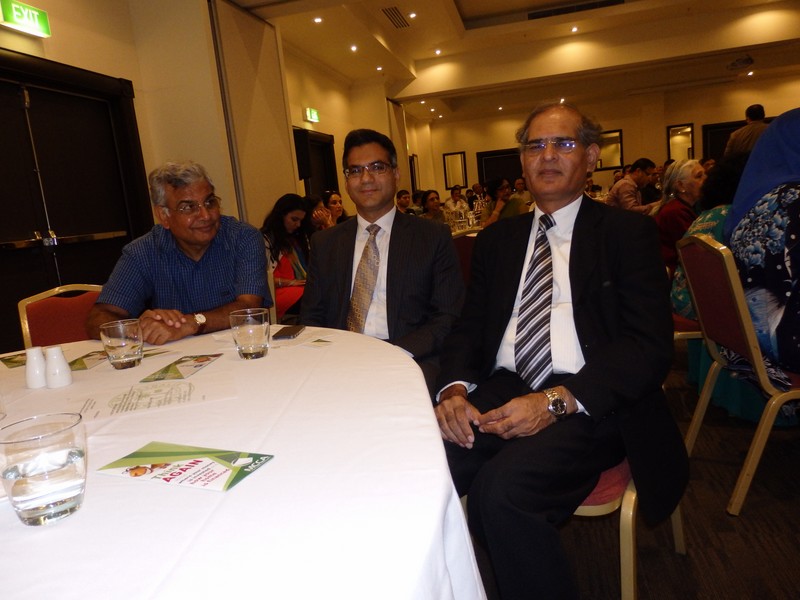 Mushaira - Immediately after the President address; Mushaira started with leading Sydney poets
Mr. Fasihuddin Khan, Mr.Um Krishan Rahat and Mr.Ashraf Shad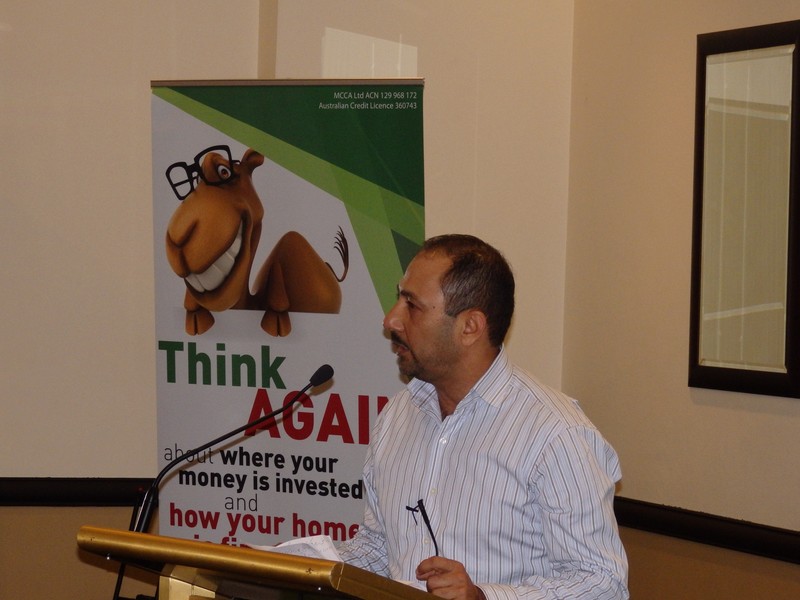 Imran Naziri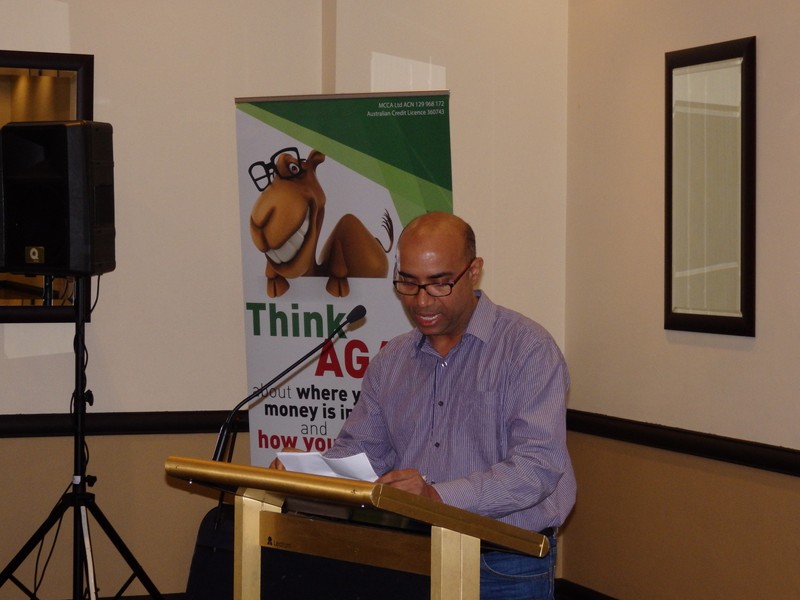 Farog Zaidi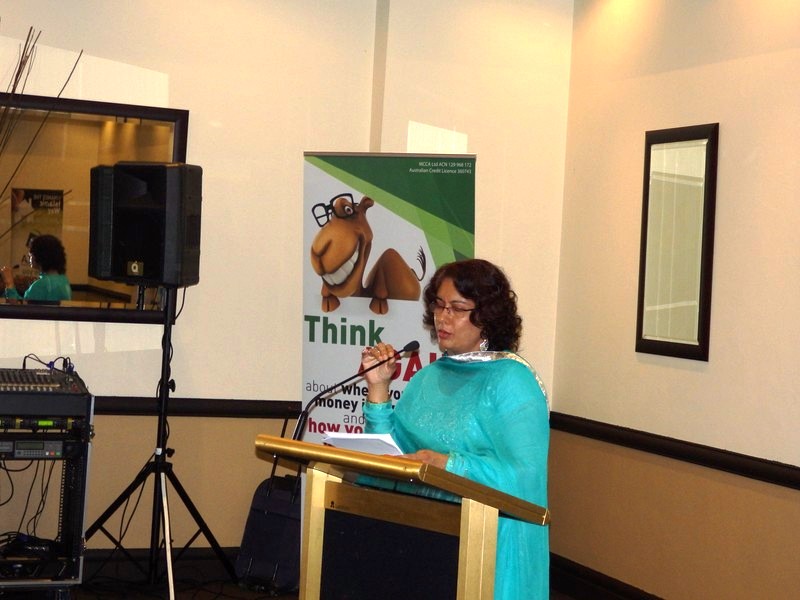 Yasmin Zaidi
Tauqir Hassnain
Tariq Mirza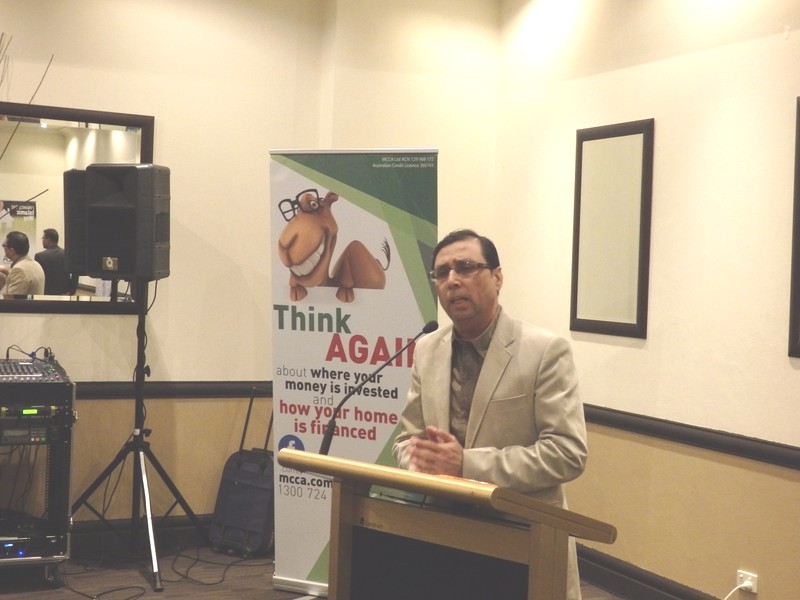 Rehan Alavi of SBS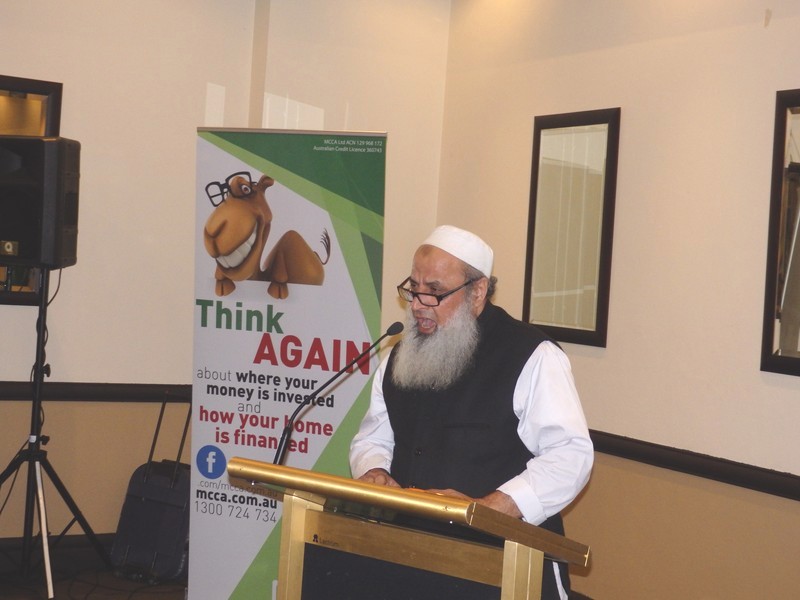 Javed Nazar
Zafar Islam Khan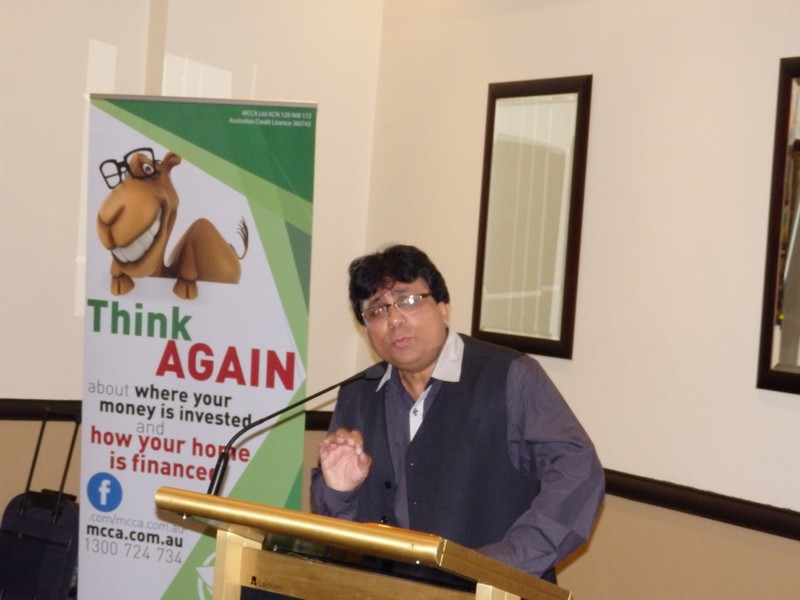 Arshad Saeed
Mohammad Ali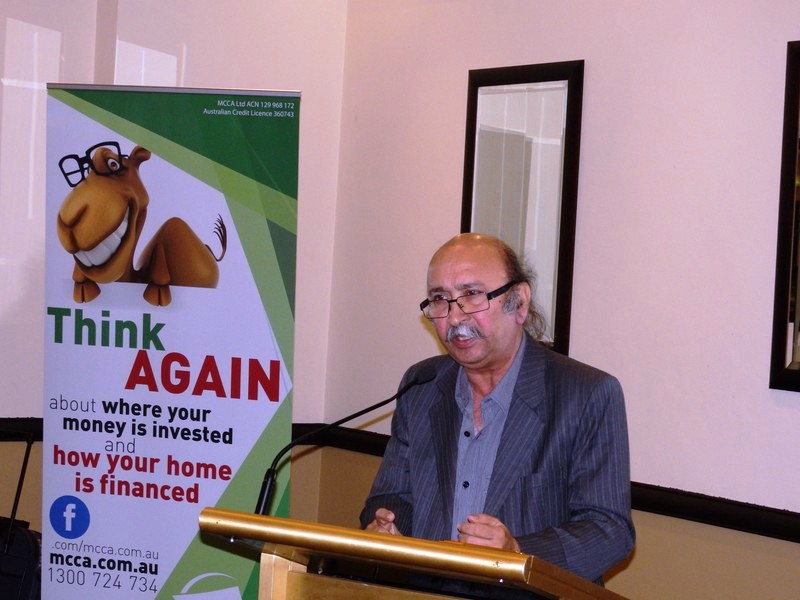 Ashraf Shad
Um Krishan Rahat