Sada-e-Watan Sydney ™
sadaewatan@gmail.com
Chair of MMA Hon. Shaoquett Moselmane
Multicultural and Indigenous Media celebrated at NSW Parliament House
The 4th annual Multicultural and Indigenous Media Awards (MIMA) dinner presentation were held last Wednesday night at NSW Parliament House. Representatives from Multicultural and Indigenous media outlets, Members of Parliament and community representatives joined together to recognise and celebrate the achievements of multicultural and Indigenous media.

"Tonight - is all about the journalists in our communities who are at the frontline of multiculturalism and Indigenous Australia. This is but a small tribute to all the tireless work that you do." The Hon. Shaoquett Moselmane, Chairperson of the Awards, said.
"For me, the idea of having a MIMA was simple, but long overdue. Multicultural and Indigenous media had never been celebrated in a specific event acknowledging their achievements and in particular the many talented migrant and Indigenous Journalists who have been serving their communities through multicultural media yet go unrecognised" said the Chair of MMA, the Hon Shaoquett Moselmane MLC.
MC Liz Deep Jones
The Multicultural & Indigenous Media Awards are intended to recognise excellence among journalists, photographers, editors and publishers as well as to encourage and recognise their significant service to Multicultural and Indigenous Australia.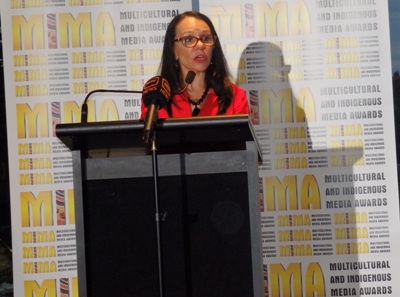 Hon. Linda Burney, MP
Australia's ethnic media has come a long way. From the foreign language press, as it was called, viewed with suspicion, as a hindrance to assimilation, to an important voice serving multicultural Australia.
Jeff McMullen AM
Similarly, Indigenous-specific media has made significant strides in promoting community issues and putting community agenda on the national platform. From its grassroots origins Indigenous Media is staking a hold in the mainstream while retaining its authenticity and Indigenous political discourse.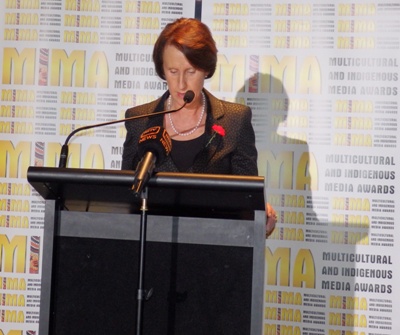 Minister Hon. Leslie Williams, MP
This empowerment of Indigenous people through Indigenous specific media is engaging the highest public institutions in our nation, and has highlighted Indigenous issues long untold.

The Award Winners were:

News Reporting Award was won by Mr Pawan Luthra of Indian Link Media Group. Online News Coverage was won by Mr Shant Soghomonian of Armenian Media Incorporated. Indian Link Media Group continued their successful evening taking out the award for Photographer of the Year, to Mr Sachin Wakhare.

Miss Margherita Angelucci of Il Globo/La Fiamma won the award for Editorial Reporting, and this award was accepted on her behalf by La Fiamma Chief Editor Armando Tornari. Ms Violi Calvert of the Filipino Australian was humbled by her victory in the category of Coverage of Community Affairs.

The Encouragement Award was presented to 13 year old Miss Natalie Sukkarieh, who impressed the gathering with a speech stating how she loves investigative journalism and to bring the truth to light.

The Hall of Fame Award had two recipients this year, first to Editor in Chief of the An-Nahar Arabic newspaper, Mr Anwar Harb AM, for bringing news and analysis to the Lebanese and Arabic-speaking communities since 1978.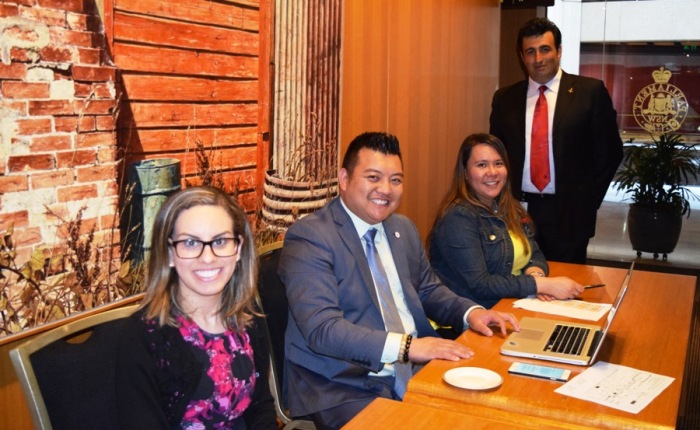 The second hall of fame Award went to Chief Executive Officer of the Sing Tao Daily Mr Simon Ko, who has been in the media business and at the helm of Sing Tao for 17 years bringing local, international news to the Chinese Australian community.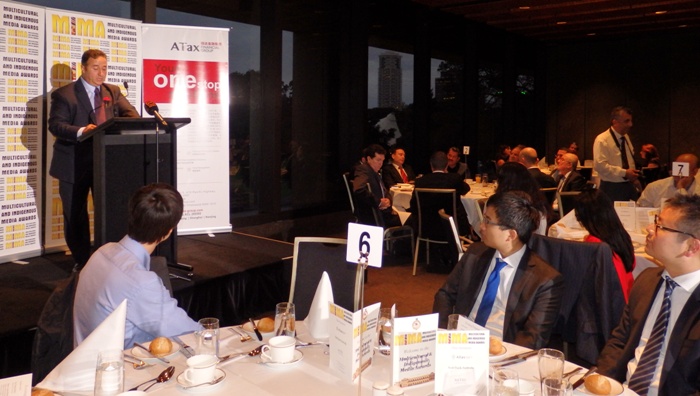 The Young Journalist of the Year was won by the Indian Telegraph's Arijit Banarjee and the most prestigious award of the night, Journalist of the Year award was won by Ms Natalie Ahmat of NITV News, who dedicated her award to her small but hard working team of colleagues.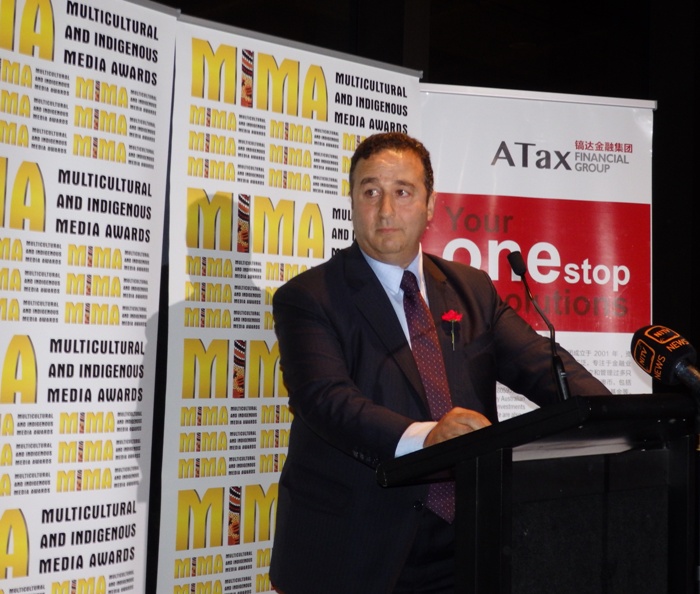 The Hon.Shaoquett Moselmane MP, Chairperson of the Awards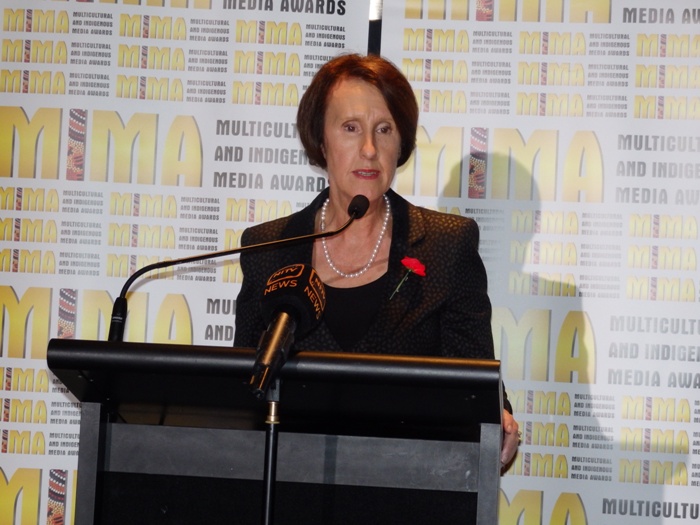 The Hon. Leslie Williams MP, Minister of NSW Government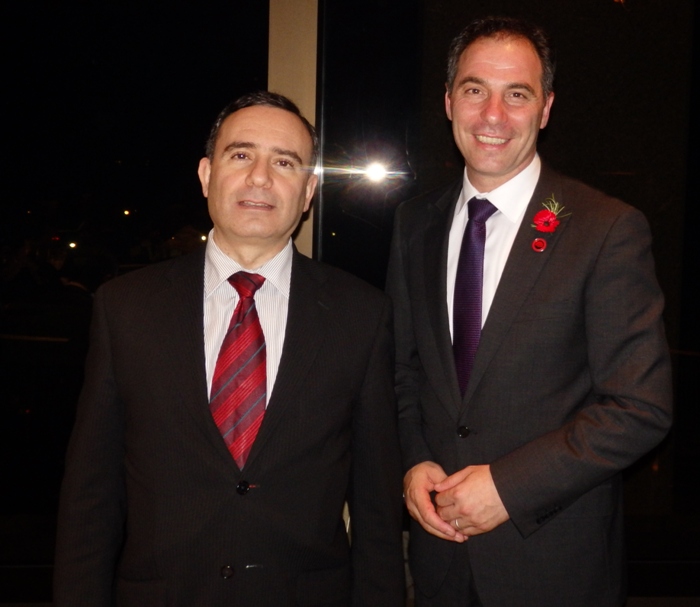 Consul General of Lebanon Mr.George Bitar Ghanem and Hon. Jihad Dib MP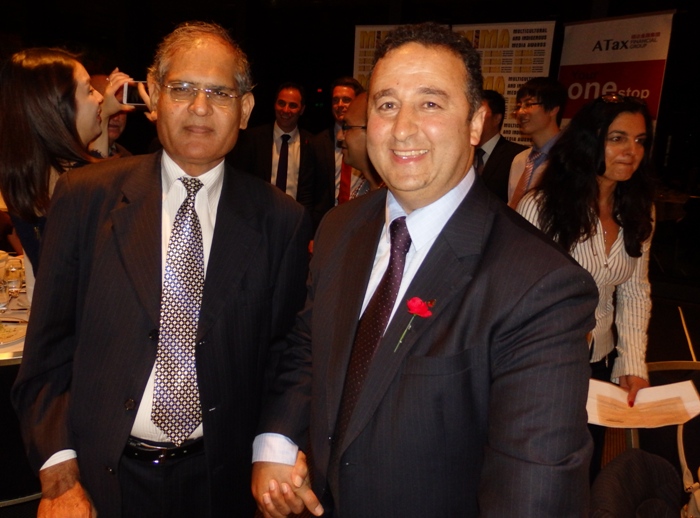 Syed Zafar Hussain Shah and Hon.Shaoquett Moselmane MP