Sada-e-Watan Sydney ô
sadaewatan@gmail.com
AGM of APMA was held in Sydney and New Executive Committee formed
Dr Imran Kassam
Internationally renowned Consultant Cardiologist and Electrophysiologist Dr Imran Kassam unopposed elected President of the Australia Pakistan Medical Association
(Dr Irfan Noor, General Secretary of Australia Pakistan Medical Association)
On Sunday, 5th March 2017, Annual General Meeting of Australia Pakistan Medical Association was held at the function hall of Spice of Life, Harris Park Sydney. On the behalf of the APMA, MC Dr Irfan Noor (General Secretary) Welcomes all guests and
Dr Sayeed Khan
invited Outgoing President APMA, Dr Sayeed Khan for Inaugural speech and Dr Imran Kassam for Incoming President Address. After Introduction of New Executive Committee, lunch was served.
Dr Amanullah Khan
The Chairman Election Committee APMA Dr Amanullah Khan and members Dr Syed Shabbir Haider & Mr Pervaiz Buttar was invited on stage. Dr Amanullah Khan said that In response to call for Nominations for Elections of Australia Pakistan Medical Association NSW,
MC Dr Irfan Noor
we received final Nominations and As there are no opposing Nominations therefore all Nominated Candidates are to be Elected unopposed. I am formally announced elected executive committee as
Outgoing President: Dr Sayeed Khan
President: Dr Imran Kassam
Vice President: Dr Erum Bilal
Vice President: Dr Faisal Khan
General Secretary: Dr Irfan Noor
Deputy Secretary: Mrs Ghazala khan
Treasurer: Dr Mohammad Arshed
Social secretary: Dr Sadia Saeed
Deputy Social secretary: Mr Nadeem Sheikh and Mrs Madiha Khan
Communications Secretary: Dr Arooge Shafi
Deputy Communications Secretary: Dr Syed Anwar
Paid members of the APMA, welcomes the new executive committee, trust and believe in the capabilities of the executive committee that all team will work together to prosper APMA.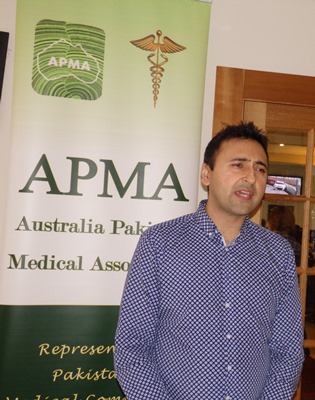 General Secretary Dr Irfan Noor
At the AGM the following motions were passed without any objections:
1. The tenure of the executive committee was reduced from 3 years to 2 years for elections to occur.
2. The previous president will remain as a part of the executive committee as an outgoing president.
Dr Kate Armstrong CLAN
Dr. Kate Armstrong of Clan, speak about the welfare projects for children's of Pakistani and other third world countries. CLAN is an Australian-based, not-for-profit, non-governmental organisation (NGO), approved by AusAID for Overseas Aid Gift Deductibility Status and the Australian Taxation Office for Tax Deductibility Status. CLAN is dedicated to the dream that all children living with chronic health conditions in resource-poor countries of the world will enjoy a quality of life on par with that of their neighbours' children in wealthier countries.
**********************************************
Outgoing President Dr Sayeed Khan Speech: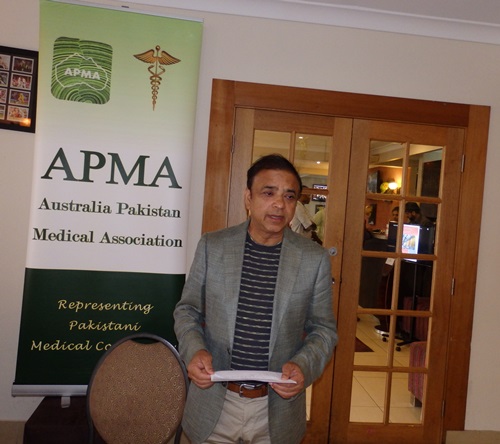 Australia Pakistan Medical Association members,
Salam and Good afternoon,
First of all I would like to acknowledge the traditional owners of the land and pay my respects to the elders past and present.
It has been an Honour to be the President of this wonderful association for the last 6 years and I have cherished every moment of it.
The APMA journey began in 2010 when we started the task of re-building our association.
Initially it was very difficult, I was met with a lot of hesitation, hurdles and technical difficulties to get the association off the ground. But with our perseverance and hard work, there was nothing but encouragement and support from almost everyone in medical fraternity as well as from the community.
I would like to thank all members of APMA for their support and participation Ė and specially I would like to thank
Dr Akram Hassan, Dr Tauqir Ahmed, Dr Farouk Wasti, Dr Amanullah Khan, Dr Ahsan Madni, Dr Bangash, Dr Habib, Dr Akbar Khan, Dr Bilal, Dr Shabbir Haider, Dr Ishrat Ali, Dr Naveed Shaukat,
Dr Servary and Dr Shaukat Javed
Who have provided me ongoing guidance, support and encouragement in rejuvenating this organisation.
I would also like to thank the APMA teams, Executives, Members of Advisory Council and Trustees from previous two successive terms who have worked with me tirelessly over the past 6 years to build APMA to what it is now.
Iíd especially like to acknowledge
- How the APMA team embraced my leadership and gave me the opportunity to lead this organisation and achieve its goals.
- I would also like to thank the whole Pakistani medical community in NSW who have rallied for APMA and supported it whole heartedly.
- Thanks goes out to all the partners and families of the APMA members. Without them we couldnít have succeeded.
- And especially I thank Ghazala for her endless dedication, wise suggestions and hard work in the smooth and efficient running of APMA since its inception.

With hard work, perseverance and continuing efforts from whole team we can say now we have achieved our goals. This is not to say we have achieved all what we have in mind but APMA is now a vibrant, democratic credible representative Association of Pakistani Health professionals in NSW, and we are proud of that achievement.

To the incoming executive members, the race has started and I want you to know that only those who can stand fit and strong to finish the race will receive the reward. To be successful in your respective office you need commitment and perseverance.

I believe you all have what it takes to be a leader and I donít have much to tell you, but be committed and trustworthy. Always put Associations interests first. Make yourself available at every meeting and donít take a decision without the consent of other executive members. We are one and we are all working for the progress of this association.
I leave you with the key to success in making APMA a great Organisation.
- Follow our constitution and be transparent
- Work with tolerance and respect.
- Manage conflicts of interest without prejudice
- Always try to achieve a win-win situation.

I love you all and I appreciate you for the support and the courage you gave me. For those that I might have offended in one way or the other, I seek your indulgence to forgive my short comings.
My fellow comrades you are the best people one can ever work with. My Wonderful Vice President Imran and General Secretary- Irfan and all others including Shams, Samreen, Sadia, Nadeem, Madiha, Arooge, and Ghazala.
I wish all the best to the new APMA President Imran Kassam and his great team.
Thank you very much!
****************************************
Incoming President Dr Imran Kassam Address: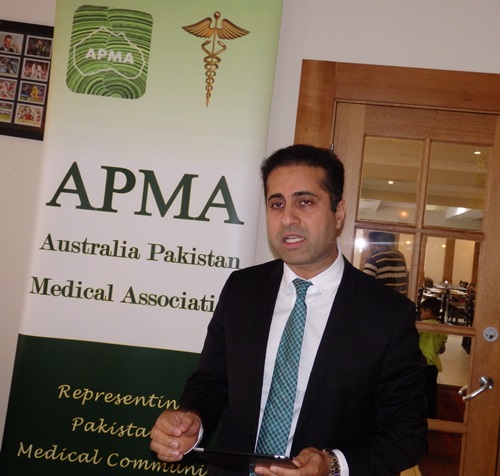 Salam and good afternoon,
Many thanks to Dr Sayeed for his kind words. Also many thanks to APMA members, Advisory committee members, Trustee of the association, Mr Buttar for his legal expertise, Dr Amanullah for conducting and supervising the electoral process, as well as thanks to Mr Zafar Hussain for always providing his assistance through Sada e Watan. I would like to congratulate the newly elected APMA executive committee and I am looking forward to working with them for the next two years.
Our first AGM was on 13th November 2011, which means it has been more than 5 years since we officially took positions and have been working towards making APMA stronger and more prosperous. It was an idea that while we all work in our professions, why not bring everyone on a platform which we can all share. It was no other than Dr Sayeed who restarted this movement and I can proudly say together all of us have achieved great success. We have made great friendships which will last a lifetime and have at the same time been able to work well together in order to expand and consolidate APMA.
Why do we need APMA? In today's society, there is a greater prevalence of social and political issues that we have not been subjected to that extent in the past. There is a significant rise in xenophobia and unfortunately it is likely to increase for future generations. We all have a duty I think and even an obligation now, apart from our professional and family commitments to work as a community and stand together, to engage with the wider community and to convey the amazing work which has been done and continue to be done by migrants from Pakistan and their future generations as we all are proud Australians. . For this we need a platform and that is what APMA provides at a state level and later on with formation of national association this can be represented at a larger scale. Even though APMA is a non-political entity, it will enable us to demonstrate our positive contribution towards our society and increase awareness.
I acknowledge that we are all equally busy and have commitments but we all have to understand that by contributing our time to this association we are directly giving our time to a very valuable cause. I will be doing my best to keep up the good work we have done so far and to ensure we will continue to work as a cohesive team.
We have a strong team which gives me confidence that we can achieve great things:
Our vice president Faisal Khan, who works in Newcastle who we have to admire on his dedication and who will play a key role in consolidating APMA in Newcastle. Dr Erum Bilal who is herself a renown General practitioner and a proud mother of two young doctors. Dr Irfan Noor who has been contributing for last few years and we are glad that he is continuing to serve APMA. Dr Sadia Saeed who will be working with Nadeem Bhai and Madiha Khan in social committee. Dr Shams will be guiding us on the foreign projects and liaising with other associations such as APPNA. Dr Arooge Shafi and Dr Syed Anwar will be managing the communications and Dr Mohammad Arshed helping us in managing treasury matters. Dr Samreen will be helping us in liaising with local charities, fundraising and local projects.
And finally Dr Sayeed will continue to assist us with his wisdom by staying on the exec committee and last but not the least Mrs Ghazala Khan who will not only be continuing as deputy secretary but continue to be the backbone of this association.
I thank you for your presence today and your continuous commitment to APMA, and I am looking forward to working with our new team to achieve great endeavours in the future.
Madiha Khan, Dr Samreen, Dr Kassam, Dr Faisal and Dr Erum Bilal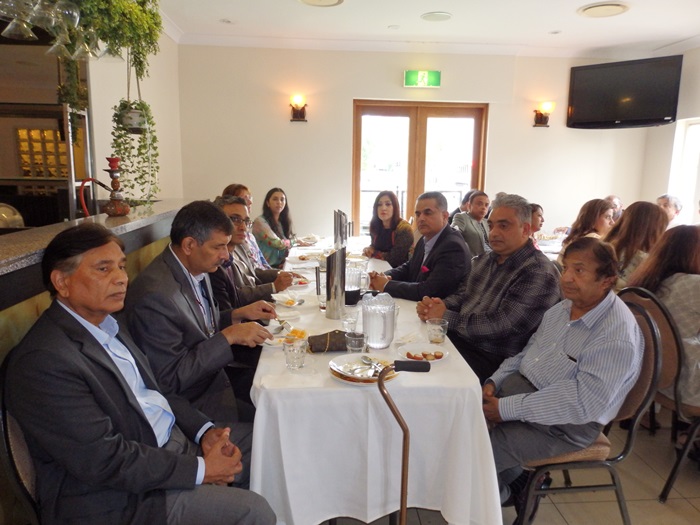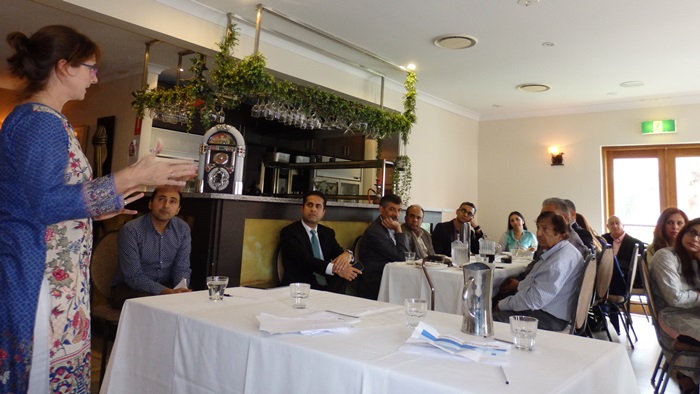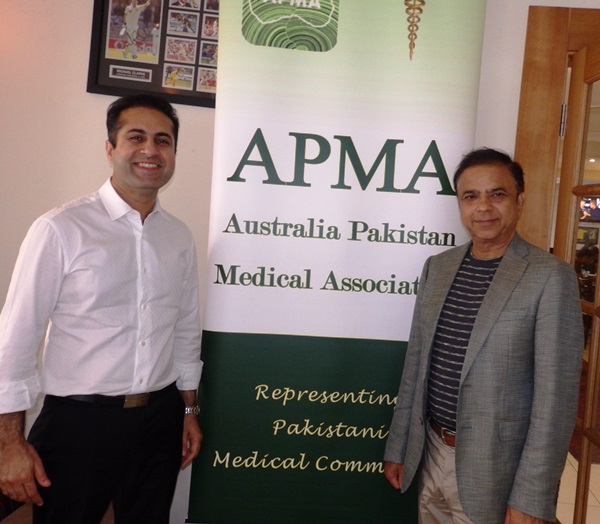 Dr Imran Kassam and Dr Sayeed Khan
Dr Sayeed Khan and his wife Ghazala Khan
Dr Imran Kassam and his wife Dr Samreen Kassam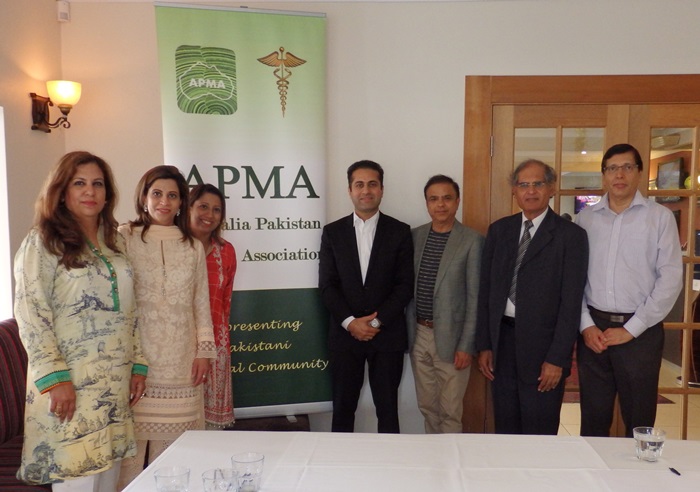 Ghazala Khan, Dr Erum, Dr Samreen, Dr Kassam, Dr Sayeed, Zafar Hussain & Dr Bilal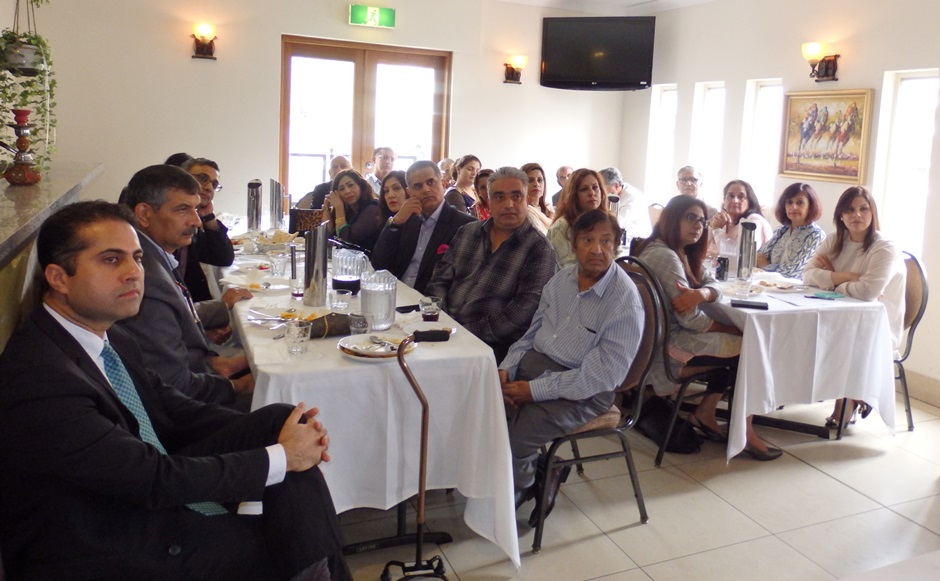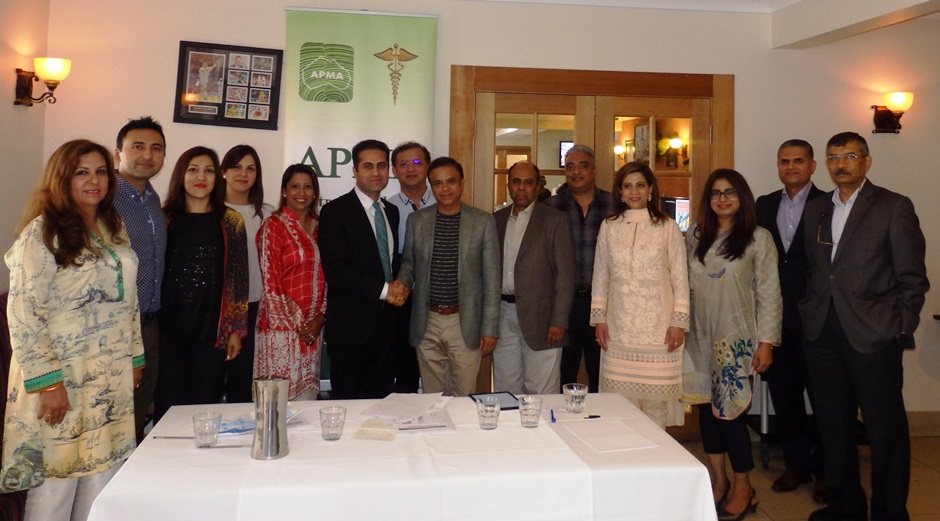 A Group photo of the New Elected Executive Committee of the Australia Pakistan Medical Association