Sada-e-Watan Sydney ™
sadaewatan@gmail.com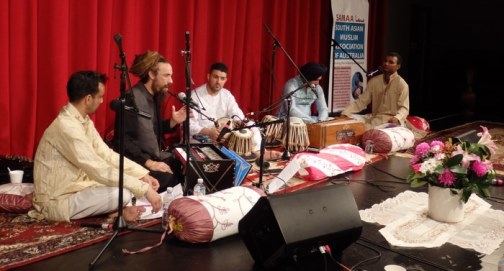 South Asian Muslim Association of Australia (SAMAA) successful event Mehfil-e-Qawwali
South Asian Muslim Association of Australia (SAMAA) staged another very successful event for elders of the community. The Mehfil-e-Qawwali on Saturday 2 April 2016 at Civic Theatre, Hurstville drew a capacity crowd of elders, their families, SAMAA volunteers and members, community leaders and well-wishers. The Fanna Fi Allah Qawwali group gave an outstanding performance in singing very popular numbers of Ustad Nusrat Fateh Ali Khan which mesmerised the audience for well over two hours.

With their rich rhythmic grooves, soaring vocal melodies and the classical performance, the performers were able to spell bound the audience. It was an exceptional exhibition of the ancient tradition of Sufi music. The lead singer Canadian born and a revert Tahir Hussain Faridi showed total mastery of this art with its smooth melodic overtures, fierce leaps of vocal passion & rich vocal choruses which captivated the audience.
Hon. Julie Owens
His Australian ensemble accompanied him very well with Yama Sarshar on Tabla receiving repeated applause from the audience for his exceptional Tabla skills. Hon Julie Owens, Federal MP for Parramatta presented gifts to the artists.
SAMAA organises such events at regular intervals to alleviate loneliness of community elders. The elders get an opportunity not only to entertain themselves but also meet their contemporaries. The event was supported by Multicultural NSW and was held to mark the Seniors Week in NSW.
Zahid Jamil
Mr Zahid Jamil of SAMAA told audience about current programmes of this benevolent institution. SAMAA is now able to offer various services in coordination with a major service provider Uniting in culturally and religiously appropriate manner. These include Social Support Programme, Home Care as well as Nursing Home Care. Mr Zahid Jamil requested the community support including financial support as your donations to SAMAA are tax deductible.

The readers of Sada-e-Watan can listen to a few video clips of the evening at SAMAA Facebook and SBS Urdu Facebook.