Sada-e-Watan Sydney ™
sadaewatan@gmail.com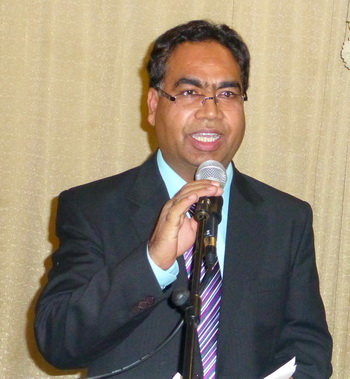 SPEECH OF MR. ASHRAF CHOHAN, GENERAL SECRETARY Of The PAA AT THE FAREWELL DINNER FOR MR.AZAM MOHAMMED CONSUL GENERAL OF PAKISTAN
Respected Guests, Ladies and Gentlemen, Pakistan Association of Australia has organised this Farewell dinner in honour of Consul General of Pakistan Mr. Azam Mohammed who will be traveling to Pakistan on 24th April 2013 and to undertake his new role as an "Additional Secretary" Government of Pakistan.

We never wished that, but have to go by Govt. decision. Probably the Govt. of Pakistan needs his services more than the Pakistani community here in Australia, and therefore we are happy to know that he is as much popular and charmer in Govt. itself as he is in the community here in Sydney.

While we are bit sad by this, what pleases us more and gives us relief up to some extent is the fact that he had good 7 years in Australia and while serving the Australian Pakistani community he has been promoted to Grade – 21 recently. This is an acknowledgement of his top performance, hard work and excellent diplomatic services not only for the Govt. of Pakistan but also for the Australian Pakistani community.

Ladies and Gentlemen, I have no hesitation in stating that before this Consul General back in early 2000, there have always been conflicts and Tug of war between the community and the consulate management. This great Consul General have significantly changed the mechanism and modes of community services, developed deep relations with the community members and consequently became the intact part of the community by virtue of his friendly attitude. This all justifies that he must be given the Title of "Awami Consul General" by the Pakistan Association of Australia. Of course his consulate team deserve appreciations in his credibility. We wish him all the best for his future role in the Govt.

Ladies and Gentlemen, while we are giving Farewell to Mr.Azam Mohammed, we have new Consul General, Mr. Abdul Aziz Uqaili. On behalf of Pakistan Association of Australia, I welcome the new Consul General and assure him our full support and cooperation in delivering community services and also in developing more coherent and constructive relationships between Australia and Pakistan. We hope that the community will enjoy the higher degree of interactions & services in his leadership.
Pakistan Zindabad.