Sada-e-Watan Sydney ™
sadaewatan@gmail.com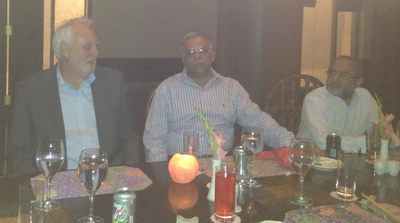 Additional Secretary Ministry of Commerce (Former Consul General of Pakistan in Sydney) Azam Mohammed hosted a dinner at the Serena hotel Islamabad for Australian High Commissioner to Pakistan His Excellency Peter Heyward
On Wednesday,24th July 2013,Mr.Azam Mohammed Executive Director General & Additional Secretary Ministry of Commerce (Former Consul General of Pakistan in Sydney) hosted a dinner in Serena hotel Islamabad for His Excellency Peter Heyward Australian High Commissioner in Pakistan. The dinner was attended by also senior officials of High Commission like Melissa Kelly and Austrade official.
From Pakistan side Special Secretary Foreign affairs Mr. Noor Muhammad Jadmani was present besides two senior members of Federal Board of Revenue (FBR) Mr. Aftab Anwar Baloch and Mr. Shahid Hussain Jatoi. From Ministry of Foreign affairs one senior Director General was also present. Senior officials from Trade Development Authority of Pakistan (TDAP) Islamabad including DG Mr. Rana and senior officers of Ministry of Commerce were also present.
Matters of mutual interest including trade import of Mangoes JTC outcomes were discussed. Both Friends recalled the meetings they jointly held with Australians and Pakistani origin Community in NSW Australia. The Australian High Commissioner H.E. Peter Heyward praised the community for their contribution in Australia.Future positive advance in bilateral trade and investment into Pakistan was discussed and there was good optimism on these fronts.