Sada-e-Watan Sydney ™
sadaewatan@gmail.com
Additional Secretary Mr.Azam Mohammed investigating Commerce Ministry Billion dollar scam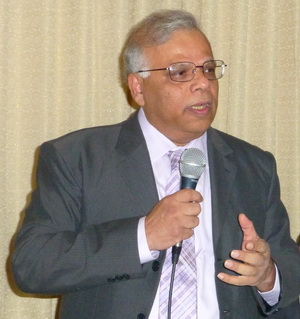 Additional Secretary Mr.Azam Mohammed

Commerce ministry initiates probe into billion-dollar scam
Javed Mirza
Tuesday, August 06, 2013
KARACHI: Financial irregularities worth billions of dollars have surfaced after the commerce ministry ordered an investigating into a billion-dollar gold import scam.
Following the revelation, the Economic Coordination Committee (ECC) suspended the import of gold allowed under a Statutory Regulation Order (SRO 266) which allowed duty and tax free import of gold.
The special scheme exempts the import of gold and gemstones under normal import tariffs. The import of other raw materials, tools, machinery and equipment under import of gold and gemstones against export of jewelry or import entitlement was also allowed free of customs duties under this scheme. In case an exporter uses duty-paid raw materials procured from the market, duty drawback shall be admissible according to the standard duty drawback system in force.
Most of the gold imported under the SRO 266 is allegedly being smuggled into India via Afghanistan, while some is retained in the domestic market, a source said. According to a source, there is hard evidence that elements within the jewelry association are involved in the smuggling of gold under the garb of incentives available for jewelry exports through the SRO.
The investigation is being carried out by Additional Secretary Azam Mohammed, who has reportedly held detailed meetings at the Trade Development Authority of Pakistan (TDAP) as well as the Karachi Airport Customs on August 3.
Further, Additional Secretary Azam Mohammed seized all records pertaining to import authorisations at TDAP on August 4. A TDAP official told The News that the investigation may lead to several criminal cases against those who misused the SRO.
Azam Mohammed has spearheaded numerous investigations, including the Rs776 million TDAP subsidy scam. Another official at TDAP said the authority is not panicking over the investigation since the gold import scam had been executed solely by smugglers.