Sada-e-Watan Sydney ™
sadaewatan@gmail.com
On the occasion of Australia Day

"Reflections on Australia Pakistan Bilateral Trade"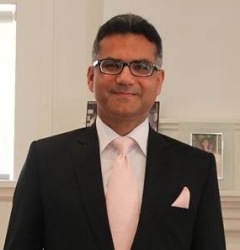 By: Abdul Aziz Uqaili, Consul General & Trade Minister, Consulate General of Pakistan Sydney
The bilateral trade relations between Australia and Pakistan started soon after the independence of the subcontinent from the British rule in 1947 and the birth of Pakistan, when in 1948 a Trade Mission of Pakistan was established in Sydney. Since then the Trade Mission has remained functional in Sydney in one form or another to promote the bilateral trade relations and to facilitate the businesses from both the countries.
In last five years, the volume of bilateral trade between Australia and Pakistan has ranged between $550 Million to $811 Million. A significantly positive trend in Pakistan's exports to Australia was witnessed when these grew by 17.35%, rising from $179 Million (in FY2012-13) to $210 Million (in FY2013-14). Previously, our exports had stagnated around $175 Million in last three years.
On the other hand, the import of Australian products in Pakistan declined by 36% (in FY2013-14), falling from $632 Million to $411 Million. Therefore, the total volume of the trade dwindled from $811 Million to $611 Million and the balance of trade (BOT) remained tilted in favour of Australia, as the import of Australian products in Pakistan has always surpassed our exports to Australia.
However, the adverse BOT position improved for Pakistan vis-à-vis Australia in last year by 57% when the BOT fell from $453 Million (FY2012-13) to $192 Million (FY2013-14).
Australia and Pakistan have set up a Joint Trade Committee (JTC), which is an effective bilateral forum for trade discussions and negotiations between the two countries. JTC meetings are held annually, both in Australia and in Pakistan, on rotation basis. 5th JTC Meeting was held in Canberra in September 2014 in which issues of bilateral trade, trade policy, market access, technical support and enhanced bilateral exchange of trade delegations were discussed. Important decisions were taken, which included collaboration of Austrade and TDAP for trade promotion activities and provision of technical assistance by Australian government under the Country Assistance Programme (CAP) for strengthening the institutional capacity of Ministry of Commerce and trade related private sector organisations of Pakistan. Both sides agreed to continue technical cooperation in the areas of agriculture, engineering and vocational training. They decided to make use of various tools for market development including business-to-business meetings, awareness seminars and exchange of delegations. Secretary Commerce Islamabad led the Pakistani side of the delegation for the JTC meeting.
There was a consensus regarding challenges confronting the global trade negotiations and the position of Cairns Group on agriculture related issues. It was agreed that all efforts would be made to increase the bilateral trade volume to one billion dollars by next year, as the current trade volume was far below the trade potential of the two countries.
On the sidelines of 5th JTC meeting, a Memorandum of Understanding (MoU) on Strengthening Bilateral Trade and Economic Cooperation was signed between Pakistan and Australia at the Department of Foreign Affairs and Trade (DFAT), Canberra.
Promoting business-to-business contacts and exchange of Business Delegations on regular basis are crucial to boosting trade relations among the nations. An increased activity has been witnessed in business interactions between Australia and Pakistan. In order to explore export opportunities and to establish their business networking in Australia, three business delegations from Pakistan visited this region during last one year and a half. In Sept 2013, textile manufacturers and exporters from Faisalabad Chamber of Commerce and Industry (FCCI) visited Sydney and Melbourne and held productive meetings with their counterparts. A business delegation of leading towel manufacturers, duly sponsored by Trade Development Authority of Pakistan (TDAP) and Towel Manufacturers Association (TMA) visited Australia and New Zealand in Apr / May 2014 and displayed variety of their terry towel products in the Product Showcases organised by Pakistan's Missions in Sydney, Melbourne and Auckland. Lately, a business delegation from Lahore Chamber of Commerce and Industry (LCCI), comprising four businessmen visited Sydney, Melbourne, Hobart and Gold Coast in Oct 2014 and held fruitful discussions with Australian companies. Several Pakistani businesses are planning their business trips this year including delegations from Federation of Chambers of Commerce and Industry (FPCCI), Sialkot Chamber of Commerce and Industry (SCCI), Rice Exporters Association of Pakistan (RECP) and LCCI. Besides, a TDAP led and government sponsored business delegation is due to visit Australia and New Zealand in April 2014.
Effective Business Networking is vital for the success and growth of business. Trade Mission of Pakistan Sydney closely liaises with Australian trade bodies and associations and networks with the leading Australian companies including importers, buyers, wholesalers, etc. The Mission maintains an updated account of all the relevant Australian businesses for developing their linkages with Pakistani exporters.
Participation of businessmen in various International Exhibitions and Trade Fairs is an important tool for flourishing the individual business at micro level and growing trade volume at macro level. In Oct 2013, an Australian Business Delegation visited Pakistan to participate in 8th Expo Pakistan in Karachi. Next month, an Australian Business Delegation is planning to visit Pakistan and participate in 9th Expo Pakistan in Karachi (26 Feb - 1 Mar 2015). Similarly, Pakistani manufacturers and exporters participated in Australian International Sourcing Fair (AISF) Melbourne in Oct 2013 and Nov 2014. Pakistani manufacturers and exporters of foodstuff and other related products are being motivated to participate in Fine Foods Australia this year.
Projection of the soft image of Pakistan in Australia is deemed essential to increasing trade volumes with various trading partners / nations of the world. Not only the government authorities but also the leading businessmen from Pakistan share the same view and strongly advocate it. Accordingly, the Trade Mission Sydney has taken several initiatives and planned many more for 2015. In August 2014, a cultural troupe from Pakistan was invited to participate in Azadi Mela celebrations, jointly organised by Pakistan Association of Australia and the Consulate General of Pakistan in Sydney. Leading sufi (mystic) artist and singer Sanam Marvi enthralled the Australian audience. This year, in March, a photographic and art exhibition titled "This is Pakistan – the Epitome of Great Indus and Gandhara Civilisations" will be arranged in Sydney. Renowned Pakistani artist Anjum Ayaz will personally supervise the exhibition in collaboration with Koocha-e-Saqafat (The House of Culture) Australia and the Consulate General & Trade Mission of Pakistan Sydney. Thousands of Australians and Australian Pakistanis will in participate the event to explore the hidden treasures that Pakistan possesses, in stark contrast from the negative perceptions around Pakistan's identity in the world. For the first time in the history of Sydney, a grand cultural event - Pakistan Folk Music and Cultural Festival – has been planned to take place on 21-22 March 2015, in the heart of Darling Harbour, the most fascinating tourist spot of Sydney. The idea is to project the real soft image of Pakistan, art-admiring and music-loving nation.
Australian Friends of Pakistan (AFsP) is a recent initiative of the Trade Mission Sydney to project the soft image of Pakistan and to improve the perception of our country as a growing and dynamic nation with unlimited and untapped business opportunities. All those Australians who have been visiting and doing business in Pakistan are included in the exclusive club (AFsP), with their prior consent. These Australian friends hold a positive opinion about Pakistan and, on request, provide first hand information about Pakistan to all those Australian businessmen who hesitate to visit Pakistan for business.
Email Sada-e-Watan to a friend!