Sada-e-Watan Sydney ™
sadaewatan@gmail.com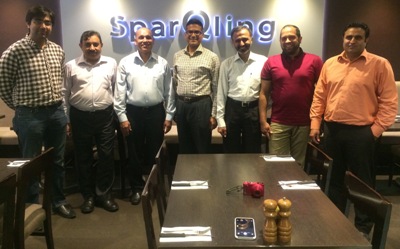 Delegation of Lahore Chamber of Commerce and Industry Visited Melbourne, Hobart and Sydney
A four member business delegation of Lahore Chamber of Commerce and Industry (LCCI) came to Australia for eleven (11) days from 18 to 29 October 2014 and visited Melbourne, Hobart and Sydney.

The Consulate General of Pakistan (Commercial Section) Sydney received the information about the visiting delegation only a week before their departure from Pakistan. Nevertheless, necessary arrangements were made by the Consulate to make their visit productive and successful. The delegates and company names are given below:
Mr. Ahsan Javed Qureshi, CEO,Qureshi Towellers, Manufacturer & Exporters of Towels Lahore was Group Leader and Mr. Ghulam Dastagir, Chief Executive,Matrix Traders Lahore, Auto-parts and rice - Mr. Waqas Fazal, Managing Director, Fazal Chemicals Pvt Ltd, Lahore and Mr. Waqar Ahmed Paracha, Director,Universal Footwear & Chemical Industries Pvt Ltd, Lahore was members of the delegation.
The delegates visited the following cities on the dates, given below:

Melbourne, Victoria (18– 22 October 2014),Hobart, Tasmania (22 -24 October 2014), Sydney, New South Wales (24 – 29 October 2014)

The visiting delegation landed in Sydney on Friday, 24 October 2014. The Protocol Staff of the Consulate General received the delegates at the airport and shifted them to their hotel.

Mr. Abdul Aziz Uqaili, Consul General / Trade Commissioner Sydney invited them to a Business luncheon on the next day with the courtesy of Mr. Mohammad Aamir, an Australian Pakistani businessman and Director of All Linens Pty Ltd Sydney. The meeting was held to discuss and finalize the activities of the visiting delegation in Sydney and also for the visiting delegates to interact with the Australian Businessmen.

The following is a brief account of their visit.

A) MELBOURNE, VICTORIA:

The delegation reached Melbourne on Saturday, 18 October 2014 and checked in to their hotel, which was booked by the Consulate General of Pakistan Sydney.

Next afternoon, on 19 October 2014, the visiting delegates were invited to a lunch, hosted by Dr. Ali Khan, a prominent Australian Pakistani professional and CEO of the Aboriginal Health Services Corporation. During the lunch, the delegates interacted with several Australian politicians and businessmen as well as several Pakistani community members, professionals, businessmen and other leading personalities.

On Monday, 21 October 2014, Ms. Ayesha Bux, Honorary Investment Counsellor of Pakistan in Melbourne met the visiting LCCI delegation along with two businesspersons of the community who were exploring different businesses opportunities in Australia and Pakistan.

B) HOBART, TASMANIA

The delegates visited Hobart on 15 and 16 November 2013 and held fruitful meetings with the business houses in Tasmania.

The delegates had themselves arranged their visit and meetings in Tasmania. They informed that they held very fruitful and productive discussions with a few Australian businessmen and expect certain deals in near future.
C) SYDNEY, NEW SOUTH WALES:

The Trade Mission of Pakistan Sydney, with the courtesy of an Australian Pakistani businessman, Malik Saad (Bobby), organized a luncheon meeting of the visiting delegates on Monday 27 October 2014 at Al-Aseel Restaurant in Greenacre, Sydney. A few Australian Businessmen were also invited for holding B2B meetings and to discuss the matters of mutual interest with the Pakistani Delegates.

A meeting and a dinner was hosted by Pakistan Australia Business Council (PABC) in Jasmine Restaurant Sydney on the same evening. Mr. Iftikhar Rana, President PABC, office bearers of PABC and other leading importers / businessmen participated in the dinner. A formal discussion and a meeting with the prospective importers of Pakistani products in Australia followed.

On Tuesday, 28 October 2014, Australia Pakistan Chamber of Commerce & Industry (APCCI) arranged a morning tea / coffee in Sydney in which they briefed the visiting delegates about the dynamics and norms of the Australian Businesses. They also discussed the business opportunities that exist in Australia. Mr. Wali Bukhari, President of APCCI and other office bearers and Businessmen attended this meeting.

Later in the day, Hafiz Shahid Iqbal, President Pakistan Association and an Australian Businessman of Pakistani origin, hosted a luncheon meeting of the LCCI delegates. He also invited a few Australian businessmen for B2B meeting with the visiting delegates. Fruitful business discussions were held between the LCCI delegates and the Australian businessmen.

The visiting delegation in company of the Trade Development Officer Sydney also carried out market survey and gathered market intelligence. They visited leading chains of stores such as Myers, David Jones, Target, etc. who are the largest sellers of textile and other products throughout Australia. The delegation also held discussions with the managers of these stores regarding product quality and pricing.

The delegates returned to Pakistan on Wednesday, 29 October 2014. They expressed their satisfaction over the arrangements made and meetings coordinated by the Consulate General of Pakistan Sydney to make their visit productive and fruitful.