Sada-e-Watan Sydney ™
sadaewatan@gmail.com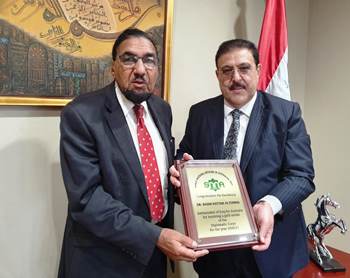 President Syed Zawar presenting a shield to the Ambassador
Australian diplomatic corps awarded Gold Medal to the Ambassador of Iraq H.E. Dr. Basim Hattab Al- Tumma
His Excellency Dr. Basim Hattab ALTUMMA is Ambassador of Iraq in Australia since 29th August 2018. He is career diplomat with professional background who has ideal Qualities of a Successful Diplomat. He performs in unique way and not only Iraqi living in Australia, General Public, Diplomatic Corps in Canberra also acknowledges him, appreciates him and awarded a Gold Medal.
The Australian people, Multicultural Communities, Arabs & others shows respect for H.E. Dr. Basim Hattab ALTUMMA and congratulates him on this happy occasion. There is celebrations is on for Ambassador of Iraq His Excellency Dr. Basim Hattab ALTUMMA.
His Excellency Dr. Basim Hattab Al- Tumma, the Ambassador of Iraq has been awarded a Gold Medal for 2021/22 for his efforts to contribute to the activities which has been a source of bringing more cooperation among the members of diplomatic corps, consequently leading to dealing professionally the affairs which have ensured to gear up the greater understanding and awareness of the important international issues and their amicable solutions. His name for the prestigious medal was suggested by the Ambassador of Peru and was unanimously agreed by the committee chaired by the Dean of Diplomats representing the ambassadors posted in Australia, Fiji, New Zealand and Solomon's Islands.
Islamic organisations from Sydney and Canberra including Darulfatwa Bankstown Sydney have sent His Excellency messages of congratulation. A delegation of Shia National Network of Australia Inc. comprising of its Trustee Hussain Derani, President Syed Zawar and the Assistant Secretary Sayed Maher Alhasni representative of the Shrine of Abu Fazalill Abbas had travelled from Sydney to Canberra to hand the Ambassador a recognition shield.
Sayed Ali Zaheer Abidi, the President of Imam Hasan Centre Canberra is arranging a ceremony in his honour and will present him an award.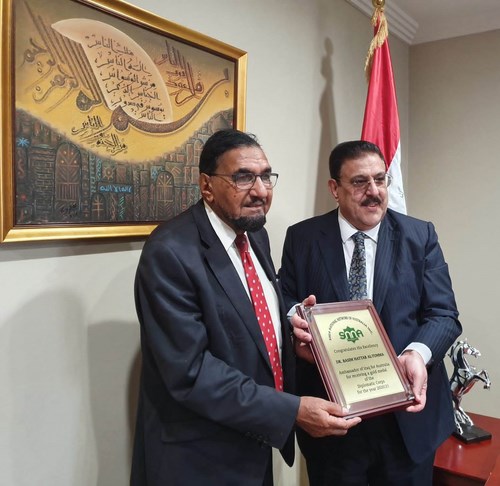 President Syed Zawar presenting a shield to the Ambassador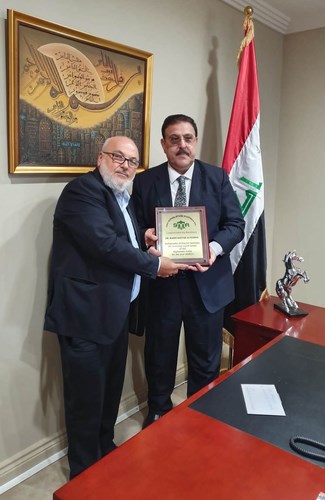 Trustee Hussain Derani and Ambassador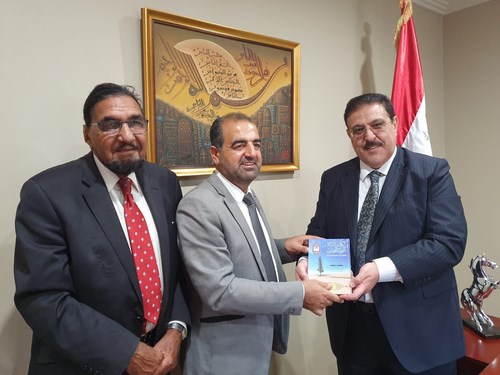 A/S Sayed Mehr presenting a Islamic book to the Ambassador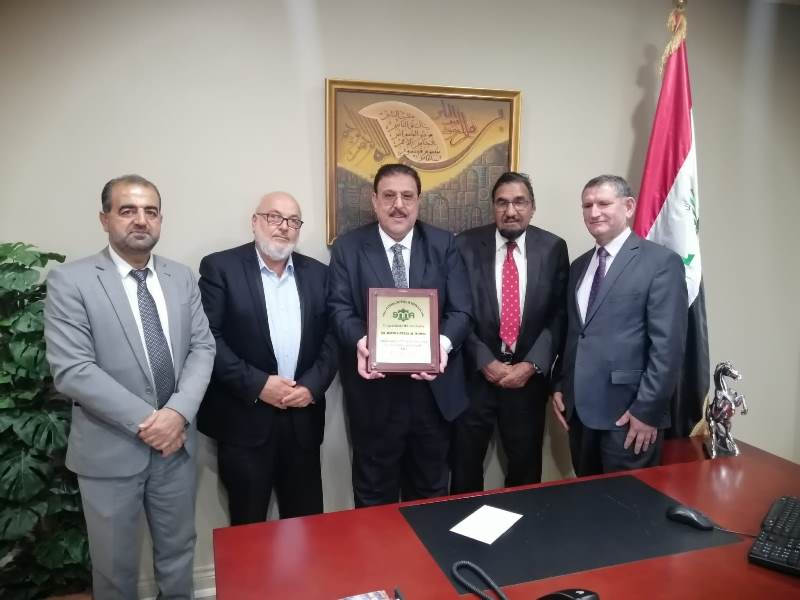 Sayed Mehr, Hussain Derani, H.E. Basim Hattab Al- Tumma,Syed Zawar and Haider Al-Dahlaki