Sada-e-Watan Sydney ™
sadaewatan@gmail.com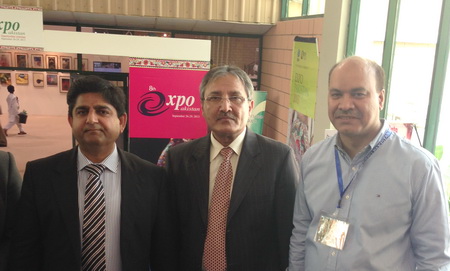 Mr,Iftikhar Rana, H.E. Abdul Malik Abdullah and Muhammad Asif

During the Expo, Australian Delegation had a Special Meeting with Pakistani Mangos Supplier and other important Exporters

HIS EXCELLENCY ABDUL MALIK ABDULLAH HIGH COMMISSIONER OF PAKISTAN FOR AUSTRALIA, ABDUL AZIZ UQAILI CONSUL GENERAL OF PAKISTAN SYDNEY AND MR IFTIKHAR RANA PRESIDENT OF PAKISTAN AUSTRALIA BUSINESS COUNCIL VISITED TRADE EXPO IN PAKISTAN

.

On 26 October a successful trade Expo was held in Karachi, Pakistan. His Excellency Abdul Malik Abdullah High Commissioner of Pakistan for Australia, Abdul Aziz Uqaili Consul General of Pakistan Sydney and Mr Iftikhar Rana President of Pakistan Australia Business Council along with delegation from Australia visited the trade Expo in Karachi. During the expo they met with many exporters and discussed a variety of products and services.

Recently we received a small shipment of mangos in Sydney and after the success and demands of the mangos, a special meeting occurred between Durrani-Pak Horti Fresh and his Excellency along with the President of PABC. The mango supplier, Durrani-Pak Horti Fresh discussed how they plan to

Ex

port mangoes to Australia next year.

Quality, standards and variety of products is very important to Australia

. The mango exporter assured His Excellency and Mr Rana that there would not be any compromise with quality and variety and the fact that they would send top quality products to Australia.

As well as that, the delegation team met with various different exporters and suggested that they ensure to maintain high quality and standards when importing products to Australia.

The visit was very successful.