Sada-e-Watan Sydney ™
sadaewatan@gmail.com

Shazad Latif and Lily James
"WHAT'S LOVE GOT TO DO WITH IT? - Releasing in Australian cinemas
(Film Review by: Syed Zafar Hussain, Editor-in-Chief of Sada-e-Watan Sydney)
On the afternoon of Wednesday, 18th January 2023, I had the Honour to attend the "WHAT'S LOVE GOT TO DO WITH IT?" exclusive private premiere of the Great film screening in Sydney. The Australian Public are eagerly awaiting this film since they are fans of the well-respected stars including Director: Shekhar Kapur, Screenplay: Jemima Khan, plus world known Producers: Jemima Khan, Nicky Kentish Barnes, Eric Fellner and Tim Bevan. The film will be released in Australian cinemas from 26th January 2023. This film will be released in NSW, NT. Qld. SA, Vic and WA. The duration of film is 109 minutes.
Lily James, Shazad Latif, Shabana Azmi, Emma Thompson, Sajal Aly, Oliver Chris, Asim Chaudhry, Jeff Mirza and other famous stars have worked hard in making this historic film which everyone should watch at least twice for satisfaction and learning difficult lessons of life in an easy-going way. The film is a cross-cultural rom-com about love and marriage, set between London and Lahore. All credit goes to Jemima Khan who left the paradise of London and stayed years in the third world country Pakistan which is opposite to British in the way of lifestyle.

The story of the film is based on facts so it is touching the heart of each viewer. All universal actors/ actress names are included in the cast of the film and they perform each character in a wonderful way. All scenes of shopping & wedding events are real pictures of Lahore, Pakistan and other locations. On Eid day or any family visit, it is completely impressive while the elder lady of the family is passing advice or comments as she feels so there is no fitting of any fake expression of thoughts.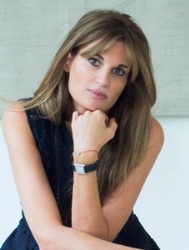 Jemima Khan
"WHAT'S LOVE GOT TO DO WITH IT?" emphasizes lessons of respect for elders, love for one's own culture and values. It also reminds us that in a Multicultural society, we must not criticize the ideas of other people and from different points of view, we have to tolerate others' opinions.

During the film wedding ceremony, the Dhol Music is unforgeable. The film captures husband/ wife love scenes reasonably and all families can watch this film without any objection & difficulty. This film reminds us that marriage is not a joke; it is a serious matter of two persons plus other family members so people should be careful, do not take it easy and always do the right things.

Wedding of a girl or boy depends on the attitude and understanding of each other. Marriage advisor plays his positive part in this film who hints that if there is any issue, husband and wife should try to solve it directly and if still there is anything, they should seek advice from marriage experts but do not follow the hated line of domestic violence. This film actually promotes harmony, tolerance and practical peaceful joys in life.

"WHAT'S LOVE GOT TO DO WITH IT?" proves that there are so many successful arranged marriages where the husband/ wife met each other after the marriage ceremony and there are also examples of long term happy love marriages. There are always arguments of love marriage & arranged marriage preference but if couples try to understand each other fully with mutual respect, there is the chance of 100% success.

In Western society and each part of the world, there are regularly a few incidents that happen and are reported in global media where someone disrespect the parents who fed us, provided all necessities and luxuries within their affordability. In "WHAT'S LOVE GOT TO DO WITH IT?" It takes a polite approach to appreciate the way this lesson is quoted in the Quran, that all kids or adults must give full respect to their mother because Paradise is under the feet of a mother, so if anyone hurts their Mother, he or she cannot get satisfaction in life.

On behalf of the Australian Pakistani Community, I welcome the release of this film in Australia on Australia Day 2023 and congratulate all concerned people who participated in the production of this film. I am looking forward to the film capturing global attention in promoting the streets of Pakistan and the many positive attributes of our culture. I am sure this film will be liked by all parts of the world, achieve a new record in Hollywood and will receive an Oscar award plus win millions of hearts for empowering positive change in married & unmarried men and women.
Please click on this Link for select cinema details;
https://www.eventcinemas.com.au/Movie/Whats-Love-Got-To-Do-With-It#date=2023-01-21