Sada-e-Watan Sydney ™
sadaewatan@gmail.com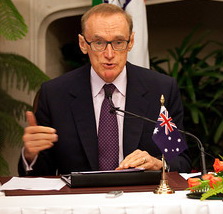 The Foreign Minister of Australia Hon. Senator Bob Carr Congratulates Pakistan's People and Government on successful completion General Elections of 11 May 2013
The Australian Government congratulates Pakistan and its people on the successful completion of its elections on May 11, 2013.These elections will see the first transfer of power from one democratically elected civilian government to another in the country's 66 year history. The Australian Government is encouraged by the high voter turnout, especially among women, despite threats of violence from some terrorist groups during the election campaign.
According to the statement of Foreign Minister of Australia Hon. Senator Bob Carr, since 2011, Australia has committed a total of $7 million towards the United Nations Development Programme's (UNDP) efforts to build the capacity of the Electoral Commission of Pakistan (ECP). The Australian Government also provided a further $200,000 to support the Commonwealth's election observation mission.
The Australian Government commends the caretaker government in Pakistan and the ECP for their efforts in overseeing these elections, and looks forward to working with the incoming Government of Pakistan once it has been formed.