Sada-e-Watan Sydney ™
sadaewatan@gmail.com
Made in Pakistan for Australia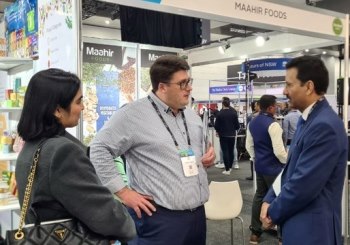 Pakistan Pavilion at Fine Food Australia organised by Trade Development Authority of Pakistan - Pakistani exporters continue to attract trade visitors - buyers, importers, wholesalers and chain stores
A delegation of 14 Pakistani exporters of food products is participating in the Australian premier exhibition, Fine Food Trade Fair being organised at Melbourne Convention and Exhibition Centre, Australia from 5th to 8th September 2022. The Pavilion has been organised by the Trade Development Authority of Pakistan, with the local support provided by the Consulate General and Trade Commission of Pakistan, Sydney.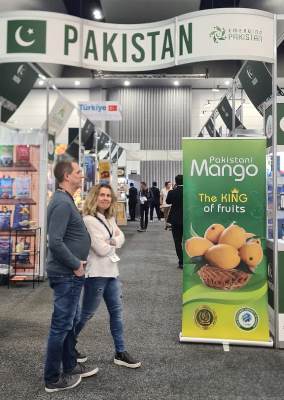 On the opening day of the trade fair, Pakistan Pavilion attracted a good number of Australian buyers and trade visitors. Fine Food Australia is the largest annual trade fair of food products in the Southern hemisphere and is being held after a gap of two years as the last two editions were cancelled due to the Pandemic.
Pakistani exhibitors at the Fine Food are showcasing a wide range of products including basmati rice, dates, pink salt, spices, jams & jellies, bakery products, confectionary, seafood, beverages and ready-to-eat frozen products.
Talking to Sada-e-Watan Sydney, Mr. Muhammad Ashraf, Consul General and Trade Commissioner of Pakistan in Sydney, stated that Pakistan's exports of food products to Australia registered an impressive increase of 32% during the last three years. The potential for export growth is even higher, as Australia is an import market of US$ 11 billion annually for the food products. The pandemic-related restrictions had suppressed the demand of certain product categories and there is now a pent-up demand for Pakistani products in the Australian and New Zealand market. We have invited a large number of major importers of food products from ethnic and mainstream market segment including importers, distributors, wholesalers and retail chain stores to visit the Pakistan Pavilion and are arranging their B2B meetings with the exhibitors. There is a good foot traffic in the Pakistan Pavilion on the opening day of the trade fair and we expect it to further increase during the next 3 days of the event, he added.