Sada-e-Watan Sydney ™
sadaewatan@gmail.com
SPEECH BY HIGH COMMISSIONER HER EXCELLENCY NAELA CHOHAN
ON THURSDAY 17 DECEMBER 2015 AT 1930 HRS
AT SYDNEY
IN REMEMBRANCE OF SHAHEED CHILDREN OF THE
ARMY PUBLIC SCHOOL PESHAWAR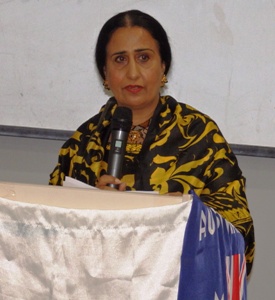 H.E. Naela Chohan
Bismillah Hirrahman-ira-Rahim,

I would, at the very outset, like to thank all those present here to show solidarity with the families of the martyrs of the heinous attack of 16 December 2014 in Peshawar.

May Allah (SWT) bless their souls and rest their souls in eternal peace.

I would also like to thank Young Pakistan Association of Australia and Sada-e-Watan for organizing this important event to remember the Shuhada of Peshawar School. last year, I was in Sydney and witnessed in horror the unfolding of the incident in Saint Martin Place in December 2014 when innocent Australians lost their lives. I was deeply saddened by it. Little did I know that a worst atrocity would hit innocent children in my own country around the same time and now again this year such heinous attacks have taken place in Paris and in other parts of the world.

Not only the Pakistani nation but the whole world was deeply shocked and grieved at the despicable act of terrorism in a Peshawar school just as we grieve the loss of lives in Sydney, Paris and other parts of the world. The terrorists have once again shown that they have no regard for human life. They have no religion – no nationality, no humanity. How can they abuse the name of God who is so loving and caring? How can anyone who says he believes in God commit such atrocity?

In our grief, our hearts go out to the families of these young children who embraced Shahadat in Peshawar and elsewhere. Such cold blooded cowardly acts cannot weaken the resolve of the people of Pakistan, the Government and the Armed Forces, to combat all terrorists. These terrorists are enemies of Islam and enemies of humanity.

From every darkness emanates the first ray of light and hope. The Peshawar incident has helped forge consensus in the Pakistani society against terrorism. All political parties are united on this issue and the government has formulated a comprehensive and a broad-based National Action Plan (NAP) to eradicate terrorism from our soil. Operation Zarb-e-Azab has been successful. Overall, we have turned the tide against the terrorists. Militants' ability to strike Pakistan has considerably reduced. Pakistani nation will not let the sacrifices of its children to go in vain.

We pay our homage to our brave soldiers who are engaged in a valiant effort to root out terrorism from the country for which they have made great sacrifices.

The people of Pakistan stand united in condemning all forms and manifestation of terrorism. We remain resolute in our commitment to eliminate terrorism and success will, InshAllah, be of our brave and indomitable people.

I also admire the people of Australia for having calmly dealt with the Sydney siege. Our thoughts and prayers are for the families and friends of the victims.

We share the pain and sorrow of our Australian friends. We need to stand together to fight against this common menace. Let us together join hands in prayers for the departed souls, the victims of Peshawar attack, Sydney Siege, Paris and elsewhere in the world.
Mrs. Nafisa Zafar, High Commissioner Naela Chohan and Acting Consul General Bushra Salam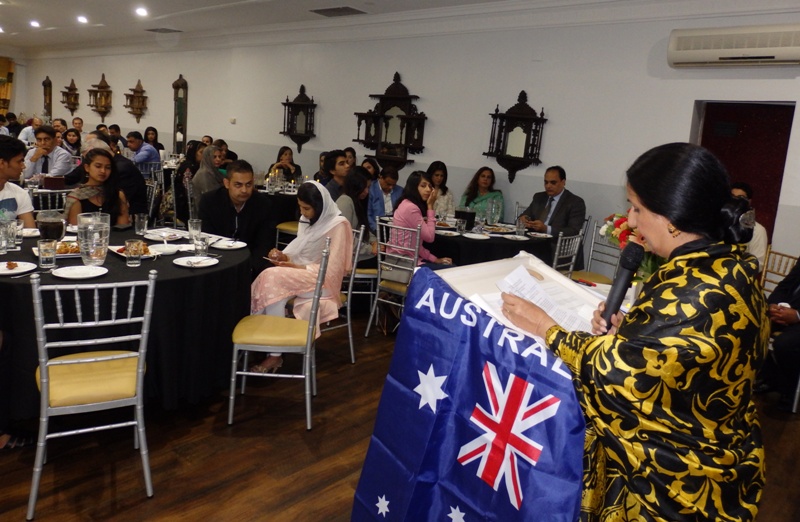 HC Naela Chohan speaking at the event arranged by Young Pakistan Association