Sada-e-Watan Sydney ™
sadaewatan@gmail.com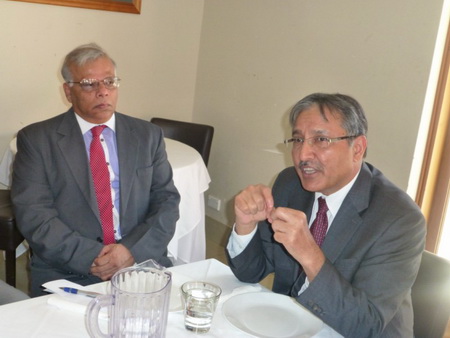 CG Azam Mohammed & High Commissioner Abdul Malik Abdullah
HIGH COMMISSIONER Abdul Malik Abdullah MEETS WITH PAKISTANI BUSINESSMEN in Sydney
(Coverage by: Syed Zafar Hussain,Editor-in-Chief Sada-e-Watan Sydney)
The High Commissioner of Pakistan to Australia His Excellency Abdul Malik Abdullah met with the potential Pak Australian investors and hosted a luncheon meeting for them on 7th March 2013 in Spice of Life Restaurant Harris Park Sydney. Over 20 prominent businessmen including President of the PAA and PABC attended the meeting. The Consul General of Pakistan in Sydney Mr. Azam Mohammed was also present during the Lunch and he also analyses the concern facts about Pakistan Australia trade.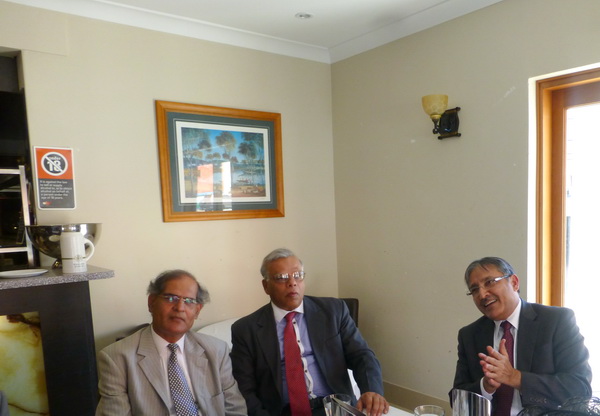 The participants thanked the HC Abdul Malik Abdullah for inviting them and for taking a keen interest in promoting investment for Pakistan and for informing them of the process. They represented those companies which already have investment in Pakistan and are keen to increase investment, those who wanted to explore the possibilities of investment and companies that were trading with Pakistan. List of attendees is enclosed.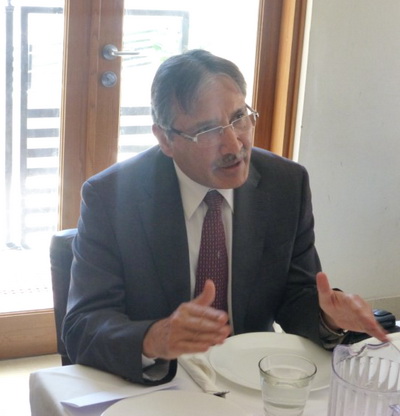 His Excellency Abdul Malik Abdullah informed briefed about the economic situation in Pakistan and informed of the progress made and challenges faced by the economy. He highlighted the importance of FDI in the growth of economy and the benefits of technology transfer as a consequence of the FDI. He emphasised that investment by expatriates is a single most catalyst in drawing investment from foreigners and gave examples of many economies including China where initial foreign investment came from expatriates Chinese.
In the case of Pakistan, he said that there are many talented and successful Pakistanis spread over the globe and they do and can play more important role in the development of Pakistan by investing more. They can play a great role to alleviate the problem due to declining FDI as a result of effect off WOT, Travel advisories. Pakistan is the sixth largest country and its market size offers huge opportunity and is one of the fastest emerging markets. He expressed his thanks to the participants for their interest in investing in Pakistan.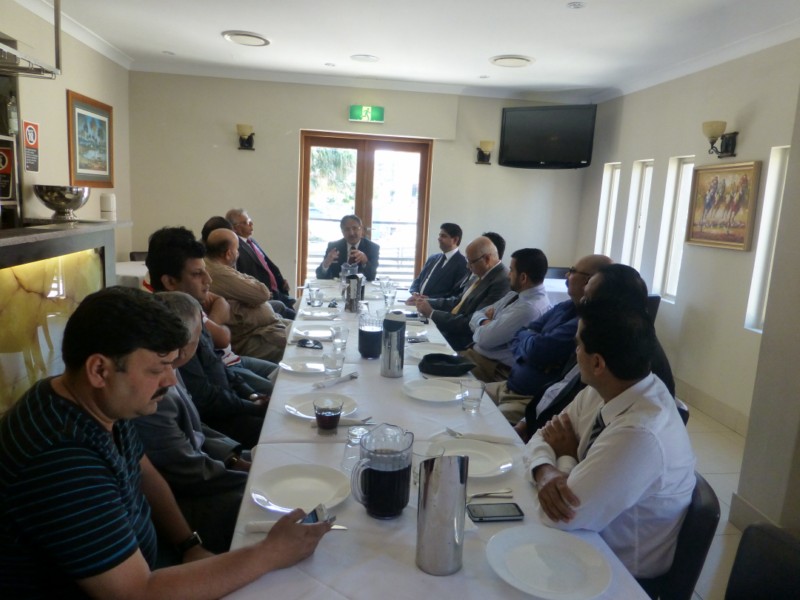 H.E. Abdul Malik Abdullah informed that the Ministry of Commerce plans to hold an Investment conference for expatriates from all over the world in Pakistan soon and the participation from Australia is keenly looked forward to. The BOI would also hold an investment conference including for expatriates in Australia in Sydney soon. The participants assured that they would participate in both.
High Commissioner requested the participants to give their points of views so that same can be suggested to the BOI/Commerce Div for their consideration.
Some of the participants informed that they have successfully invested in cold storage, poultry and food processing in Pakistan and would avail these conferences to see if level of investment could be enhanced. 2 companies informed of their investment in IT and Call centre. One of the companies shifted their investment in IT from India to Pakistan but faced the problem of shortage of skilled professionals. To over-come this problem they invested in education and are training and producing skilled professionals which not only meet the needs of their company but they find jobs in other companies. The High Commissioner informed that this is exactly the kind of innovative thinking that not only increases investment but helps the country in a larger context also.
Three major concerns expressed by all is shortage of electricity, security concerns and governance issue relating to customs and tax authorities.
Some of the suggestions related to creation of special economic zone just for overseas Pakistanis, housing projects for overseas Pakistanis in one location and one window operation for investment by overseas Pakistanis. The HC Abdul Malik Abdullah informed of some of the steps taken by Federal as well as some provincial governments in this regard.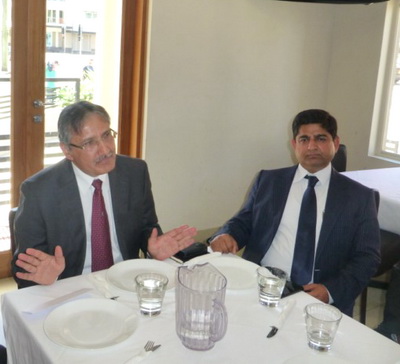 The participants were of the view that if concern mentioned were addressed and some of the suggestions accepted, investment to Pakistan would increase many fold. They said they look forward to both the conferences but desired that at least two three months advance notice may be given before the events are organised.