Sada-e-Watan Sydney ™
sadaewatan@gmail.com

Irfan Bhatti Elected New President Pakistan Tehreek -e- Insaf New South Wales
(Report to Sada-e-Watan by: Shahzaib Hassan Warraich,Information Secretary PTI Australia)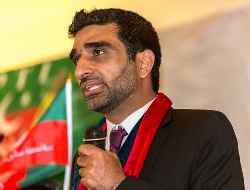 Mr Irfan Bhatti
We are pleased to announce that the newly elected body held their first PTI event in Sydney on Saturday 19th Sep 2015. A great number of members and supporters participated in the event.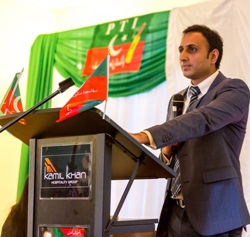 Rana Fahad Nisar
General Secretary, Mr. Rana Fahad Nisar and Vice President, Dr. Faiza Cheema were MC's for the event. Joint Secretary Mr. Sarim Asif began the program by reciting verses from Quran followed by a Naat from Mr. Saeed Ahmad.A one minute silence was observed to condemn the terrorist attack on PAF base in
Peshawar and for paying respects to the martyrs and victims of this heinous crime and human tragedy.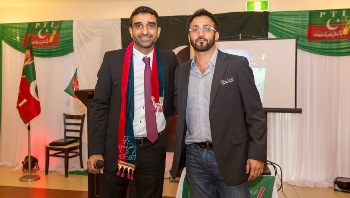 Irfan Bhatti & Kamil Khan
The National Anthems of Pakistan and Australia were played to pay homage to the two beautiful nations. A video tribute to the leader Imran Khan was played. followed by congratulatory messages from Central Organiser, Mr. Jahangir Khan Tareen, Punjab Organiser, Mr. Chaudhry Muhammad Sarwar, PTI Leader Mr. Usman Dar, NA110 (MNA to be, IA) and National Organiser, Mr. Shah Mehmood Qureshi. The elected team was very honoured and thanked these esteemed leaders for taking the time out and sending us their messages of encouragement and motivation to serve PTI at our best.PTI Australia account details were shared with members by Account signatory Mr. Nadir Hafiz.
Mrs Zafar Khan and Dr. Faiza Cheema
President, Mr. Irfan Bhatti in his address appreciated all members and supporters for their commitment towards PTI and the cause of Naya Pakistan. He highlighted the fact that PTI not only preaches democracy but practices it. He requested all Pakistanis to come forward and join hands with Chairman Imran Khan to build a better and progressive Pakistan.He thanked all the members of PTI Australia NSW for their participation in Intra Party
Elections and making it a huge success for everyone involved.
President Mr. Irfan Bhatti, announced the members of Women's Wing, Professional and Research Wing, Youth Wing, Editorial Board, Event Management Committee, Advisory Committee and Membership Coordinators. He shared Team PTI NSW priorities, goals and action plan for the year ahead.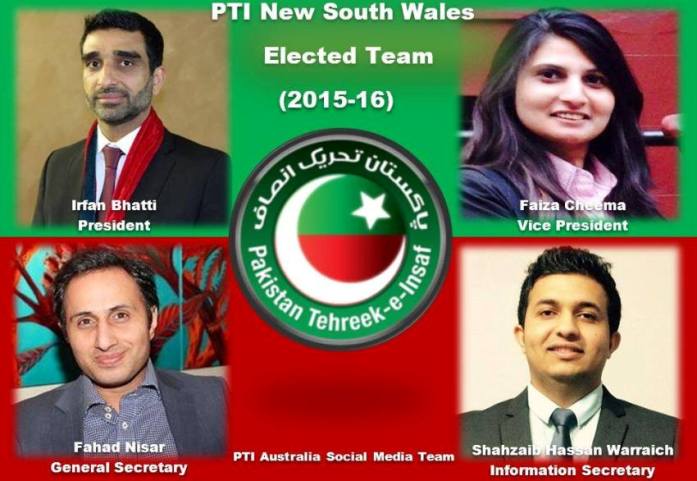 He appreciated the support of Our Sponsor (Sublime Migration Services), Kamil Khan (Spice of Life) for his support in this event and Saeed Ahmad (official photographer of event) On behalf of National Organiser Gender Empowerment and Overseas Pakistanis Mrs.Fauzia Kasuri, Central Coordinator Ms. Malaika Raza took the oath from all office holders,elected and appointed via phone from Pakistan.
Information Secretary Mr. Shahzaib Hassan Warriach greeted all guests and encouraged attendees to actively participate with their friends and families in PTI Australia NSW events. Team PTI NSW thanks Mr. Murtaza Hamid and Mr. Sarim Asif who worked relentlessly to compile all the videos and created entertaining yet moving presentations to lift the event vibe.