Sada-e-Watan Sydney ™
Sadaewatan@gmail.com
Baatain Fun Ki – Yaadain Man Ki *************** Baatain Fun Ki – Yaadain Man Ki

Javed Nazar, CG Abdul Aziz Uqaili, Uzma Gillani, Mustansar Hussain Tarar and Anjum Ayaz
Javed Nazar Gives Sydney Art Lovers a Memorable Show
(Report to Sada-e-Watan by Famous writer and poet Mr. Ashraf Shad)
Javed Nazar, the soul behind Koocha-e-Saqafat (House of Culture), organised an art and culture show, a first of its kind in Sydney that will be remembered for its uniqueness and for a large passionate audience.
The show was focused on famous art personalities –Mustansar Hussain Tarar, the writer and TV personality, Anjum Ayaz, the painter, calligraphist and sculpture artist, and Uzma Gillani, the TV and stage artist. The guests talked about art, their memories and interacted with the audience in a question and answer session.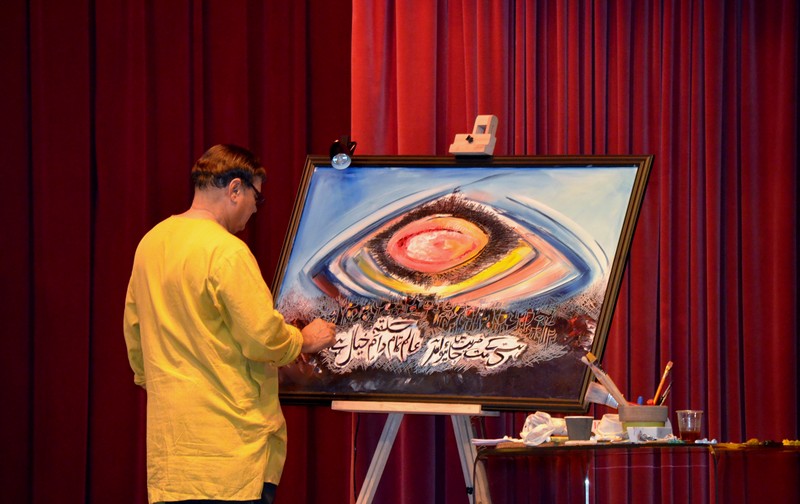 The unique performance came from artist Anjum Ayaz who made a painting on stage in front of the audience and during the time when other two guests were giving their presentations. The painting was later auctioned and was sold to the highest bidder, Mr. Munir of Rabita International.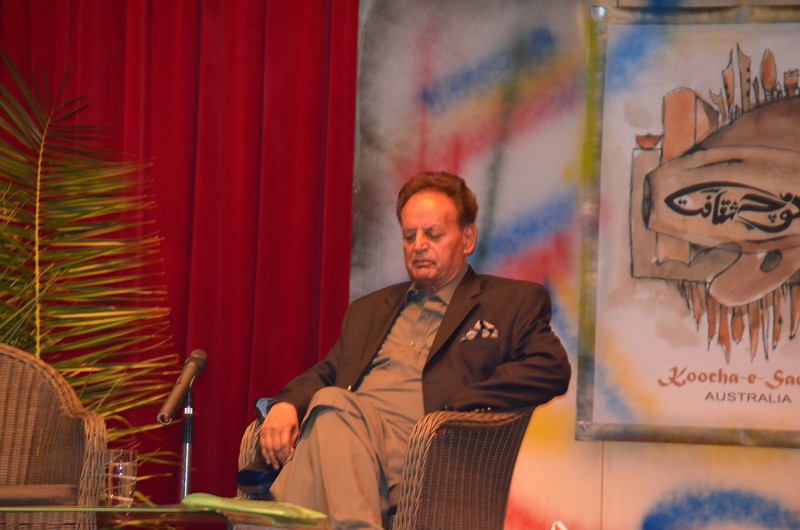 Mustansar Hussain Tarar, who is famous for his novels and travelogues and for his TV shows, talked about his work and also read a piece, a satire on the way Pakistan is ruled, while Uzma Gillani read pages from a book of prominent Pakistani playwright Asad Mohammed Khan.
Mr. Abdul Aziz Uqaili, Mr. Azam Mohammed, the present and former Counsel General of Pakistan and also Mr. Kamran Mirza director of Aussie Forex & Finance graced the occasion and presented shields to the guests of the show.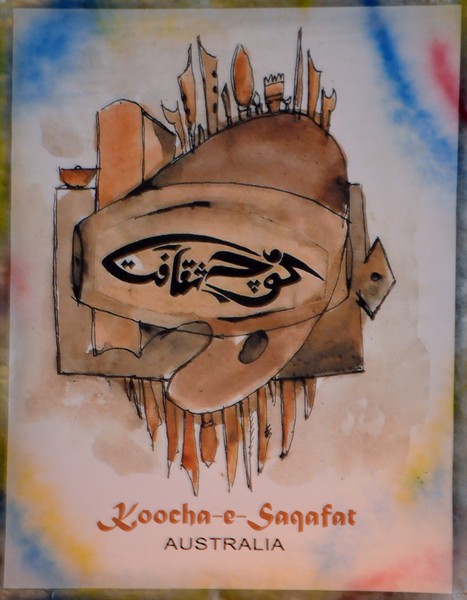 The event was organised under the banner of Koocha-e-Saqafat (House of Culture) on 5th April 2014 at the Strathfield Town Hall Sydney. Koocha-e-Saqafat a Sydney organization that was founded by Javed Nazar who comes from a family of poets, artists, writers and cricketers and is the son of late Nazar Amrohvi, the famous poet of classical tradition. Javed Nazar is also a poet and has been coaching cricket in Sydney.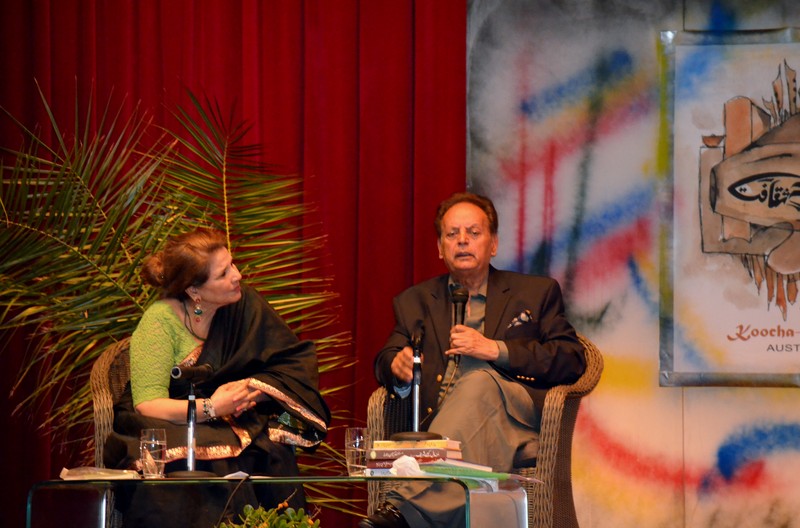 The show was houseful with an enthusiastic audience, many of whom couldn't find a seat and remained on their feet throughout the program. The guests were also served with a lavish dinner.
The other functions were also held in honour of the guests from Pakistan. In Canberra Mr. Abdul Malik Abdullah the Pakistan High Commissioner invited the visiting artists for lunch and prominent Canberra personality, organized dinner at his residence.
A luncheon reception was also organised at the residence of Dr. Sayeed Khan in Sydney where a recent book on the life of Uzma Gillani was also launched.
Koocha-e-Saqafat Australia hosted a Lunch at the Jasmine Lebanese Restaurant, Punchbowl Sydney. The Lunch was attended by respected overseas guests, Hon. Shaoquett Moselmane MP, Syed Zafar Hussain, Molana Nizam Thanvi, Hafeezul Haq of London and Mr. Mustafa Ali Khan.
Prominent Poet and Advisor of Sada-e-Watan Dr.Shabbir Haider hosted a Dinner at his Residence "Jehlum House" Wollongong. The dinner was attended by respected overseas guests, Local personalities of Pak-Hind Community and from Sydney S. Zafar Hussain & his wife.
The program was sponsored by Central Coast Islamic Culture centre and Aussie Forex & Finance.Koocha-e-Saqafat Australia organised this unique program to promote good will, peace, harmony, social and cultural values in our Australian community.
Javed Nazar has asked Sada-e-Watan to communicate his thanks to all participants of the program and those who helped him organized the show.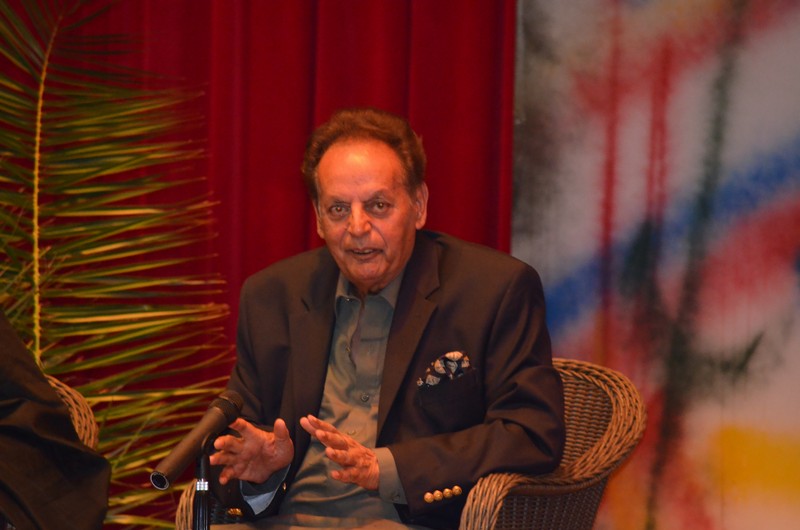 Mr.Mustansar Hussain Tarar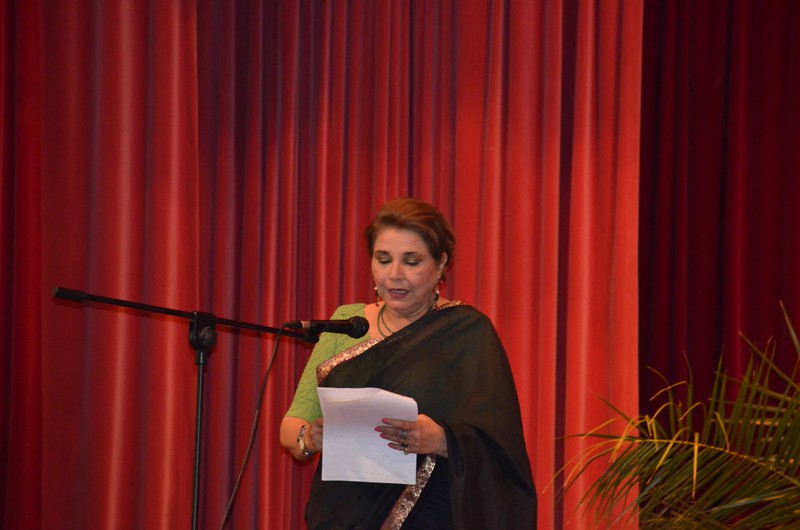 Mrs. Uzma Gillani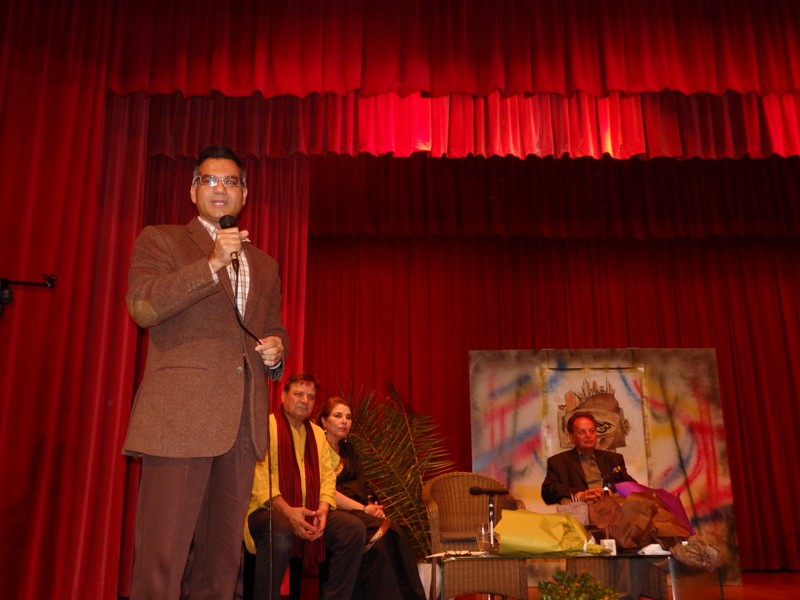 Consul General of Pakistan Mr. Abdul Aziz Uquali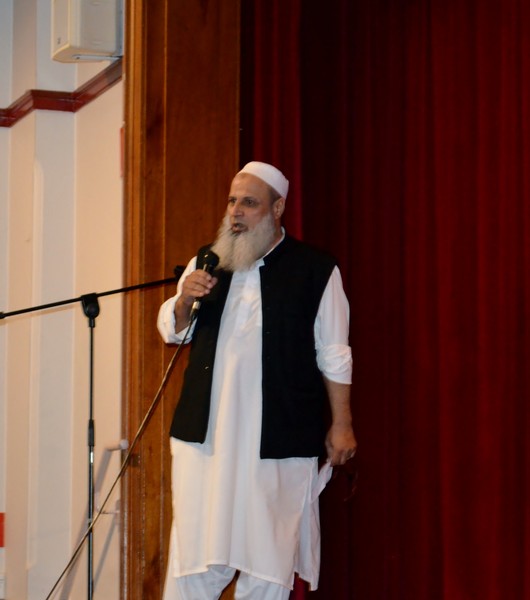 Mr. Javed Nazar, President of Koocha-e-Saqafat Australia
Former Consul General of Pakistan Mr. Azam Mohammed
Mohammad Shammas