Sada-e-Watan Sydney ™
sadaewatan@gmail.com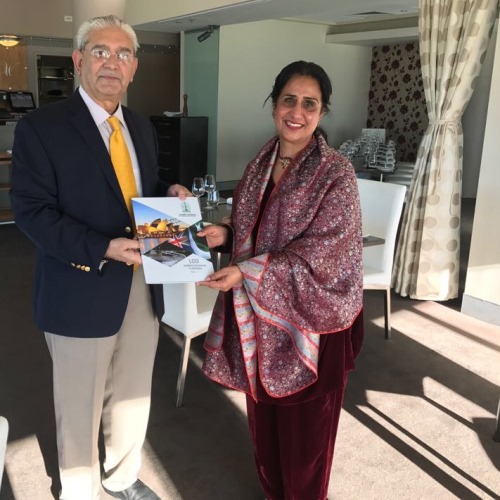 Mr Abdul Basit and H.E. Naela Chohan ( Canberra ACT)
President of the Lahore Chamber of Commerce & Industry Mr Abdul Basit meets Pakistan High Commissioner for Australia Her Excellency Naela Chohan
Recently the President of the Lahore Chamber of Commerce & Industry Mr Abdul Basit and Pakistan High Commissioner for Australia Her Excellency Naela Chohan in a meeting at Canberra agreed to further cement trade and economic relations between Pakistan and Australia. There was also a consensus to adopt new methodology to expedite the volume of two-way trade.
High Commissioner Naela Chohan said that Pakistani Consulate in Sydney would share available business opportunities and would pave way for joint ventures between the private sectors of the two countries. She said that private sector would have to play an important role to enhance existing trade volume that does not match the potential of the two countries. HC Naela Chohan appreciated the LCCI efforts to promote external trade of Pakistan and promised to extend beset cooperation to promote bilateral trade.
The LCCI President Abdul Basit said that Pakistani Missions abroad should establish display centres for Pakistani products and cultural centres to promote Pakistani culture. These measures would help Pakistani products to get due share in the global market and would also attract foreigners towards Pakistan.
Abdul Basit said that the size of global market for Halal products is estimated dollar 3 trillion. Pakistan is a natural base for Halal products. If we could acquire 10% share in its trade then we can easily enhance our exports by more than two times. He said that Australia and Pakistan have been steady trading partners. With regard to major exporting countries of Pakistan, Australia takes 26th position. Similarly, Australia comes at 16th rank among the top importing countries to Pakistan.
"We are concerned about the comparatively low level of exports to Australia which results in unfavourable trade balance", the LCCI President added and said that the current level of exports to Australia does not match the actual export potential of Pakistan.
Mr Abdul Basit and H.E. Naela Chohan ( Canberra ACT)
He said that our Embassies or High Commissions along with their subsidiary consulate offices have certain role to play to facilitate the business community of Pakistan who are very eager to develop trade relations with their counterparts in major economies. He said that any trade related information sharing with the chambers of commerce in Pakistan by the respective commercial sections of our embassies/high commissions can provide a lead to grab the possible business opportunities.
The LCCI President said that the commercial sections of other countries regularly share market surveys and commercial intelligence reports with their business communities which become basis to evaluate the chances of greater trade links. Pakistan will certainly welcome to have the same response from our own commercial sections on regular basis.
He said that trade diplomacy is another important tool that greatly helps in paving ways between two countries to increase the bilateral trade relations.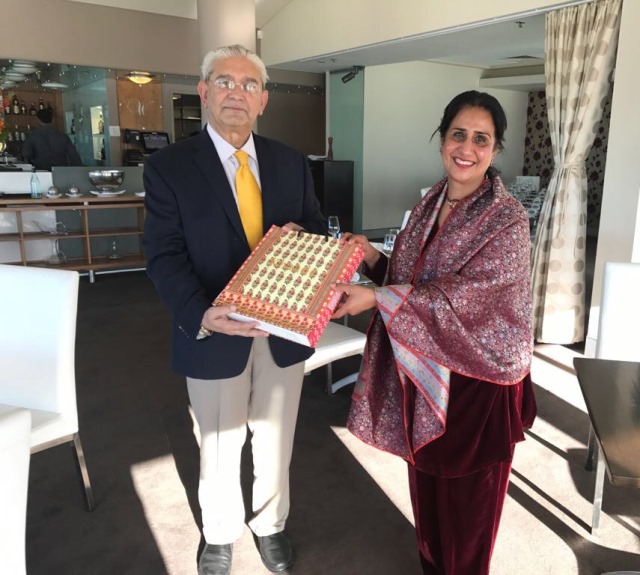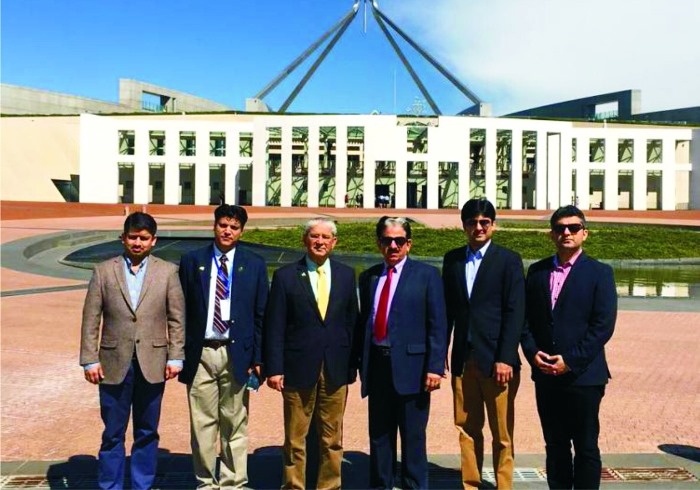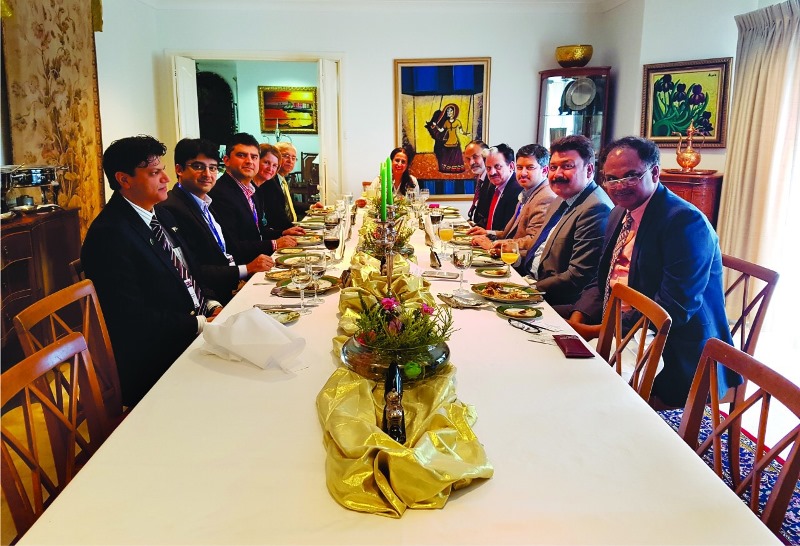 ********************************
A brief report about the Lahore Chamber of Commerce and Industry delegation's visit to Australia
The Lahore Chamber of Commerce and Industry is the oldest and largest trade body in Pakistan with strong credentials having a large membership base standing around 20 thousands members. LCCI's history dates back to the early part of the last century. It has served the business community with great dexterity for almost 80 years consisting of four main phases including! Pre-1923 as part of Punjab-Haryana-Delhi chamber of commerce and industry; 1923-1947 as northern India chamber of commerce and industry; 1947-1960 as west Pakistan chamber of commerce and industry; and eventually as LCCI since 1960. We also take great pride in LCCI being the first iso certified chamber in Pakistan.

A 32-member executive committee headed by a president, senior vice president and vice president as office bearers manages this premier institution. The managing committee members are elected through annual election for a two-year term to work for the betterment of the business community on honorary basis.

Leers prime objective is to serve its members to their utmost satisfaction. It acts as a bridge between the government and the business community, and is regularly consulted by the government and international agencies on important national and international policy matters. In addition to its regular advisory and support services to the members, it actively promotes regional and international economic cooperation and trade.

The Lahore Chamber is involved in extensive research used in nearly every discipline, formulating recommendations and analysing various national and international policies affecting business, trade and industry.

It is committed to make effective contribution to the nation's economic development through the promotion of trade and industry. LCCI is also playing an important role to explore the potential markets for the promotion of Pakistan's exports through organization and participation in international trade fairs and exhibitions in CIS, UAE, FAREAST, USA, EUROPE AND AFRICA.

Mr. Abdul Basit- President, LCCI
It is an honor for me to present before you the report on LCCI's business delegation to Australia. It is worth mentioning that Australia is one of the great untapped potential markets. The total imports of Australia are over US$ 200 Billion while the total exports of Pakistan to Australia are just US$ 175 Million. Realizing the need to tap the tremendous potential in the Australian market, the LCCI arranged a business delegation to Australia.

The delegation proved to be extremely successful as various B2B meetings took place between the delegates and the members of Australian business community. These meetings provided an opportunity to the delegates to enhance trade linkages and explore new avenues for increasing trade volume.

I am Personally thankful to Pakistan's High Commissioner to Australia H.E Naela Chohan, and Pakistan Consul General in Sydney Mr. Majid Yousafani & Mr. Asadullah Jatoi Trade Development Officer for their unmatched cooperation and warm reception to LCCI delegation.

The meetings arranged by the High Commission and the consulate would go a long way to words bilateral economic ties.The sumptuous lunch arranged by the High Commission at Pakistan House would be remembered for years to come.
 AUSTRALIA COUNTRY PROFILE
LOCATION:
Oceania, continent between the Indian Ocean and the South Pacific Ocean

AREA:
7,741,220 sq km

CAPITAL:
Canberra

POPULATION:
22,992,654 (July 2016 est.)

LANGUAGES:
English 76.8%, Mandarin 1.6%, Italian 1.4%, Arabic 1.3%, Greek 1.2%, Cantonese 1.2%, Vietnamese 1.1%, other 10.4%, unspecified 5%

ETHNIC GROUPS:
English 25.9%, Australian 25.4%, Irish 7.5%, Scottish 6.4%, Italian 3.3%, German 3.2%, Chinese 3.1%, Indian 1.4%, Greek 1.4%, Dutch 1.2%, other 15.8% (includes Australian aboriginal .5%), unspecified 5.4%

NATURAL RESOURCES:
bauxite, coal, iron ore, copper, tin, gold, silver, uranium, nickel, tungsten, rare earth elements, mineral sands, lead, zinc, diamonds, natural gas, petroleum

ECONOMY
GDP (Official Exchange Rate):
$1.257 trillion (2015 est.)

GDP -Real Growth Rate:
2.9% (2016 est.)

GDP - Per Capita (PPP):
$48,800 (2016 est.)

GDP - Composition, by Sector of Origin:
Agriculture: 3.6%
Industry: 28.2%
Services: 68.2% (2016 est.)

Inflation Rate (Consumer Prices):
1.4% (2016 est.)
Reserves of Foreign Exchange and Gold:
$54.3 billion (31 December 2016 est.)
Public Debt:
46.1% of GDP (2016 est.)
Taxes and Other Revenues:
33.5% of GDP (2016 est.)
Agriculture - Products:
wheat, barley, sugarcane, fruits; cattle, sheep, poultry
Industries:
mining, industrial and transportation equipment, food processing, chemicals, steel

TRADE
Exports:
$184.3 billion (2016 est.)

Exports - Commodities:
coal, iron ore, gold, meat, wool, alumina, wheat, machinery and transport equipment

Exports - Partners:
China 32.2%, Japan 15.9%, South Korea 7.1%, US 5.4%, India 4.2% (2015)

Imports:
$203.1 billion (2016 est.)

Imports - Commodities:
machinery and transport equipment, computers and office
machines, telecommunication equipment and parts; crude oil and petroleum products

Imports - Partners:
China 23%, US 11.2%, Japan 7.4%, South Korea 5.5%, Thailand 5.1%, Germany 4.6% (2015)

INVESTMENT OPPORTUNITIES IN AUSTRALIA

The Australian Government welcomes foreign investment. As the Australian Government's investment promotion agency, Austrade works to inform investors about growth opportunities in areas, jointly agreed by Australian and State and Territory Governments:

AGRIBUSINESS AND FOOD:
With global food demand booming, Australia is ideally placed to become a premium food supplier and a long-term partner of choice in food security. To help its agribusiness and food sector scale-up and make the most of growth opportunities, Australia is keen to attract investment in innovation, agriculture production incorporating food and fibre products, and advanced food processing.

MAJOR INFRASTRUCTURE:
Australia's buoyant economy, increased trade footprint, growing population and substantial pipeline of projects provide the ideal conditions to invest in major infrastructure. As an underpinning for economic growth, the Australian Government has identified infrastructure development as a priority and plays a leading role in building the country's assets, including road and rail networks. Significant opportunities exist for investors to finance, construct, own and operate Australia's transport, utilities and social infrastructure.

TOURISM INFRASTRUCTURE:
Australia's tourism industry has been identified as a growth sector due to its proximity to the fast growing economies in Asia, unique natural wonders and food experiences that are among the best in the world. As one of the world's most transparent real estate markets and with strong growth in visitor numbers and trip spend, Australia's tourism sector is attracting strong international investment interest.

RESOURCES AND ENERGY:
With abundant and diverse mineral and energy resources, a sophisticated equipment, technology and services industry, and proximity to growth markets in Asia, Australia offers a broad range of investment opportunities in the resources and energy sector.

DIGITAL TECHNOLOGIES:
Australia has an expanding, multi-faceted digital economy with e-ready government, industries and consumers and an accomplished and innovative ICT R&D sector.
The country's economic transition and the need for efficiency gains is driving demand for digital technologies and creating strong opportunities across economy, including in collaborative R&D, digital infrastructure and data centres, cyber security, financial services (fintech), agribusiness and food (agtech), resources and energy, digital health, transport and logistics, government services, education and tourism.

MEDICAL TECHNOLOGY:
A global leader in medical technologies, Australia offers investment opportunities ranging from discovery research through to product development partnerships in biotech, pharmaceuticals, medical devices, tropical medicines and digital health areas
.Investors can benefit from:
Research excellence and a collaborative culture
Accessible world-class research infrastructure
A track record of commercial success
An ideal market for testing new innovative medical products/technologies
Australia's trade, investment and cultural ties to the fast-growing Asia-Pacific region.

MATERIALS SCIENCE AND TECHNOLOGY:
Australia has advanced research and innovation capabilities in niche areas of advanced manufacturing and a proven track record in developing materials science and technology solutions, including in:
Composites research, including carbon fibres for aerospace, automotive and industrial
Light metals, such as titanium, processing including additive manufacturing
Bio-products for medical and industrial use, including through nanotechnology
Electronic and photonic materials, such as for batteries and energy storage
Australia offers world-class research infrastructure, a strong but flexible regulatory regime including (IP) protection, tax incentives and a supportive business culture for undertaking research and development (R&D).

PAKISTAN HIGH COMMISSION IN AUSTRALIA and CONSUL GENERAL IN SYDNEY PLAYING ACTIVE ROLE FOR BUSINESS PROMOTION

A seven member Business Delegation from Lahore Chamber of Commerce and Industry (LCCI) visited Australia from 14 to 20 February 2017 to attend meetings with the local business community and foreign trade-related institutions. Pakistan High Commission and Consulate General of Pakistan in Sydney played a vital role in bridging the gap between the Australian and Pakistani stakeholders by organizing their meetings. The delegation headed by Mr. Abdul Basit, President LCCI arrived in Sydney on 14-02-2017 to explore business opportunities in Australia with a focus on exports from Pakistan and to attract inward investment for Pakistan.

On 15th February 2017, the Delegation started their day at 9am by holding an introductory meeting with the Consul General of Pakistan in Sydney, Mr. Abdul Majid Yousfani that lasted for an hour. The Consul General briefed them on the trade potential that exists between Australia and Pakistan. LCCI President, MR. Abdul Basit, and other delegates agreed
that the existing volume of business between Pakistan and Austria has no match with their respective potentials.
After conclusion of the meeting, the delegation made its way to the NSW Parliament House where they met the Opposition whip, Hon. Shaoquett Moselmane, who gave a detailed briefing to the delegates about the rules and regulations of conducting business in Australia. The Honourable law maker also took the Business delegation to the Hall of the Lower House where proceedings were taking place. During the proceedings, the Chair duly acknowledged the visit of Pakistan's Business delegation to Australia.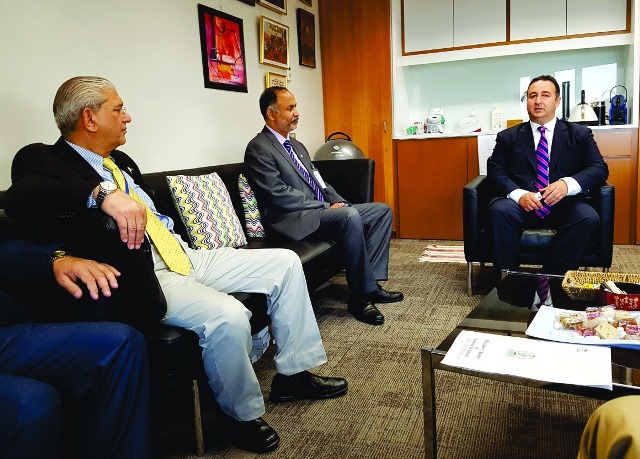 Mr Abdul Basit, CG Abdul Majid Yousfani and Hon. Shaoquett Moselmane MP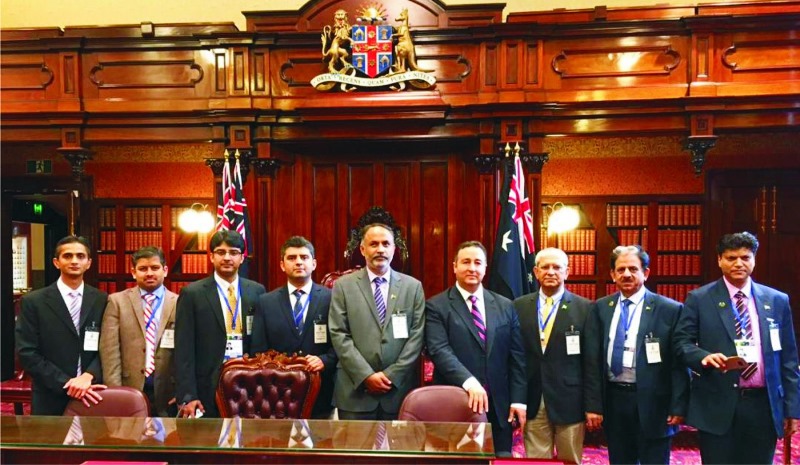 Trade Delegation Members during the visit of New South Wales Parliament House
Visit to Victoria
A seven member Business Delegation from Lahore Chamber of Commerce and Industry (LCCI) visited Melbourne where they met community leaders and Business personalties.