Sada-e-Watan Sydney ™
sadaewatan@gmail.com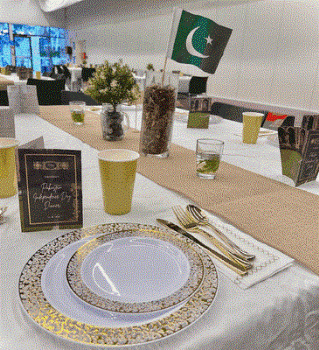 Students arranged Pakistan Independence Day Dinner at Macquarie University Sydney
Pakistanis at Macquarie University Sydney is a student-led group which acts as a forum for students and wider members of the community. This Non Profit group of voluntaries' aim is to celebrate cultural diversity and facilitate the unification of Pakistani students within Sydney. Moreover, through this Group of Pak students convey a positive image of Pakistan by familiarising Non-Pakistanis with our rich culture and heritage, while supporting all Pakistanis studying or planning to study at Macquarie.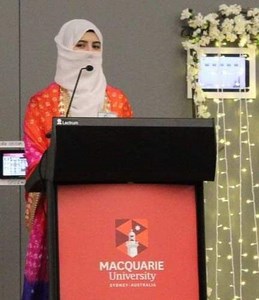 Taimia Zahid (President)
Ms Taimia Zahid is current elected President of Pakistanis at Macquarie. Taimia Zahid & her team is very active and they are doing Great work with limited resources. This year they Celebrated 75th Pakistan Independence Day (Yaum-e Āzādī) in traditionally way.
On Thursday, 11 August 2022, Pakistanis at Macquarie University Sydney hosted a dinner at the Macquarie University Marquee. The dinner was attended by Deputy Consul General of Pakistan in Sydney Mr. Sheryar Khan, VIP guests, Staff of Uni and students. The Consul General of Pakistan Muhammad Ashraf and Editor-in-Chief Sada-e-Watan Syed Zafar could not attend due to prior engagements & send note of thanks/ apologies to host Ms Taimia Zahid.
Chief Guest Mr. Sheryar Khan
The Chief Guest Mr. Sheryar Khan congratulates to President Taimia Zahid and all team for arranging Pakistan Independence Day Celebration and appreciates for promoting soft image of Pakistan in Australia.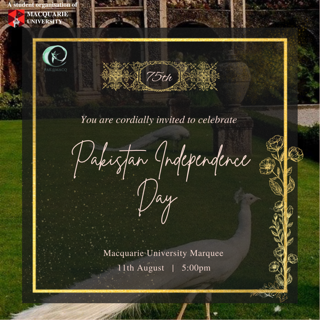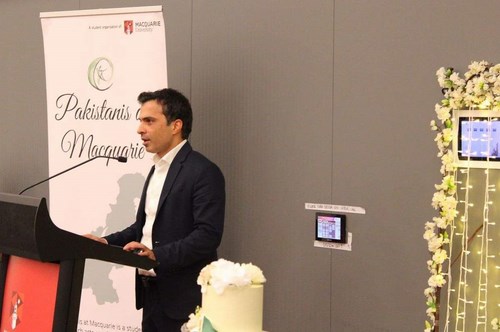 Mr. Sheryar Khan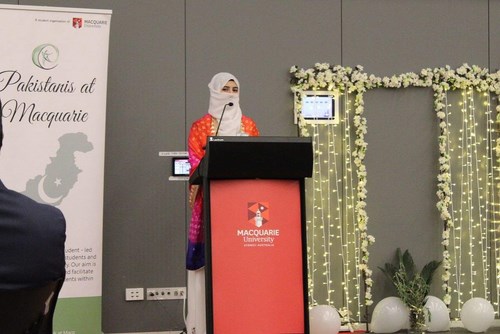 Taimia Zahid