Sada-e-Watan Sydney ™
sadaewatan@gmail.com

Bashir Malik arranged a Mehfil e Milaad at his Residence Burwood Sydney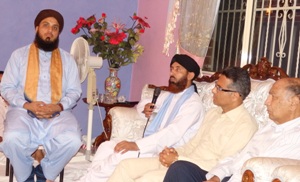 Hafiz Raza speaking at Milaad
On Monday, 12th January 2015, Former President of Pakistan Association of Australia Mr. Bashir Malik arranged a Mehfil e Milaad at his Residence in Burwood, Sydney. Famous Naat Reciter of Pakistan Hafiz Khalil Sultan Siddiqi who is visiting Australia was Chief Guest. Leading Islamic Scholar of Australia Hafiz Raza spoke about the Life of the Prophet Muhammad (Peace and blessings of Allah be upon him). In his speech, Hafiz Raza covered the Holy Prophet's birth and early life, events in Makkah, Madina & his final years.
Mr. Shifaat, Hafiz Khalil, Hafiz Raza, Mr. Uqaili & Bashir Malik
The Consul General of Pakistan in Sydney Abdul Aziz Uqaili, Consul Shifaat Ahmad Kaleem and important personalities from the Australian Pakistani Community attended the Mehfil e Milaad. At the end, before dinner Surah Fateha was recited for the soul of Mrs. Shahnaz Bashir Malik who last year passed away in Islamabad, Pakistan.