Sada-e-Watan Sydney ™
sadaewatan@gmail.com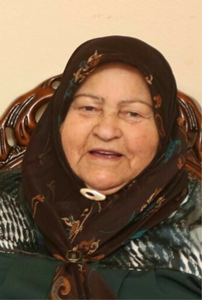 Hundreds Relatives and Family Friends gathers to mourn Mrs Jawaher Mohanna Mouslimani
The Mother of Hon. Shaoquett Moselmane MP, Mrs Jawaher Mohanna Mouslimani was passed away in St George Hospital Sydney on Tuesday, 20 February 2018.Her Namaz Janazah was held on Wednesday, 21 Feb after Zohar at 12:45pm at Al Zahra Mosque, Arncliffe Sydney.
Ladies and Gents Condolences and Majlis-e-Aza for departed soul was held on Tuesday 20 Feb, Wednesday 21 Feb and Thursday 22 Feb at 7pm at Husaineyat Sayeda Zaynab,318 Princes Highway, Banksia Sydney. Hundreds of relatives and family friends including dignitaries gather at Arncliffe & Banksia to pray for the departed soul of Mrs Jawaher Mohanna Mouslimani. The memories of the deceased will last forever. We pray and do Dua that Allah has mercy on you and grants you the highest place in Jannat-ul-Firdous Ameen. We all will miss you. Will missed your presence, miss your voice, miss your best wishes, guidance and smile......!
Mrs Jawaher Mohanna Mouslimani was passed away in Australia but she wished to bury in Lebanon so Hon. Shaoquett, his father, Brothers, Sister, Cousins and son taken dead body to Lebanon and burial was take place there on Friday 23rd Feb 2018. On the short notice, A large number of People from all over the Lebanon and Arab countries specially travel for attending Funeral prayer. In the home town of Mrs Mouslimani, for next 40 days, close Family members will gathers to mourn for successful happy mother and Great Grandmother Mrs Jawaher Mohanna Mouslimani. Please Pray to ALLAH Almighty to rest the departed soul in eternal peace and grant courage to her family members to bear this irrepairable loss.
Ladies and Gents Condolences and Majlis-e-Aza at Banksia Sydney