Sada-e-Watan Sydney ™
sadaewatan@gmail.com
Premier New South Wales, Minister, High Commissioner and Members of Parliament's Greeting Messages on Independence Day of Pakistan
Honourable Mike Baird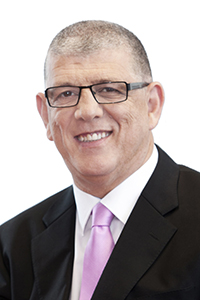 Hon. John Ajaka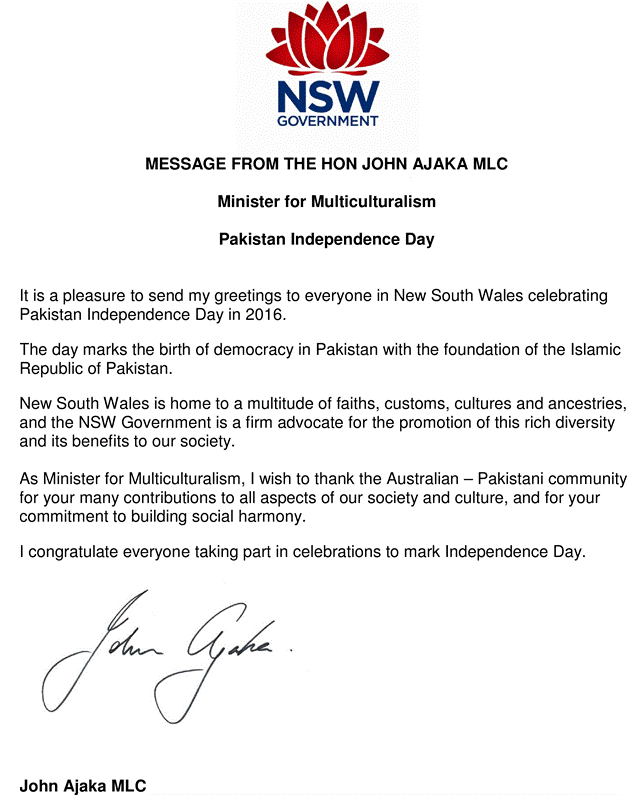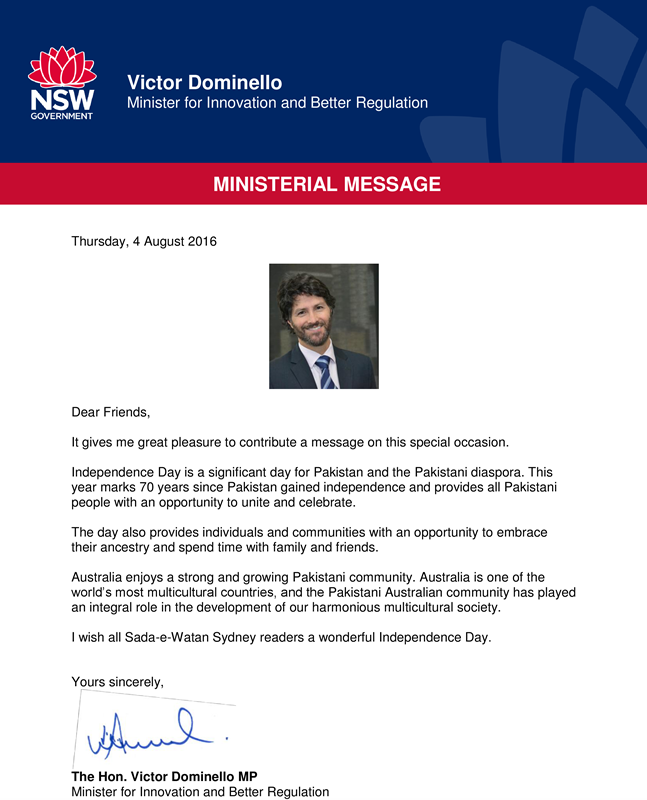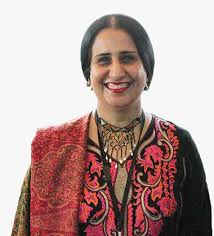 Her Excellency Naela Chohan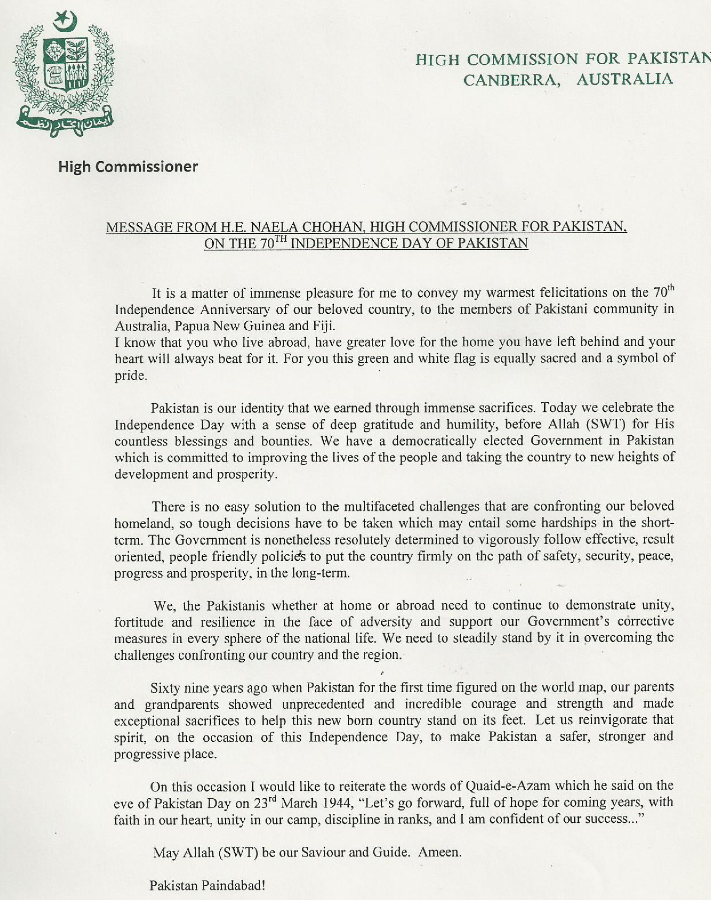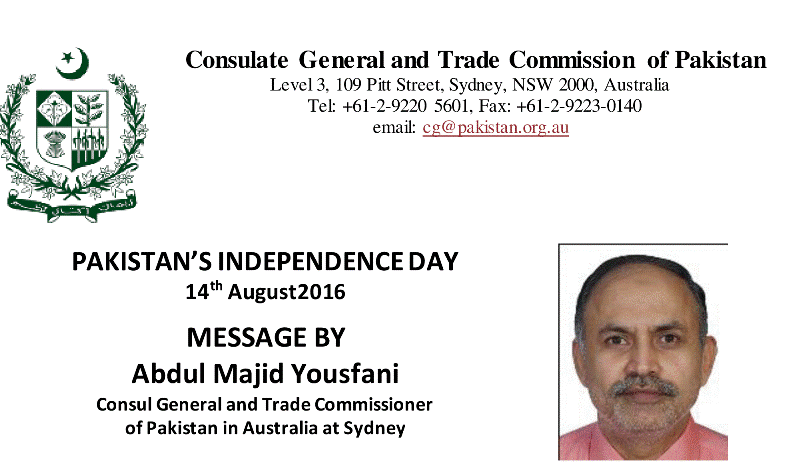 My dear Pakistani Community!

I am delighted to send this message to you on the eve of 70th Independence Day of Pakistan.
This day reminds me of the history of Muslims and efforts of All India Muslim league under the dynamic leadership of Quaid-e-Azam Muhammad Ali Jinnah who led the nation from a dream to a reality. The dream of Sir Allama Muhammad Iqbal for separate homeland of Muslims of the sub-continent was formally presented through Lahore Resolution passed on 23rd March 1940 that provided an impetus to the struggle of the nation. The efforts of Muslims and their leaders led to the creation of nation and a state called Pakistan on 14th August 1947. This country is our identity and our pride.
You are mindful of the fact that Pakistan is facing the challenges of terrorism. We got independence but the struggle continues as of this day. The purpose is to maintain our freedom as a nation and to promote peace in the region and in the rest of the world. Pakistan and people of Pakistan are still continuing to sacrifice their lives and their properties in this just and noble cause.
I am honored to serve the Government of Pakistan and my countrymen in Australia and cordially invite them and our well wishers living in New South Wales to witness "Flag Hoisting Ceremony" to be held on Sunday, 14 August 2016 at 0930 hours in Pakistan House (3 Rorke Street Beecrof NSW 2119 Australia) to pay tributes to Quaid-e-Azam, Sir Allama Muhammad Iqbal and other heroes of the struggle of independence. This is an open invitation to all the community members who are encouraged to participate in this national event and to display that Pakistanis are a great nation who love their country, their fellowmen and acknowledge their national heroes.
In the end, I must urge upon you to cooperate and coordinate amongst each other and with the other communities in this country. We must continue to cultivate support and to continue to contribute to the society and economy of this country. While doing all this, I would urge you not to forget those who are less fortunate and need your help in Australia and back home in your country of origin.


Mr Zafar Hussain
Editor-in-Chief
Sada-e-Watan Sydney,
Pakistan's Independence Day
It is always a pleasure to join with our great Australian Pakistani community in celebration of Pakistan Independence Day, Marking Pakistan's 70th Birthday.

This is a day that celebrates the struggles and achievements of the people of Pakistan lead by Muhammad Ali Jinnah creating the world's first Islamic republic.

In Australia, celebrating Pakistan 70th birthday is also an opportunity to reaffirm the Pakistani-Australian community's desire to celebrate and share its rich cultural heritage with the rest of us.

I am particularly pleased to be part of this community that has given me the chance to develop deep links with the people of Pakistan here and in Pakistan.

Out of hard times friendships are formed.

As a result of the terrible floods to hit Pakistan where a fifth of Pakistan was under water affecting an estimated 20 million people suffering in the worst ever national disaster, I had the opportunity to show my friendship with the Pakistani community to help raise whatever funds we could to help those Pakistanis in need.

It also opened for me an opportunity to visit Pakistan and meet so many people. We had pleasure in meeting Pakistani citizens, business people, Chambers of commerce, government departments, Police and Politicians, visited Religious institutions, Universities, Judges, Lawyers and a spectrum of others.

This visit lead to a second round of visits where I had the honor of delivering two 40 ft containers of Wheelchairs for disabled children to The Edhi and to the Alkhidmat Foundations and Look forward to delivering two more containers by the end of this year.

Pakistan is truly a beautiful country enriched by history, culture and driven by a people's aspiration for development and progress. With all the difficulties, the natural disasters and the ongoing conflicts in the region, the will to prosper remain stronger than ever.

I take this opportunity, in a time of happiness to express my sadness at the passing of Abdul Sattar Edhi, Pakistan's National Treasure and wish you, Sada-e-Watan readership, High Commissioner Naela Chohan, Consul General Abdul Majid Yousafani, Vice Consul Bushra Salam and all Pakistanis in Australia, In Pakistan and around the world including my new friend, the High Commissioner of Pakistan, London UK, His Excellency, Syed Ibn Abbas.

Pakistan Zindabad.