Sada-e-Watan Sydney
Sadaewatan@gmail.com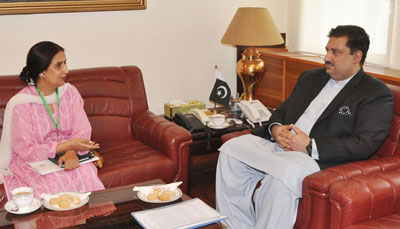 HC Naila Chohan and Minister Khurram Dastgir Khan
Pakistan High Commissioner Designate to Australia Naila Chohan meets Federal Minister for Commerce Engr.Khurram Dastgir Khan
Federal Minister for Commerce, Engr. Khurram Dastgir Khan said that Pakistan wants Australian companies to invest in the Halal food sector of Pakistan and use their expertise to bring latest technology and value-addition to this sector. The Minister made these remarks, in a meeting with the Pakistan High Commissioner-designate to Australia Naila Chohan, who will be assuming her new responsibilities at Canberra in September 2014.
The Minister directed the High Commissioner to establish close liaison with the Pakistani community settled in Australia and seek proposals to enhance Pak-Australia trade, which will be incorporated in the final strategy adopted by the Ministry of Commerce to augment Pakistan's trade with Australia. He said the draft for Pakistan Halal Food Authority prepared by the Ministry of Science and Technology in consultation with Ministry of Commerce and other relevant organizations will be presented to the Parliament soon for approval. This will resolve the issue of certification of Pakistani halal food and provide a new impetus to Pakistan's halal sector, which sees great potential of enhancing exports to the Muslim countries, especially the Middle East, Minister Khurram Dastgir Khan added.
The Minister further asked her to compile a report by closely studying the marketing and trading models followed by other countries competing with Pakistan in Australia and make proposals on the basis of its findings.
HC Naila Chohan said that twelve Australian companies will participate in the Expo Pakistan 2014 scheduled to be held in Karachi in October which enhances the probability of their investment in Pakistan. She also apprised the Minister about the meeting of upcoming Pak-Australia Joint Trade Commission to be held on September 18th in Australia and said this will provide a great boost to bilateral trade.
The Minister said that efforts should be made to meet Australian Chambers of Commerce, Government officials and their Parliamentary Committee on Commerce to strengthen the case of Pakistan trade with Australia.
Ms. Chohan added she would hold meetings with Pakistani Chambers of Commerce and provincial Boards of Investment to understand their viewpoint and help project Pakistan's case of trade and investment in Australia.
The Minister was informed that there is a seventy thousand-strong Pakistani community settled in Australia which is well educated and financially and socially vibrant. This educated community can be actively engaged in enhancing Pakistan economic interests in Australia.